ABOUT BOM SPECIES LIST BUTTERFLY HISTORY PIONEER LEPIDOPTERISTS METHODS
The Butterflies of Massachusetts
93 Tawny-edged Skipper Polites themistocles (Latreille, 1824)
<![if !vml]>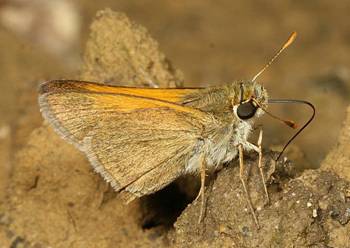 <![endif]>
This winsome little skipper was first described by Fabricius in 1787 from a southeastern United States specimen; he named it Papilio taumas. The description and name themistocles, bestowed by the well-known French entomologist Pierre Andre Latreille, were later given precedence. The type specimen from Latreille's collection is thought to be in the Musée Nationale d'Histoire Naturelle in Paris (Miller and Brown 1981: 38). Boisduval and LeConte coined yet another name, Hesperia cernes, in their 1834 treatise, probably basing their description on a drawing by John Abbot rather than a specimen.
Thaddeus W. Harris was the first to report this species in Massachusetts. In a passage undoubtedly written about 1840, but not published until the posthumous 1862 edition of his work, he refers to a specimen he called Hesperia ahaton, saying "It was captured many years ago in Milton, and I have given it the name of an Indian from that vicinity" (Harris 1862: 318, Fig 140; Scudder 1889: 1725). The Native American to whom he refers remains a mystery.
Photo: Spencer-Pierce-Little Farm, Newbury, Mass., B. Zaremba, July 29, 2008
Samuel Scudder was quite familiar with Tawny-edged Skipper. He writes "In New England, as might be expected, it is everywhere common, from the White Mountains, and even from the highest peaks of the same, to the southern and eastern sea coast (1889: 1729)." This does not mean that Tawny-edged was abundant; the only two skippers that Scudder describes as "abundant" in New England in 1899 are the Least Skipper and Peck's Skipper. Widespread is not the same as abundant. Still, Tawny-edged was so common that Scudder does not give the usual list of specimens or collection locations. However, F. H. Sprague easily collected many specimens in Wollaston (Quincy) in June 1878, and in Belchertown in July and North Leverett in August that year (Sprague 1879). Maynard (1886) also calls Tawny-edged "a very common Skipper." It was probably more common than the closely-related Crossline Skipper. As with many of the upland skippers, Tawny-edged Skipper's numbers probably increased with the spread of agriculture after 1600 (Table 1).
Tawny-edged is probably less common today, due primarily to the loss of open meadow areas as pre-industrial agriculture declined in New England after 1850 (Table 2). Rick Cech makes this point well, writing that the reversion of open areas to woodlands, the loss of meadows to development, and the use of environmental chemicals may all have combined to make the Tawny-edged much less abundant in the northeast today than at the turn of the century (2005: 279).
Host Plants and Habitat
The Tawny-edged has been called "the epitome of a meadow skipper" (Cech 2005). It uses a range of grassy habitats, and is often but not always found in moister areas, including wet meadows, stream edges, pastures, and power line cuts. It is often seen at flowers or sipping moisture from damp soil (see photo above). A century ago, Scudder found it frequenting "open fields, meadows, roadsides, pathways and exposed sunny spots (1889: 1730)."
But unlike Peck's Skipper, Tawny-edged Skipper is "not especially tolerant of heavy disturbance" (Cech 2005: 279); that is to say, it will not likely be found in recently plowed fields, frequently mowed areas, or manicured grounds and golf courses.
The Connecticut Atlas found an egg or larva of Tawny-edged in the wild on both Kentucky Bluegrass (Poa pratensis) and Little Bluestem (Schizachyrium scoparium). It is also known to use other grasses, mainly various Panicum spp. and Slender Crabgrass (Digitaria filiformis) (Scott 1986). All these except Kentucky Bluegrass are native in Massachusetts, and all are common. As with Peck's Skipper, the use (or adoption, after introduction) of the widespread Kentucky Bluegrass goes far toward explaining this skipper's relative success, although it is still not as abundant as Peck's Skipper, which also uses Kentucky Bluegrass (Table 3).
The Tawny-edged may have one of the widest ranges of any meadow skipper. It extends from Nova Scotia across Canada to southern British Colombia, occurs in most of midwestern United States, and the whole of eastern United States south to the Gulf coast and part of Florida. It is apparently rarer in the southern part of its range. Its particular host grass and preferred habitat undoubtedly differ in these widely differing locales, and a focus on local research is needed.
Relative Abundance Today
MBC records 2000-2007 rank Tawny-edged Skipper as "Uncommon-to-Common" (Table 5). It is seen more often than Crossline Skipper, about as frequently as Long Dash and Northern Broken-Dash, but not as frequently as Least or Peck's Skippers. It is not "Common" in the same sense as Peck's or Silver-spotted Skippers are. The Atlas called Tawny-edged "common to locally abundant," but in fact it was found in only 78 of 723 blocs searched, which would rank it as "Uncommon" (Table 5). Also, it is hardly ever "abundant" at any one location.
The trend shown in Chart 93 is a small increase over this time period in numbers of sightings per total trips per year , although with some strong year-to-year fluctuations. This pattern contrasts with that found for Crossline Skipper, and Tawny-edged is actually one of several grass skippers to show an upward trend over this time period. The others are the Arctic, Least, Northern Broken-Dash, Little Glassywing, and Dusted Skippers.
Chart 93: MBC Sightings per Total Trip Reports, 1992-2009
<![if !vml]>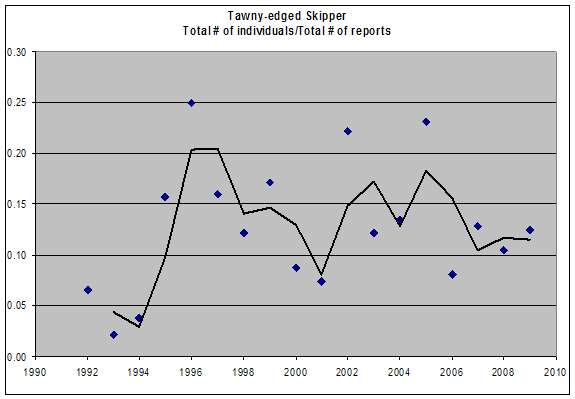 <![endif]>
Statewide Distribution and Locations
Map 93: MBC Sightings by Town, 1992-2009
<![if !vml]>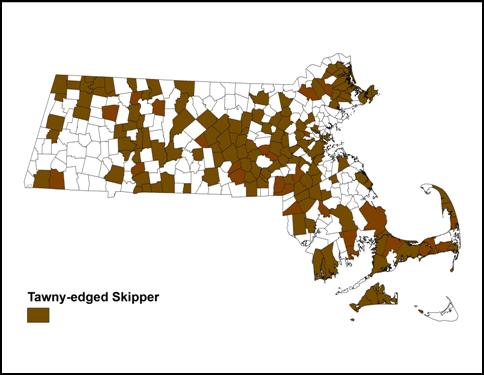 <![endif]>
Tawny-edged is distributed throughout the state, with the possible exception of Nantucket, for which neither the Atlas nor MBC has any records. MBC has 1992-2009 records from 129 out of a possible 351 towns. Records from 2010-2012 notably add the towns of Plymouth, Raynham, and Attleboro in southeastern Massachusetts.
MBC records (Map 93) fill in some spaces that were empty on the 1986-90 Atlas map. The species has been reported at least once from all of the NABA Counts around the state, and is usually reported in varying numbers from the Northern, Central and Southern Berkshire Counts; from the Central Franklin (nearly every year), Northampton, and Lower Pioneer Counts; from Northern Worcester and Blackstone Valley, and from all the eastern Massachusetts counts, including Cape Cod and Martha's Vineyard.
Tawny-edged Skipper may have increased on Martha's Vineyard since the 1930's; Jones and Kimball (1943) report it as only "occasional" on that island, and there appear to be no museum specimens. Today, the Vineyard checklist (Pelikan 2002) ranks Tawny-edged as "Common." On Cape Cod, Mello and Hanson (2004) say it "regularly occurs," and MBC has many Cape Cod reports.
Tawny-edged was not found on a 2001 survey of the Boston Harbor Islands (except at World's End peninsula), although many other skippers were on the islands (Mello 2002). However, it has been found on the Elizabeth Islands – on Nashawena on June 3, 1988 and on Naushon July 28 and Aug 11, 1988 (Mello 1988).
In Berkshire County, Tawny-edged Skipper has been scarce. One of the earliest documentations of its presence was by L. F. Gall in the town of Becket on 20 July 1972 and 9 July 1974 (specimens in Yale Peabody Museum). Reports since the early '80s from the NABA counts are small but consistent. Important recent reports come from New Marlborough, 2 on 7/8/2011 B. Benner; Sheffield Bartholomew's Cobble TTOR max 4 on 6/8/2005 E. Barry; Mount Greylock max 3 on 7/10/2005 T. Gagnon et al.; Windsor Moran WMA 1 on 7/9/2011 B. Benner; Williamstown (see below); and Central Berkshire NABA, centered in Pittsfield, max 13 in 2008 T. Tyning et al.
Tawny-edged is not usually found in large aggregations. Even at some well-scoured and usually productive locations, such as Broad Meadow Brook in Worcester or Great Blue Hill in Canton, observers have found only a maximum of 5 on any one day. On the other hand, the skipper sometimes turns up at unexpected spots, like Boston Nature Center in Boston. Counts from "around the town," (such as East Longmeadow max. 33 on 8/4/2002 K. Parker, or Easton max. 23 on 6/5/1995 B. Cassie) can run into double digits.
The following is a selection of high counts from smaller discrete locations. They are usually in single-digits.
Amherst Amity Place environs max 6 on 6/11/2007 F. Model; Barnstable Marstons Mills Airport 15 on 7/31/2010 A. Robb et al; Boston Boston Nature Center max 4 on 7/16/2006 A. Birch; Canton Great Blue Hill max 5 on 6/13/2004 and Brookwood Farm max 5 on 8/22/2009 S. Jaffe; Chilmark Fulling Mill Brook max 6 on 8/26/2003 M. Pelikan; Easthampton Arcadia WS max 4 on 6/19/2004 B. Benner; Edgartown Watcha Path max 5 on 6/16/2003; Grafton Dauphinaise Park max 5 on 5/29/2004 W. Miller and D. Price; Hampden Laughing Brook WS max. 11 on 8/17/2002 K. Parker; Longmeadow Fannie Stebbins WS max 20 on 8/7/1999 T. Dodd; Marshfield Daniel Webster WS max 5 on 8/28/2000 D. Furbish; Milford power line, max 6 on 8/5/2002 E. Nielsen; Monson Norcross WS, max 5 on 6/13/2006 J. Ohop and E. Barry; Newbury Little's Farm max 6 on 7/29/2008 B. Zaremba; Newburyport Maudslay SP max 9 on 8/13/2011 B. Zaremba; Northampton Community Gardens max 35 on 8/5/2005 B. Benner; Oak Bluffs Trade Winds max 9 on 6/1/2002 M. Pelikan; Sandwich Mass. Military Res. 4 on 7/16/2011 E. Nielsen and P. Trimble; Sharon Moose Hill Farm TTOR max 14 on 5/31/2010 E Nielsen; Sheffield Bartholomew's Cobble TTOR max 4 on 6/8/2005 E. Barry; Sherborn power line max 3 on 6/8/2009 B. Bowker; Springfield Forest Park max 4 on 8/11/2002 T. Gagnon, K Parker; Topsfield Ipswich River WS max 7 on 8/25/2002 F. Goodwin; Upton Chestnut St. Gas Line max 6 on 6/13/1999 T. and C. Dodd; Wenham Canal max 7 on 8/17/1999 F. Goodwin; West Tisbury Wompesket max 17 on 8/7/2008 M. Pelikan; Westborough WMA max 4 on 6/13/2008 W. Miller and E. Barry; Williamstown Mountain Meadow 2 on 8/26/2011 B. Zaremba et. al.; and Worcester Broad Meadow Brook WS max 5 on 6/6/2003 D. Price and B. Walker.
Broods and Flight Period
According to MBC records, Tawny-edged adults are seen from mid-May through the third week in September, with occasional stragglers into October (http://www.naba.org/chapters/nabambc/flight-dates-chart.asp). (These dates are both earlier and later than those given in the 1986-90 Atlas.) Peak numbers are seen from 4th week in May through 2nd week in June, and again from 4th week in July through 3rd week in August, indicating at least two broods. But statewide there is not a sharp break between broods, and the skipper seems to be always flying somewhere throughout the season.
This skipper is bivoltine through most of its range, except the far north. Mello and Hanson (2004) say that a lack of August records on Cape Cod means it is single-brooded there, or has only a partial second brood in some years. However, MBC has several August reports from the Cape, for example, 9 on 8/23/1997 Bourne, A. Robb, and 2 on 8/23/2011, Sandwich, J. Dwelly.
While the general timing of Tawny-edged flights and broods has not changed markedly in the last 100 years, there may be a trend toward earlier spring emergence and later fall flight compared to a century ago. Scudder wrote in 1889 that "The first generation makes its appearance in Massachusetts during the last week in May, usually between the 20th and 25th. In a week it becomes abundant, and by the middle of June most specimens are badly rubbed; a week later it begins to diminish rapidly, and yet a few specimens may often be found throughout July. Early in June the females begin to lay their eggs, and continue to lay them until the middle of July. The second brood of butterflies, which is generally less abundant than the first, appears near the end of the first week in August, sometimes during the last week of July, becomes abundant in about a week, lays its eggs at least from the middle of the month onward, and continues on the wing until the latter part of September; the caterpillars from these eggs probabl y change to chrysalis before hibernation."..." It is quite improbable however that larvae from eggs of the first brood laid as late as the middle of July, mature rapidly enough to reach chrysalis in time for it to disclose the butterfly the same season, and this will account for the scarcity of the second brood... (1889:1730)."
In the 20 years between 1991 and 2010, there are five years in which the first sighting of Tawny-edged was prior to Scudder's date of May 20. These are 5/14/2010 E. Longmeadow, K. Parker; 5/16/1999 E. Longmeadow, K. Parker; 5/16/2002 Holliston, R. Hildreth; 5/16/2004 Amherst, North Amherst, T. Gagnon; and 5/18/2000 E. Longmeadow, K. Parker. The Atlas early date had been 5/25/1986 S. Hadley, T. Fowler. 2011 did not produce any very early sightings, but the warm spring of 2012 produced two early sightings: 5/7/2012 Upton, T. Dodd (new early record), and 5/12/2012 Plymouth Tidmarsh Farms, M. Faherty (photo; female). The onset of the Tawny-edged flight may be getting earlier over time.
In addition, the tail of the flight period appears to be extended: recent MBC late dates are later than Scudder's "last of September." MBC last sightings are in October in four of the 20 years under review: 10/12/2004 Northampton Community Gardens, T. Gagnon; 10/11/2010 Edgartown Katama M. Pelikan and Dartmouth Allens Pond B. Bowker; 10/5/2002 Wayland Community Gardens, S. Moore, B. Volkle, and E. Nielsen; and 10/1/2005 Northampton Community Gardens, T. Gagnon. In 2011 the last sighting again occurred in October: 10/8/2011, Attleboro, M. Champagne.
Outlook
Like all meadow skippers, Tawny-edged will be negatively affected by further loss of open meadow habitat. Meadow habitats also need to be managed correctly: close mowing more than once or twice a year is detrimental. Manicured grounds, sports fields, golf courses, and row agriculture do not provide habitat. (See MBC Conservation page http://www.naba.org/chapters/nabambc/butterfly-conservation.asp )
However, Tawny-edged has a wide continental distribution and is seemingly adaptable to a range of latitudes and host grasses. It already has two broods here; the possibility of a third should be investigated. It may not be much affected by climate warming in our area (Table 6). Its NatureServe (2010) status is S5 or secure, in Massachusetts, Connecticut, New York, and Maine, and S4 in Vermont and New Hampshire.
© Sharon Stichter 2011, 2012
page updated 7-3-2012
ABOUT BOM SPECIES LIST BUTTERFLY HISTORY PIONEER LEPIDOPTERISTS METHODS