ABOUT BOM SPECIES LIST BUTTERFLY HISTORY PIONEER LEPIDOPTERISTS METHODS
The Butterflies of Massachusetts
94 Crossline Skipper Polites origenes (Fabricius, 1793)
<![if !vml]>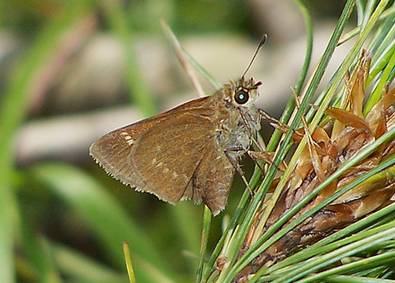 <![endif]>
The Danish naturalist Johan C. Fabricius (1745-1808) first described and named the Crossline Skipper in 1793 in the third volume of his Entomologia Systematica; he did so on the basis of an examination in 1787 of a drawing by William Jones, one of several Jones did of specimens in the collection of the famous London naturalist Dru Drury (Calhoun 2009a). Drury's specimen was probably collected about 1765 in the vicinity of Brooklyn, New York; it is now considered lost. Fabricius's description was rather vague and general, leaving room for confusion with some other species (Miller and Brown 1981: N125). Subsequently, other early entomologists allied the Crossline with the Tawny-edged Skipper, then known as Hesperia themistocles, or with Hesperia cernes, a name given by Boisduval & LeConte to a species figured by John Abbot, which was probably a Tawny-Edged.
Photo: Norwottock rail trail, Amherst, Mass. F. Model, July 29, 2006
When Thaddeus W. Harris wanted to identify two specimens he had in his insect collection about 1840, one from Massachusetts and one from Georgia sent by John Abbot, he first called them both Hesperia cernes, following Boisduval and Le Conte. Harris had collected his Massachusetts specimen on 20 July 1836 in Cambridge, Massachusetts (Harris 1862: 316). Scudder then re-described Harris' Massachusetts specimen, naming it Limochores manataaqua, the Cross Line Skipper, and pointing out that it was definitely not the same as H. cernes (Scudder, 1862).
For nearly a century afterwards, the widespread North American Crossline Skipper was known by Scudder's species name, manataaqua, commemorating a Native American-- although it is not clear which one. As Calhoun has pointed out (2009a), Harris's Cambridge specimen, still in the MCZ at Harvard University, should be recognized as a "syntype" for H. manataaqua (in addition to Scudder's specimens), and the "type locality" should be Cambridge, Massachusetts. The switch back to Fabricius's name origines was proposed by W. H. Evans of the British Museum in 1955. While perhaps not fully justified given the vagueness of the old description, the name origines did predate manataaqua, and it has been accepted for the last fifty years or so. Calhoun recommends its retention mainly on grounds of the need for nomenclatural stability.
Scudder refers to at least ten Massachusetts specimens of Crossline Skipper, and though he does not generalize about its relative abundance, it appears to have been found at all the usual collecting locations. "It has been several times taken in the neighborhood of Boston (Merrill, Faxon, Guild, Sanborn, Scudder) and in the Connecticut valley at Springfield (Emery), Deerfield, Mt. Tom (Sprague), and Granby, Mass. (Sprague, Scudder) (1889: 1723-4)." It had also been found in Rhode Island and Connecticut. We may deduce that it was, in the phrase of the time, "not uncommon" in Massachusetts. Like other upland skippers, it almost certainly benefited from land clearing for agriculture through the 18th and early 19th centuries (Table 1).
By the mid-1930's Farquhar (1934) adds Woods Hole, Milton, Amherst, Stoneham, and Phillipston to Scudder's list of locations where Crossline had been collected. It was not noted as either common or abundant, nor was it rare. At Phillipston in northern Worcester County, collector H. H. Shepard found it "uncommon." By contrast, Farquhar terms the closely-related Tawny-edged Skipper "common everywhere in New England."
Similarly, Jones and Kimball (1943) reported Crossline Skipper as "not abundant though well distributed" on Martha's Vineyard; however it was "general and common" on Nantucket. (Two F. M. Jones 1928 specimens from the Vineyard are at the Yale Peabody Museum.) On the islands the relative abundance of Crossline versus Tawny-edged was the reverse of that on the mainland, with Tawny-edged Skipper the less common, being only "occasional" on the Vineyard and not found at all on Nantucket.
In ensuing years Crossline Skipper seems to have been somewhat overlooked. It apparently was considered fairly ordinary. For some unknown reason, between 1960 and 1966, major collector C. G. Oliver took an astounding 19 specimens of Crossline Skipper in West Action (Yale Peabody Museum). It's perhaps not surprising that this skipper is not found at that location today. William D. Winter took a few specimens of Crossline Skipper in Westwood in 1966 and 1973 (Harvard MCZ). He also found it in Barre, Massachusetts on July 8, 1972, and Darryl Willis found Crossline "common" in June and July 1974 in the Holliston-Sherborn area, most likely along the Sherborn power line. (Lep Soc Seas. Sum. and Corresp. 1959-1981).
In what may have been the first documentation for Berkshire County, O. R. Taylor found a specimen of Crossline Skipper in Richmond on 8 July 1962 (Yale Peabody Museum).
Host Plants and Habitat
Crossline is one the the six dryland skippers discussed in the Leonard's Skipper and Indian Skipper species accounts (Table A), but it is one of two which are possibly a bit more common today than at the turn of the century. It has a large range throughout the southeast down to the Gulf Coast, and west to the Rockies. It has two broods south of Philadelphia, but only one in Massachusetts. It visits a wide variety of nectar sources.
As a Polites skipper, Crossline is closely related to the Tawny-edged Skipper, as well as to Long Dash and Peck's, and is sometimes found in the same areas, but in general Crossline is more confined to dry habitats than any of these (see Cech 2005 for exceptions). Shapiro (1974) describes Crossline as "less ecologically tolerant" than Tawny-edged in New York state, occurring often in sandy soil areas and dry meadows. R. Walton and C. Leahy in the 1986-90 Atlas describe typical Crossline habitats in Massachusetts as old fields, power lines, and sand barrens.
The 1995-99 Connecticut Atlas observed Crossline Skipper ovipositing on Little Bluestem (Schizacyhrium scoparium) in the wild. Purpletop (Tridens flavus) and Little Bluestem are the only two grasses known to be used by Crossline Skipper in the wild (Scott 1986), although it accepts other grasses (e.g. Kentucky Bluegrass) in the laboratory. Tridens flavus ("purpletop," or "tall red top") is a native North American grass, found only in upland areas. It may have had a more southerly distribution in presettlement times, since Sorrie and Somers list it as "introduced" into the majority of Massachusetts counties.
Scudder was reasonably familiar with the life history of Crossline Skipper (see below under Broods), since he raised numerous caterpillars collected from "around Cambridge," where he found the eggs on "ordinary grasses" (1889: 1724).
Relative Abundance Today
Both MBC and Atlas records rank Crossline Skipper as "Uncommon" (Table 5). Both sources also find Crossline somewhat less abundant than Tawny-edged Skipper, which according to MBC 2000-2007 records is "Uncommon-to-Common." Crossline ranks about on a par with Cobweb, Indian and Leonard's, in abundance, but is less common than Tawny-edged, Long Dash and Dusted Skippers. Crossline is sometimes hard to identify in the field, and females are difficult to distinguish from Tawny-edged females dorsally (from above). Thus there may be some underreporting of Crossline.
Although this species may be more somewhat more common now than in Scudder's time, MBC sightings (Chart 94) do not show any strong trend either upward or downward. This is unlike the slight upward trend for Tawny-edged Skipper, the strong upward trend for Dusted Skipper, and the downward trends for Leonard's and Indian Skippers.
The high reading in 1993 on the chart should probably be discounted. It results from an especially large number (43) reported from the 7/11/93 Foxboro NABA Count, which was not repeated or approached in subsequent years on that Count, nor did other NABA Counts that year report unusual numbers. The only larger single location count in the database is from the Martha's Vineyard NABA Count on 7/16/2005, which found 49 Crosslines.
Chart 94: MBC Sightings per Total Trip Reports, 1992-2009
<![if !vml]>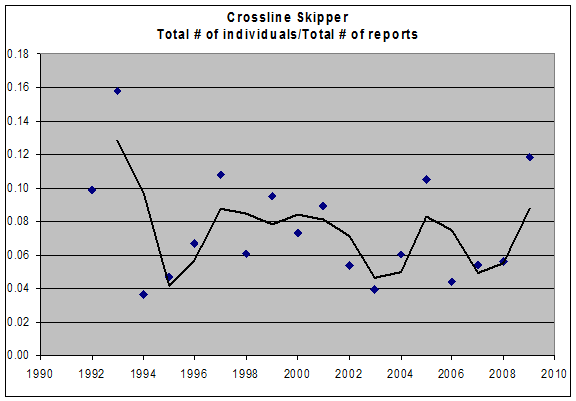 <![endif]>
State Distribution and Locations
Map 94: MBC Sightings by Town, 1992-2009
<![if !vml]>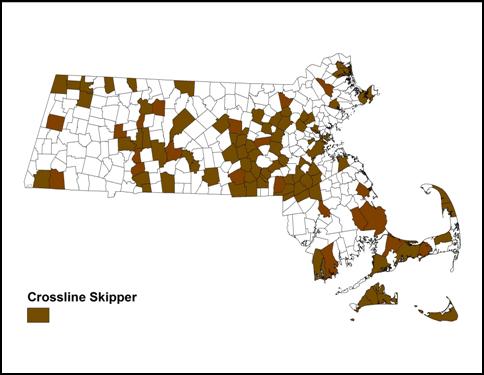 <![endif]>
Crossline Skipper is widely distributed across the state, although sparse in many areas. The greatest numbers are seen in the drier habitats, especially Cape Cod and Martha's Vineyard.
Map 94 shows MBC 1992-2009 records for Crossline Skipper; it was found in 78 out of the total of 351 towns in the state, whereas Tawny-edged Skipper, noted above as the more common of the two, was found in 129 towns during this same time period. Leonard's and Indian Skippers were similar to Crossline, being found in 79 and 89 towns respectively, while Cobweb Skipper was the least common, having been found in only 54 out of a total of 315 towns in the state through 2009.
The records through 2011 add more towns, for a total of 91 towns; additions include Carver, Chelmsford, Chicopee, Dartmouth, Duxbury, Sandwich, South Hadley, Ware, Williamsburg and Yarmouth. MBC has two reports of Crossline Skipper from Tuckernuck on Nantucket, 2005 and 2011, indicating that the species continues its historical presence there (see also LoPresti 2011).
The 1986-90 Atlas had only one record from Berkshire County, but Crossline Skipper has since been reported regularly in small numbers on the Central Berkshire NABA Count centered in Pittsfield, and in most years on the Northern Berkshire count centered in North Adams, and in some years on the Southern Berkshire Count centered in Sheffield. Still, it is scarce in Berkshire County. It has been reported regularly in strong numbers from the Central Franklin, Northern Worcester County, Blackstone Valley, Foxborough, and Martha's Vineyard NABA Counts. It is often found on the Falmouth, Truro and Brewster NABA Counts on Cape Cod. Mello and Hansen (2004) mention Fort Hill, Crane WMA, and Cape Cod Airport as three fairly reliable locations on Cape Cod.
Crossline is not usually seen in large aggregations, but rather reported in ones or twos. It is difficult to single out a few areas as particular hotspots. The largest reports are: Burlington Mary Cummings Park max 5 on 7/16/2011 B. Bowker; Canton Great Blue Hill max. 17 on 7/15/2007 E. Nielsen; Carver Myles Standish SF "abundant" 6/27/2010 M. Arey; Charlton power line max 6 on 7/19/2011; Chelmsford power line max 9 on 7/28-30/2011 B. Bowker; Duxbury Bay Farm max 6 on 8/19/2011 B. Bowker and L. Stilwell; East Longmeadow max. 10 on 8/1/2009 K. Parker; Edgartown Edgartown SF max. 9 on 7/9/2011 M Pelikan; Harvard Oxbow NWR max. 3 on 8/3/2003 T. Murray; Hopedale Draper Park max. 5 on 7/21/2000 R. Hildreth; Mansfield max 26 on 7/27/1997 R. Hildreth; Milford max 6 7/12/1999 R. Hildreth; Nantucket Tuckernuck max 11 on 7/2/2011 M. Pelikan; Oak Bluffs max 19 on 7/13/2005 M. Pelikan; Tisbury max 15 on 7/16/2004 A. Keith; Upton Robertson's Gas Line max 10 on 7/4/1999 T. and C. Dodd; Wellfleet Wellfleet Bay WS max. 15 on 7/27/2009 M. Faherty; and Worcester Broad Meadow Brook WS max. 6 on 7/10/2001 G. Howe.
Broods and Flight Time
Scudder was reasonably familiar with the life history timing of Crossline Skipper, because he was concerned to differentiate it from the more-common Tawny-Edged, with which it was sometimes confused. His description is derived from the raising of eggs and larvae which he found around Cambridge, Massachusetts (a town where this skipper cannot be found today). He writes that this species "makes its appearance in the imago [adult] state the very last of June, occasionally as early as the 22nd, by the 7th of July it becomes abundant, and remains on the wing not only through July, but in diminished numbers far into August. ......The eggs are laid in July---all that I have had about Cambridge between the 14th and 17th, and hatch in about 13 days. The caterpillars feed readily on ordinary grasses, and their tubular nests are rather loosely constructed of grass blades, in which however all the lateral slits are kept from opening by numerous connecting threads between the blades. It takes them about three weeks, sometimes a little more, to pass two moults, and it is not until late in September that they can reach the chrysalis, in which state they probably winter (1889: 1724)." (Actually, the mature larva overwinters.)
As Scudder notes, Crossline has only one brood at our latitude, but two broods south of Philadelphia. Its adult flight falls largely between the two flights of Tawny-edged. According to MBC records, Crossline's rather long flight time statewide stretches from the first week in June through the last week in August. The largest numbers are seen in the first three weeks of July, with much smaller numbers seen before and after that (http://www.naba.org/chapters/nabambc/flight-dates-chart.asp).
The main flight of Crossline still occurs "the very last of June," as Scudder had it, but in MBC records there are a surprising number of sightings much earlier in June. In six of the 18 years 1992-2009, the first Crossline sightings have been in the first two weeks of June. These first sightings are 6/6/2004 Famouth Crane WMA A. Robb; 6/6/2007 Amherst Amity Place F. Model; 6/10/2000 Westwood Hale Res. E. Nielsen; 6/10/2001 Hingham D. Peacock; 6/10/2008 W. Tisbury Wakosim M. Pelikan; and 6/11/2006 Grafton Dauphinaise Park, D. Price. These are much earlier than the Atlas early date of 6/29/1986 Petersham, J. Baird. Early flight dates open the possibility of a partial second brood toward the end of the summer, but so far this has not been suggested, because the last sightings are not very late.
In four of the 18 years 1992-2009, the last Crossline sightings have been in the last week of August. These are 8/29/2004 Barnstable Long Pasture, S. Moore and B. Volkle; 8/28/2009 Lexington Dunback Meadow, B. Bowker; 8/25/2000 Sherborn, R. Hildreth; and 8/22/1996 Milford, R. Hildreth. The Atlas late date had been 8/10/1986 Sharon, B. Cassie. None of the early or late dates are in the Berkshires or in northern towns.
Outlook
Like all meadow skippers, Crossline will be adversely affected by further loss of open meadow habitat, in particular dry meadow habitat but also more mesic open areas. This skipper probably does not survive frequent, close mowing of meadow areas, turning them into manicured lawns. (See MBC Conservation Page http://www.naba.org/chapters/nabambc/butterfly-conservation.asp )
More systematic observations are needed on what habitats and host grasses Crossline Skipper uses, both in Massachusetts and throughout its large range. Given this range—from Canada to Florida and Texas--- and its bivoltine adaptation, this skipper is less likely than others to be adversely affected by climate change in Massachusetts (Table 6). It may even become more common, and should be watched for evidence of a partial second brood.
Crossline is ranked S4 or "apparently secure" in Massachusetts by NaturServe (2010). It is similarly ranked in Connecticut, New Hampshire, Maine and New Jersey.
© Sharon Stichter 2011, 2012
page updated 1-8-2012
ABOUT BOM SPECIES LIST BUTTERFLY HISTORY PIONEER LEPIDOPTERISTS METHODS