ABOUT BOM SPECIES LIST BUTTERFLY HISTORY PIONEER LEPIDOPTERISTS METHODS
The Butterflies of Massachusetts
92 Peck's Skipper Polites peckius, (W. Kirby, 1837 )
<![if !vml]>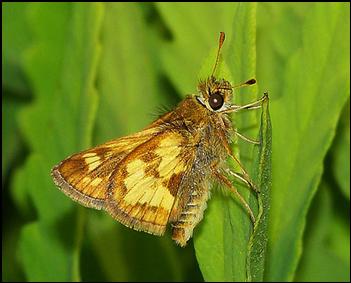 <![endif]>
"In New England it is everywhere the commonest of the [skippers]...." wrote Scudder over a century ago (1889:1688). It remains our most common native skipper today, although not reaching the abundance levels of Cabbage White or Pearl Crescent.
Peck's Skipper was named in 1837 by the well-known British entomologist William Kirby for William Dandridge Peck, the first professor of natural history at Harvard. Kirby was working from a specimen from an unknown North American location, which is now probably lost. Another European entomologist, Cramer, named it Polites cora, from a specimen which is also now probably lost (Miller and Brown 1981: 37). Thaddeus W. Harris at Harvard had local specimens of Peck's, which he refers to his 1862 report (1862: 316, Fig 139), and had an identical but particularly small specimen, which he thought might be a different species; he named that Hesperia wamsutta, in honor of Wamsutta, the oldest son of the sachem Massasoit (1862: 318, Fig.141). Scudder (1862) confirms that this specimen is identical to a Peck's, and is not a separate species.
Photo: Amity Place, Amherst, Mass., F. Model, May 24, 2009
From the 1600s through the 1800s Peck's, like other upland grass skippers, no doubt benefited from the land clearing as European settlers developed an agricultural economy (Table 1). By 1900, Peck's was distributed "from the White Mountains to the sea-coast." The butterfly was "found everywhere in the open country, especially in meadows, by roadsides, along pathways and in all old forest openings; it is very fond of flowers ---white clover, mint, golden rods, etc." (Scudder 1862: 174; 1889:1686, 1688). And it has apparently remained common here since: Farquhar (1934) lists it as "abundant everywhere," and does not bother to list any specimens or locations. Jones and Kimball (1943) found it "irregularly abundant" on Martha's Vineyard and "well distributed" on Nantucket.
Peck's has a large but northerly range, flying in most of northern and central United States, and in Canada from the east to the west coasts, and quite far north (Layberry 1998). It flies throughout Vermont, and has even been found recently in a few townships in northern Maine, from which it had not been known until the recent Maine Butterfly Survey (MBC 2011; VBS 2011; BMNA 2010). However, it does not have a southeastern coastal range, and is found south of Pennsylvania only in the mountains.
Host Plants and Habitat
Peck's Skipper's original native host grass here may have been Rice Cutgrass (Leersia oryzoides), which it still uses (Scott 1986), and possibly also Floodplain Cutgrass (Leersia virginica), both of which are native to and found in nearly all Masachusetts counties today (Sorrie and Somers 1999; Magee and Ahles 1999). It also uses the native Little Bluestem (Schizachryrium scoparius); volunteers for the 1990-95 Connecticut Atlas observed it ovipositing on that grass in the wild.
But at some point Peck's Skipper also adopted Kentucky Bluegrass (Poa pratensis), that very common constitutent of lawns and meadows today, and that is surely one of the keys to the skipper's abundance. The Connecticut Atlas reports it ovipositing on Kentucky Bluegrass in the wild, as well as Little Bluestem. Kentucky Bluegrass in our area was introduced from Europe (Sorrie and Somers 1999), but it was also probably native in Canada and along the northern boundary of the United States (Gleason and Cronquist 1991). Thus, it could have been used natively in some part of Peck's Skipper's range (as is probably also the case with Long Dash), but in Massachusetts it is most likely that Peck's massively adopted Kentucky Bluegrass as it was widely introduced for pasturage in the 1700s. Thus, Peck's is listed among the Switchers (Table 3), butterfly species which have adopted new non-native hosts.
Peck's inhabits a wide range of open meadow habitats, from wet to dry, and seems to thrive in areas than have been disturbed in the past. In our area it is the grass skipper most likely to be found in urban and suburban parks, roadsides, and backyards. It is an avid nectarer on flowers.
Relative Abundance Today
Both MBC (2000-2007) and Atlas (1986-90) records rank Peck's Skipper as Common, even nearing Abundant (Table 5). It is our most common native grass skipper; the next most common native grass skippers are the Least Skipper and the Dun Skipper. (Peck's is generally of the same relative abundance as the forb-feeding Silver-spotted Skipper.) For the period represented in MBC records, the introduced European Skipper surpassed Peck's in relative abundance, but that may change, as European is showing a sharp decline in recent years from its highs in 1996, 1997 and 2003.
There is no significant upward or downward trend to be seen in MBC yearly sightings per total trips (Chart 92). A slight drift downward in the two-year moving average line is probably not significant.
Chart 92: MBC Sightings per Total Trip Reports, 1992-2009
<![if !vml]>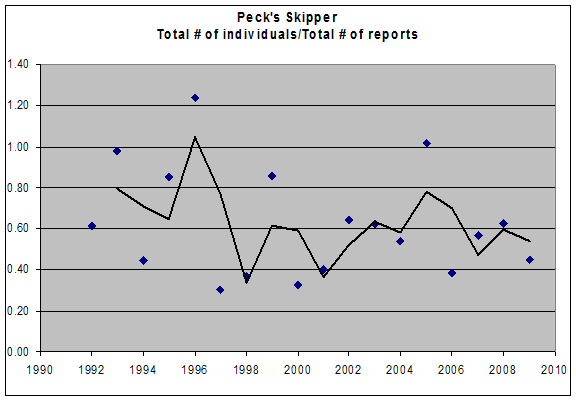 <![endif]>
State Distribution and Locations
MBC has records of Peck's Skipper from 168 out of 351 towns in the Commonwealth. It has been reported from every region in the state and on all the NABA July counts, including the Berkshire counts. It has been found on Mt. Greylock and Mt. Washington. In the southeast, Mello and Hansen (2004: 61) say that it is "widespread on the Cape in almost any grassy habitat, from lawns, to fields, to marshes." The Martha's Vineyard checklist ranks it as common and widespread there (Pelikan 2002). MBC has no records from Nantucket, but the Atlas found it there, as well as on Nashawena and Naushon in the Elizabeth Islands.
Peck's Skipper is not usually found in enormous aggregations, as has sometimes been the case with European Skipper. The highest estimates for a town or conservation area range between 40 and 60; typical cases would be 58 in Sharon Moose Hill Farm TTOR 6/8/2008 E. Nielsen, or 30 in the town of Amherst, 8/9/1995 Amherst Butterfly Survey M. Fairbrother and D. Case.
Illustrating its tolerance for urban conditions, there are many records of Peck's from within the city of Boston, including from Arnold Arboretum, Boston Nature Center, and Roxbury Millennium Park, and a record from Cambridge (Alewife Reservation 9/18/2009 F. Bouchard).
Broods and Flight Times
According to MBC 1993-2008 records, Peck's Skipper flies from the third week in May through the end of October (http://www.naba.org/chapters/nabambc/flight-dates-chart.asp). Two broods are quite evident in the data.
MBC records suggest that there has been some advance in the average time at which Peck's Skipper emerges in the spring, compared to the late 19th century. Scudder (1889: 1688) provides a detailed life history of Peck's, writing that "In the southern half of New England, where the species is double-brooded, the earliest generation of butterflies appears upon the wing during the last week of May ---at the beginning of the week near the southern seacoast, toward its middle or end further north..." (emphasis added).
In ten of the 19 years 1991-2009, MBC earliest sightings of Peck's fall in the second (5/8-5/15) or third week (5/16-5/22) of May, rather than the last week. These first sightings are 5/13/2009 Sherborn Power Line, B. Bowker; 5/13/1995 Martha's Vineyard, A. Keith; 5/17/2002 West Tisbury, M. Pelikan (also 5/19/2002 Foxborough, M. Champagne); 5/18/2006 Boxford M. Arey; 5/18/2001 Cape Ann D. Savich and C. Tibbits; 5/19/1991 Worcester, T. Dodd; 5/20/1998 Worcester Broad Meadow Brook WS G. Howe; 5/20/1999 Lincoln, B. Bowker; 5/21/2004 Holliston R. Hildreth (and two other reports that day); 5/22/1993 Wellesley, R. Forster. The other nine 'first sightings' are in the last week of May.
In 2012, a new early date for the sighting of Peck's Skipper was set: 4/30 at Chelmsford power line, B. Bowker.
Scudder gives dates for both broods in our area, and concludes that the second brood remained on the wing" nearly or quite to the end of September" (1889: 1688). MBC records suggest a lengthening of the flight period at its end as well as its beginning, because in 13 of the 19 years under review, the last MBC sightings have been in October, rather than September. The latest three sightings are 10/26/1995 Sudbury, T. Dodd; 10/14/2004 Northampton Florence T. Gagnon; and 10/12/2006 Groveland, M. Arey.
Peck's Skipper is reported by most sources to have two broods in Massachusetts, and the MBC flight chart indicates two maxima, roughly May-June, and August, with sightings tapering off in September and October. Still, the question of broods needs to be more fully investigated, since a partial third brood in September-October has been reported in both North Carolina and in the New York City area (Cech 2005, and sources therein). One response to climate warming in Massachusetts could be initiation of a partial third brood.
Outlook
Peck's does not have a southeastern coastal range, which should alert us to the possibility of some adverse effects from climate warming (Table 6 ). However, a small range contraction northward would probably not affect Massachusetts much. Peck's may already have expanded northward into northern Maine within the last 30 years. In addition, Peck's is adaptable as to host plant, habitat, and broods. It already has two broods, and has remained very common here for over a century. A partial third brood should be watched for. Its NatureServe status in Massachusetts and surrounding states is S5, or secure.
© Sharon Stichter 2011, 2012
page updated 9-9-2012
ABOUT BOM SPECIES LIST BUTTERFLY HISTORY PIONEER LEPIDOPTERISTS METHODS