ABOUT BOM SPECIES LIST BUTTERFLY HISTORY PIONEER LEPIDOPTERISTS METHODS
The Butterflies of Massachusetts
96 Northern Broken-Dash Wallengrenia egeremet (Scudder, 1864)
<![if !vml]>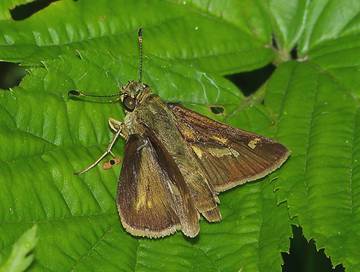 <![endif]>
Scudder named this skipper for Egeremet, a chief or sachem who participated in the war waged by Indians in Maine against the English between 1688 and 1697. Egeremet, assisted by the French, attacked a garrison in Wells, Maine in 1692 (Zirlin, 2005-6). Scudder was the first to name egeremet, and to formally describe it from a type specimen taken in Massachusetts. But he and other early lepidopterists did not clearly distinguish this species from otho, the Southern Broken-Dash, whose description and naming trace back to English naturalist J. E. Smith in 1797, working from a drawing supplied by James Abbot in Georgia. The two species were definitively separated only in the 1970s, through the work of J. M. Burns (1985). But since Southern Broken-Dash is a southeastern coastal plain species, not found north of Maryland in the east, Scudder's comments about the butterfly in the northeast apply to egeremet only.
Photo: Great Blue Hill, Milton, Mass., F. Model, June 29, 2009
In Scudder's experience, egeremet was largely confined to the southern half of New England. "...it is found nowhere in abundance north of Springfield, Mass. (Emery), where it is a common species" (1889:1699). Scudder lists no other locations or specimens, but F. H. Sprague, a major collector of the day, had found it in his usual collecting places: around Boston (Wollaston, Roxbury, Malden and Milton), and in the Connecticut valley (Amherst, Belchertown, Granby, Montague, Deerfield) (see Burns 1985 for a list of specimens; also Sprague 1879). Maynard (1886) had seen at least two specimens "loaned me by Mr. F. H. Sprague, taken in June and July, at Wollaston, Mass." but described the skipper as "rare" in his experience.
Northern Broken-Dash, Little Glassywing and Delaware Skipper may well have entered Massachusetts first, or mainly, through the Connecticut River valley. In 1900 these last two skippers were uncommon or rare, and found only or mainly in "the valley," according to Scudder, while Northern Broken-Dash seems to have been a bit more common. But in contrast to Indian, Leonard's, Long Dash, Tawny- edged, Least and Peck's Skippers, all of which had already become common statewide as a result of clearing for agricultural development (Table 1), Northern Broken-Dash seems to have been less common in 1900, while Little Glassywing and Delaware seem to have been only just arriving in the state from further south.
By the 1930's, Northern Broken-Dash seems to have become much more common throughout Massachusetts. In his review of the lepidoptera of the region, Farquhar (1934) is able to list many more specimens and locations than Scudder had, particularly in eastern Massachusetts: Andover (F. G. Sanborn), Woods Hole (Forbes), Chester (C.W. Johnson), Stoneham (C. V. Blackburn), Salem ( F. H. Walker), Marblehead (Walker), Monterey (Sprague); Westwood (D. W. Farquhar), Gloucester (Forbes), and Phillipston (H. H. Shepard). (See Boston University and Harvard MCZ museums for specimens.) Jones and Kimball (1943) report it "widely distributed, not rare" on Martha's Vineyard, although absent from Nantucket.
By the 1960's Northern Broken-Dash was apparently so common that most collectors did not bother with it. William D. Winter collected it in 1966 in Westwood, 1974 in Sherborn, and 1983 in Dedham (specimens in Harvard MCZ). E. Peters reports males and females in July and August 1970 and 1971 in Carlisle (Lep. Soc. Seas. Sum. 1970, 1971). Overall, Northern Broken-Dash appears to have increased in Massachusetts since 1900 (Table 2).
Northern Broken-Dash's range today is large. It extends further into Canada than does Little Glassywing (Layberry 1998). In the United States it is found from southern Maine (Maine Butterfly Survey 2010), west through Ontario to Minnesota, south through the plains to Texas and east to mid-Florida. Its range overlaps with and largely encompasses that of both Little Glassywing and the Southern Broken-Dash, Wallengrenia otho. The latter is found mainly on the southeastern coastal plain, in Texas, and in the West Indies and south (Opler and Krizek 1984; Cech 2005).
Host Plants and Habitat
The 1990-95 Connecticut Atlas found Northern Broken-Dash ovipositing in the wild on Dichanthelium [=Panicum] clandestinum, or Deer-tongue Grass, and Panicum dichotomiflorum or Fall Panic-grass. Shapiro (1974) reports P. dichtomum Forked Panic-grass for New York state. These three panic grasses are native and widespread throughout Massachusetts (Sorrie and Somers 1999). It is not clear whether Northern-Broken Dash uses the widely planted Switchgrass (Panicum virgatum) in Massachusetts; this grass is strictly native only in the central part of the state, but has been introduced in eastern Massachusetts and the Berkshires. Schweitzer (NatureServe 2010) indicates Panicum virgatum as the main host in southern New Jersey, but Scott (1986) does not list it as a natural host, although the butterfly can be raised on it in the lab.
As Leahy in the Massachusetts Atlas points out, Northern Broken-Dash's host grasses occur in both wet and upland habitats. D. clandestinum tends to occur in moist, sandy sites, including woods openings, edges, and waste places, while P. dichotomum prefers dry, sandy or rocky woods and borders (Magee and Ahles 1999). Northern Broken-Dash adults are found nectaring on many different flowers in a large variety of settings, and they may raise broods in rural meadows, field edges, woodland grassy openings, roadsides, airports, gardens, and even urban parks if they are not too frequently mowed (NatureServe 2010). This species appears tolerant of disturbed situations. Cech (2005) classes the Northern Broken-Dash as a habitat generalist.
Relative Abundance Today
MBC sight records 2000-2007 rank Northern Broken-Dash as "Uncommon to Common" today. Uncommon 100 years ago, it is now one of our four most common native grass skippers, the others being Peck's Skipper, Least Skipper, and Dun Skipper (Table 5). (European Skipper is introduced.) The 1986-90 Atlas termed it "locally common" throughout the state, but perhaps more common in the east. It is interesting that a species so familiar today was so little known by Scudder, and not at all by Harris. It seems to have been pushing its range northward, and/or becoming more common by increasing its tolerance for disturbed situations.
A moderate upward trend is seen in MBC sightings per total trip reports 1992-2009 (Chart 96). Northern Broken-Dash is one of several grass skippers to show an increase in sightings over this period; the others are Arctic Skipper, Least Skipper, Tawny-edged Skipper, Little Glassywing, and Dusted Skipper.
Chart 96: MBC Sightings per Total Trip Reports, 1992-2009
<![if !vml]>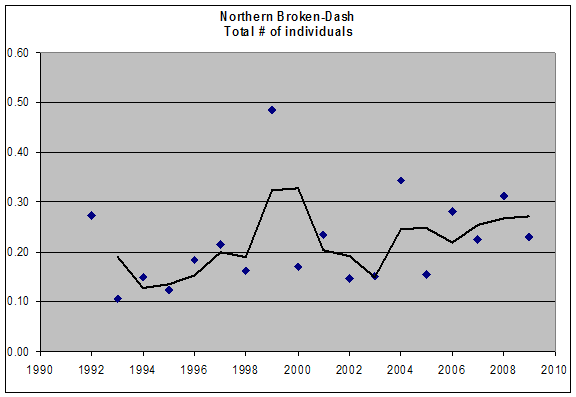 <![endif]>
The high reading for 1999 in Chart 95 results from unusually large counts in the central and western part of the state. A high of 220 was reported on the Northern Worcester County NABA Count in 1999; this compares to 40 or less in all other years for that count (1996-2010), and after adjustment for effort (party-hours), is three times the number found in any other year on that count. On the Central Franklin count, 92 were also reported in 1999; after adjustment for effort this was more than twice the number found on any other year of that count (1992-2010). Similarly, on the Central Berkshire count 90 were reported in 1999, which after adjustment for effort is three times the number found in any other year (1992-2010) on that count except for 2008, which was also a good year around Pittsfield. Therefore it seems that 1999 was an exceptionally good year for Northern Broken-Dash, at least in the northern parts of the state.
State Distribution and Locations
Northern Broken-Dash has been found in 135 out of the 351 towns in Massachusetts, through 2009, and is well distributed across the state, except that there are no MBC or Atlas records for Nantucket.
Northern Broken-Dash is regularly reported on all of the Massachusetts NABA July Counts, which take place at peak flight time for this species. The 1986-90 Atlas had found this species less common in western Massachusetts than in the east, and had very few reports from the Berkshires or the hill towns. However, Northern Broken-Dash has now been reported almost every year from the three long-running (1993-2011) Berkshire County counts, often in very good numbers (see above for Central Berkshire). It is also consistently found in good numbers on the Central Franklin and Northern Worcester counts. It does not seem markedly more numerous on the eastern counts such as Concord and Foxboro. However it is usually abundant on the Blackstone Valley NABA Count, with 2001 and 2006 being particularly good years there.
On Martha's Vineyard, it is reported every year (1999-2011) from the NABA Count, and is listed on the Martha's Vineyard checklist as "Common" (Pelikan 2002). Oddly, there are no MBC records from Nantucket. On Cape Cod, it is well-reported from all the four NABA Counts. Mello and Hansen (2004) call it "common across the Cape in a variety of habitats." In the Atlas years it was also reported from the Elizabeth Islands of Naushon, Nashawena and Cuttyhunk. It's a bit surprising that it was not found in the 2001-2 surveys of the Boston Harbor Islands, since it does occur on Nahant and Plum Island, in Essex County.
The species is not usually reported in large aggregations at one site. The largest numbers come from the NABA Counts; the highest numbers are mentioned above. The highest number from the Blackstone Valley count was 75 on 7/14/2001. The highest numbers from the Martha's Vineyard NABA Count were 51 on 7/17/2011, and 59 on 7/4/2001. The high count for the Truro (Outer Cape) NABA Count was 39 on 7/17/1999, and for the Boston NABA Count was 27 on 7/23/2006, and for the Northampton NABA Count was 45 on 7/19/2011. Some other high counts from selected locations are 50 on 7/18/2008 Williamsburg Graves Farm B. Benner et al; 17 on 8/1/2008 Burlington Mary Cummings Park, B. Bowker; 22 on 7/8/2007 at Martin Burns WMA, S. Stichter et al.; 15 on 7/25/2009 at Sharon Moose Hill Farm TTOR E. Nielsen; and 12 New Bedford 7/26/2009 E. Nielsen and M. Mello. This species has also been found on Mt. Greylock , e.g. 3 on 7/11/2004, B. Benner, T. Gagnon and B. Callahan.
Broods and Flight Time
Northern Broken-Dash has one long brood here, stretching from about mid-June to mid-September. It becomes common the first week in July through first week in August, and peak numbers are seen in the second and third weeks in July, ( http://www.naba.org/chapters/nabambc/flight-dates-chart.asp).
Northern Broken-Dash is not an obligate univoltine species; it has two or more broods further south. Allen (1997) reports one brood in West Virginia, Burns (1985) shows two broods in South Carolina, Georgia and the Gulf states.
At the extremes, the flight time may be lengthening compared to a century ago. Scudder (1889:1700) wrote "It usually makes its advent upon the wing early in July, between the 1st and the 5th, but it sometimes appears even as early as the 22nd of June; a week afterwards it becomes abundant, and it continues to fly throughout July."
In eleven of the 19 years between 1991 and 2009, the earliest MBC reports of Northern Broken-Dash are in May or June, rather than July. There are six years in which the first reports are earlier than Scudder's extreme date of June 22: 5/29/1998 Chelmsford, B. Cassie; 6/12/2005 Mt. Greylock, M. Lynch and S. Carroll; 6/16/2006 Chilmark, A. Keith; 6/17/2004 Canton Great Blue Hill T. Murray; 6/19/1999 Wenham Wenham Canal, F. Goodwin; and 6/20/2008 West Newbury, Mill Pond Rec. Area, S. and J. Stichter.
In seven of the 19 years between 1991 and 2009, the latest MBC reports of Northern Broken-Dash are in September, rather than August. (Scudder mentioned only July.) These seven latest dates are 9/12/1995 Westport, B. Cassie; 9/9/2000 Georgetown, Crane WMA, F. Goodwin; 9/9/1997 Foxboro, B. Cassie; 9/9/1992 Foxboro, B. Cassie; 9/6/2003 Dartmouth Allens Pond, M. Champagne et. al; 9/4/2009 Northbridge Larkin Rec. Area, B. Bowker; and 9/3/2004 Windsor Moran WMA, B. Benner. The rest of the last sightings are in August.
Outlook
Conservation and proper management of open dry and wet meadows is necessary to provide habitat for this and many other skippers. Grassy areas that are mowed more than twice a year, such as most lawns, golf courses, and city parks, do not provide habitat (NatureServe 2010; see also MBC Conservation page http://www.naba.org/chapters/nabambc/butterfly-conservation.asp ). Northern Broken-Dash has a single brood whose larvae will be feeding on grasses in late summer and early fall, and then overwintering at the soil surface. A single mowing in late fall, with the cutting blade set on high, should allow some middle-instar larvae to survive in a field, overwinter, and resume growth in the spring. Mowing during flight time and active larval feeding in spring and summer is counter-productive.
Northern Broken-Dash has a single brood north of Philadelphia and in New Jersey, but two to three further south. It probably would be able to adapt to climate warming in the northeast. NatureServe ranks it as S5 or secure in Massachusetts, Connecticut and Rhode Island; S4 or probably secure in New Hampshire and Maine.
© Sharon Stichter 2011, 2012
page updated 1/7/2012
ABOUT BOM SPECIES LIST BUTTERFLY HISTORY PIONEER LEPIDOPTERISTS METHODS