ABOUT BOM SPECIES LIST BUTTERFLY HISTORY PIONEER LEPIDOPTERISTS METHODS
The Butterflies of Massachusetts
95 Long Dash Polites mystic (W. H. Edwards, 1863)
<![if !vml]>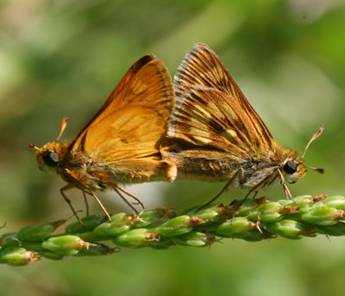 <![endif]>
A bright little meadow skipper, called Hesperia mystic by W. H. Edwards in 1863. The name mystic was also proposed by Scudder (1862), and was credited to him for many years before finally being assigned to Edwards (Miller and Brown 1981: 213, N128). Both Edwards and Scudder followed the convention begun by Harris of naming new skipper species in honor of Native Americans. The final defeat of the Pequot Indians took place in Mystic, Connecticut in 1636, and this may have been why both W. H. Edwards and Scudder chose the name (Zerlin 1995).
Scudder wrote that "In New England it occurs everywhere," from the White Mountains and Maine to Cape Cod and New Haven. "There is hardly a local collection of any size which does not contain it...." It was less common in southern New England than northern, and "rather rarely found in the vicinity of Boston; nor have I taken it at Nantucket (1889: 1709)." He lists no specific locations, except Cape Cod. Perhaps its scarcity around Boston explains why Thaddeus Harris does not mention Long Dash; however, Sprague was able to take many specimens at Wollaston (Quincy) in 1878 (Sprague 1879). About 1900, therefore, Long Dash appears to have been common, perhaps as common as Tawny-edged Skipper, but not as abundant as Peck's Skipper or Least Skipper.
Photo: West Newbury, Mass. B. Zaremba, August 11, 2010
Like most skippers, Long Dash probably increased in Massachusetts after 1600 as land was cleared for settlement and agriculture (Table 1).
We usually do not think of Long Dash as a northern-based skipper, but a glance at its range map shows that along the east coast it is found southward only to mid-New Jersey, and inland it occurs only at higher elevations down to Virginia (Opler and Krizek 1994; BMNA 2010; Cech 2005). It is found across the upper midwest and southern Canada to Washington state, and flies quite far north throughout Canada (Layberry et al 1998).
Like most northern butterflies, Long Dash is mainly single-brooded, but a partial second brood occurs near the southern edges of the range, such as Massachusetts (see below), probably Connecticut (O'Donnell 2007), and possibly coastal New York and New Jersey (Scott 1986; Opler and Krizek 1984; but see Cech 2004). Shapiro (1974; 1966) reported a partial second brood for the coastal plain in New York, Pennsylvania and New Jersey.
It is unclear whether Long Dash decreased as much as other skippers during the period of urban and industrial development after 1850, but much meadow habitat was lost in those years, and some decline is likely (Table 2). By the 1930's, Long Dash was still actively collected and Farquhar (1934) lists many locations where it had been found. Farquhar apparently did not consider it as abundant as Peck's Skipper or Tawny-edged Skipper, species for which he did not think it worthwhile to list the numerous locations and specimens. He knew of Long Dash specimens from Malden, Worcester (Forbes), Milton, Marblehead (F.H. Walker), Lynn, Stoneham (C.V. Blackburn), Wollaston (F. H. Sprague), Braintree (F. H. Sprague), Gilbertville (near Ware) (D. W. Farquhar), Phillipston (H. H. Shepard), Amherst (H. H. Shepard), and Nantucket (C. W. Johnson). In the 1930's and 1940's, Long Dash was "general and common" on Nantucket and "widely present in suitable areas" on Martha's Vineyard (Jones and Kimball 1943). It was present in Taunton's Hockamock Swamp in 1936 (Yale Peabody Museum, C. L. and P. S. Remington).
In the 1960's and 1970's Long Dash was collected in Brewster on Cape Cod (1961, D. S. Chambers), in Acton, Belmont and Littleton (1959-1966, C. G. Oliver), and on October Mountain in the Berkshires (1965, C. L. Remington) (Yale Peabody Museum). W. D. Winter found Long Dash in Westwood June 10, 1972, and in Barre July 8, 1972. E. Peters found Long Dash July 14, 1970 in Carlisle, and though D. Willis does not mention it in his 1974 list of skippers occurring in the Holliston-Sherborn area, it seems likely to have been there (Lep. Soc. Seas. Sum and Corresp. 1959-1991). It seems to have remained fairly common.
Host Plants and Habitat
Poa spp. (bluegrasses) are the main hosts cited in the literature, but a question remains as to whether Long Dash uses the widespread Kentucky Bluegrass (Poa pratensis) in the wild. Confined females oviposit on it in the lab; the Connecticut Atlas raised Long Dash in the laboratory on Kentucky Bluegrass, but did not report any field observations. Shapiro (1966) observed Long Dash ovipositing on Poa spp. in Pennsylvania, but the exact species of grass was not specified. Eggs are laid on or near the host plant, and larvae live in tied leaf shelters (Scott 1986). In Canada, Long Dash appears to have adopted several non-native grasses in addition to Poa (Layberry et al 1998), and thus is a candidate for possible inclusion in the list of Switchers (Table 3).
Kentucky Bluegrass was introduced from Europe, and is now a common constituent of lawns and meadows across North America, flourishing in either wet or dry soil. However, it was also probably native in Canada and along the northern boundary of the United States (Gleason and Cronquist 1991). Thus its original range in North America may coincide with that of Long Dash, and it could have been the native host for this butterfly. If Long Dash is using mainly Kentucky Bluegrass today, that would go far toward explaining the butterfly's relative abundance. For Massachusetts, Sorrie and Somers (1999) do not list Kentucky Bluegrass as originally native to any Massachusetts county, but as introduced in all of them. If that grass is the main host, then perhaps Long Dash moved into Massachusetts along with the importation of Kentucky Bluegrass for pasture improvement in the 1700s. Or, Long Dash could have been, or could still be, using another Poa species here which is native, such as Poa palustris or fowl-meadow grass, which grows solely in wet meadows. Clearly, some research is needed.
Moist meadows and fields, marsh edges (including salt marsh edges), and streamsides are Long Dash habitat. The skipper can also found in grassy openings in forests or forest edges. It is an avid flower visitor, and even disturbed agricultural fields can provide nectar from red clover and cow vetch. In wet meadows, Long Dash is particularly fond of nectaring on Blue Flag (Iris versicolor), but also uses many other native and non-native nectar sources such as milkweeds and self-heal.
Relative Abundance Today
The Atlas found Long Dash in 118 of 723 blocs searched; this would rank it as "Common" (Table 5) and the Atlas termed it such. However, total reports of individuals in 2000-2007 MBC records rank Long Dash as "Uncommon-to-Common." When compared to such truly common species as American Copper, Little Wood-Satyr, or Peck's Skipper, it is simply not that frequently reported (Table 5).
Chart 95 suggests that there has been some decline in this species over the 1992-2009 period. Particularly good years for Long Dash, in relative terms, were 1992 and 2005, although 1992 is somewhat less comparable due to the smaller number of trip reports that year. The picture of decline rests partly on some especially large reports from 1992. But even if this is disregarded, the years 2007-2009 are still low in relation to the highs of 1995-1997 and 2005.
Chart 95: MBC Sightings per Total Trip Reports, 1992-2009
<![if !vml]>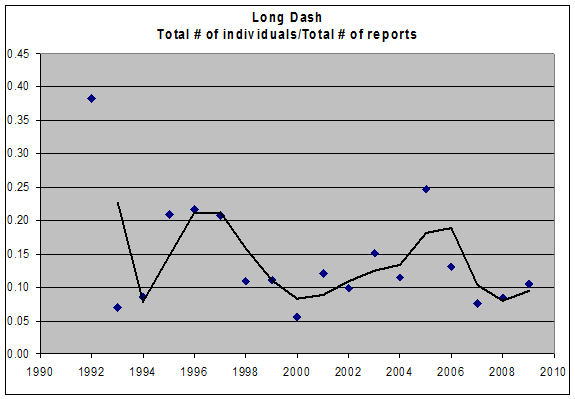 <![endif]>
For the years 2007-2009, statistics published in the Season Summary in Massachusetts Butterflies show a similar picture of relative decline. The average number of Long Dash skippers seen per visit to a location decreased 32% in 2007, 34% in 2008, and 16% in 2009 in comparison to the average for the preceding years back to 1994 (Nielsen, MB 2008, 2009, 2010). The number of reports also decreased in each year compared to the average for preceding years. Leonard's Skipper is the only other skipper to show such a strong pattern of recent decline, although Hobomok Skipper also shows a decline.
State Distribution and Locations
Map 95: MBC Sightings by Town, 1992-2009
<![if !vml]>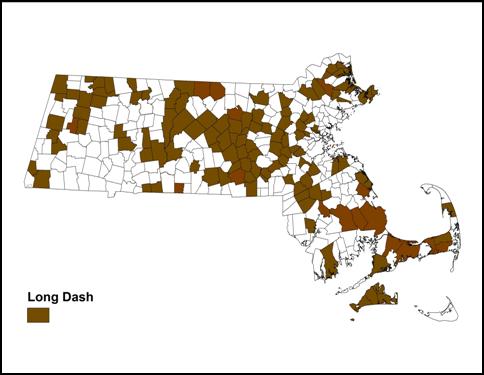 <![endif]>
Long Dash is fairly well-distributed across the state, and MBC records largely confirm the distribution found during the 1986-90 Atlas. MBC has 1992-2009 records from 117 of the 351 towns in the Commonwealth (Map 95). By contrast, Peck's Skipper is reported from 168 towns in this period, Least Skipper from 150, and Tawny-edged Skipper from 129.
The Atlas had no reports from the lower Connecticut River valley. MBC records have filled that gap to some extent, with reports from East Longmeadow and Hampden, but surprisingly, there are still none from Longmeadow, Holyoke, South Hadley, Southampton, Springfield, or from many towns west of Springfield.
Long Dash is well reported on all three of the Berkshire NABA Counts, especially Northern Berkshire, based in Adams, from which it is reported most years in good numbers. It is also reported most years, and in somewhat smaller numbers, from the Central and Southern Berkshire Counts. Among all the NABA Counts, the best and most consistent numbers come from the Northern Worcester and the Central Franklin Counts. On the other hand, Long Dash has never been reported from the Lower Pioneer Valley Count, the Blackstone Valley Count, or the Barnstable Count.
Long Dash has been found in some especially high numbers at specific locations in Essex County-- for example, Ipswich Ffolliott's Farm max. 100 on 6/12/2005, S. Stichter et al.; Newbury William Forward WMA max. 27 on 6/20/2005, S. Stichter; and Gloucester max. 14 on 6/22/1995 D. Savich and C. Tibbits. These locations are not visited during the Northern Essex NABA Count.
Overall, Long Dash is somewhat harder to find in the southern parts of the state than the northern--- with the exception of Martha's Vineyard. The Vineyard checklist lists Long Dash as Common (Pelikan 2002), and MBC has many reports, confirming Jones and Kimball's 1943 assessment. By contrast, MBC has no records from Nantucket, although there are Atlas and historical records (LoPresti 2011). Interestingly, Mark Mello found Long Dash on Peddock's Island in the Boston Harbor Islands on June 21, 2001.
Aside from the Vineyard, reports are fewer from the towns on the southeastern coastal plain, as can be seen from Map 95. As part of this pattern, Long Dash is reported rather lightly from Cape Cod, and found only infrequently on the Cape Cod and Bristol County NABA Counts. However, the Atlas did find it on the Elizabeth Islands (town: Gosnold), specifically Naushon, Nashawena, and Penikese Islands.
Productive locations are generally open areas near wetlands. Specific locations with reports of 10 or more, and other reliable areas, include
Burlington Mary Cummings Park max 9 on 6/8/2011 B. Bowker; Carver Myles Standish, max 10 on June 27, 2010 M. Arey; Edgartown max 23 on 7/12/2003 M. Pelikan; Falmouth Crane WMA max 10 on 6/30/2004 T Hansen et al; Foxborough max 34 on 6/12/1992 B. Cassie; Grafton Dauphinais Park max 10 on 6/24/1998 D Price; Hingham Turkey Hill TTOR max 10 on 6/1/2001 D Peacock; Holden WTAG Towers max 6 on 6/5/2011 S. Stichter; Hopedale Draper Park max 11 on 6/10/2002 Bob Bowker; Hubbardston Barre Falls Dam max 24 on 6/19/1999 T Dodd; Lee October Mtn SF, max 5 on 7/9/2004 B Benner and T Gagnon; Lenox George L. Darey WMA max 5 on 6/6/2009 E Nielsen; Monson Norcross WS max 9 on 6/13/2006 J. Ohop and E. Barry; New Ashford Mt Greylock, max 6 on 7/10/2005 T Gagnon et al.; Newbury Martin Burns WMA max 12 on 6/16/2007 S. and J. Stichter; Newburyport Little River Nature Trail max 9 on 6/7/2009 B Zaremba; Oak Bluffs Farm Pond, max 9 on 6/13/1999 M. Pelikan; Orange max 15 on 6/22/1997 D. Small; Paxton Moore SP max 5 on 6/10/2011 E. Barry; Petersham North Common Meadow TTOR max 15 on 6/20/2011 G. Breed and P. Severns; Princeton Wachusett Meadow WS max 10 on 6/19/1993 T Dodd; Rockport Waring Field max 8 on 6/9/2001 F Goodwin; Sudbury max 30 on 6/14/1997 T. Dodd and C Dodd; Tisbury Wakeman Center max 17 on 6/2/2002 M Pelikan; Topsfield Ipswich River WS max 11 on 6/11/2000 D. Marotte and W Tatro; Uxbridge West Hill Dam max 19 on 6/15/1997 T. and C. Dodd; West Newbury Cherry Hill Res max 10 on 6/10/2001 F. Goodwin; West Tisbury Nat's Farm max 22 on 6/4/2010 M. Pelikan; Westwood Hale Res max 12 on 6/9/2001 E Nielsen; Williamsburg Graves Farm max. 5 on 6/11/2005 B. Benner; and Worcester Broad Meadow Brook WS max. 13 on 6/24/1997 J. Mullen and 13 on 6/5/2001 G. Howe.
Broods and Flight Period
The beginning flight dates for Long Dash may be earlier now than when Scudder wrote, and in recent years have been earlier than the Atlas early date. Also, a partial second brood has been common for Long Dash in recent years.
The flight dates in MBC records 1991-2009 begin in mid-May, with good numbers often by the last week of May, and peak numbers in the second week in June (http://www.naba.org/chapters/nabambc/flight-dates-chart.asp). In MBC records, numbers drop off sharply by mid-July, but a few Long Dash continue to been seen through mid-September, the result of a partial second brood.
Comparison with Scudder's flight dates cannot be precise, because he gives Long Dash dates for only the southern and northern extremes of New England. He says that in the extreme south of New England "the first butterflies make their appearance in the earliest days of June, perhaps even in May; fresh specimens continue to emerge during the first half of June, but by the middle of the month they begin to decrease and appear rubbed ... (1889: 1710)." Considering that this timing was meant to apply to southern Connecticut, probably, it is surprising how well it accords with today's observations in Massachusetts.
In seven of the 19 years from 1991 through 2009, the first Long Dash sightings have been in May. These are 5/19/2004 Andover Ward Reservation TTOR, F. Goodwin; 5/22/1994 Granby T. Fowler; 5/22/1998 Worcester Broad Meadow Brook J. Mullin et al.; 5/22/1999 Clinton/Sterling, T. and C. Dodd; 5/26/2007 Oxford Buffimville Dam, E. Baldwin; 5/27/1991 Northborough T. Dodd; 5/31/1996 Waltham C. Asselin. In an additional seven years, the first sighting was in the first week of June (6/1-6/7). The 1986-90 Atlas had reported that the first flight began in early June, with the extreme date June 1.
Long Dash is normally single-brooded throughout its range, with middle-instar caterpillars overwintering, but in some years, weather permitting, there is a partial second brood. That is, a portion of the mid-summer larvae do not enter diapause at that time, but rather complete their development, producing small numbers of adults later in the season, usually August and September. Some sources (e.g. Opler 1984; Walton in MAS Atlas) have referred to this adaptive strategy as a full second brood, but the small size of the second flight indicates that it is partial here in Massachusetts (M. Arey, pers. comm. 8-22-2010).
Scudder was quite certain 100 years ago that there was a partial second brood in "southern New England," saying that some of the Long Dash larvae produce a second brood of butterflies "the earliest of which appear from the 7th to the 10th of July (1899: 1710).
In over half (11) of the 19 years under review (1991-2009), there were sightings of adults later than August 15, indicating the partial second brood. Nearly every year since 1998 has been a 'late brood' year, by this measure. In these 'late brood' years there are usually only 1 or 2 post-8/14 reports, nearly all of single individuals, with most but not all of the late reports being from Martha's Vineyard. The latest reports (the eleven 'late brood' years) are 8/31/1995 Easton, B. Cassie; 9/13/1998 W. Tisbury, M. Pelikan [1998 had 13 late reports after 8/14, from Falmouth, Clinton/Sterling, Athol, Grafton, as well as Martha's Vineyard.]; 9/12/1999 Bolton, Bolton Flats, D. Small, [also late reports from Easton and Upton]; 9/5/2001 Oak Bluffs, M. Pelikan; 8/26/2002 Tisbury, M. Pelikan; 9/17/2003 Northampton, Northampton Community Gardens, T. Gagnon and T. Murray; 9/13/2004 Petersham, North Common Meadow TTOR, R. and S. Cloutier; 9/21/2005, West Tisbury, M. Pelikan; 9/30/2006 Dartmouth Allens Pond, E. Nielsen; 9/20/2007 Rockport Waring Field, T. Whelan; 9/19/2008 Tisbury, M. Pelikan. The Atlas cites an 8/20/1986 report from Millis, B. Cassie, indicating that that may also have been a late brood year. Late brood years do not seem to coincide with high population years, but non-late brood years (2000 and 2009) coincide with population lows (Chart 95).
In 2010 there was photographic field evidence of the partial second brood in Essex County. Mating was photographed on August 11 at Mill Pond Recreation Area, West Newbury by Bo Zaremba (photo above on this page), and fresh adults were photographed on August 20, 2010 at Appleton Farms TTOR, Ipswich/ Hamilton, by Howard Hoople. In 2011 there were post-August 15 reports from six locations, including Boxford, Lancaster, Belmont and Hingham. The latest report was 9/12/2011in Hingham; a photo from Belmont on 9/11/2011 can be seen at http://www.flickr.com/photos/mcrainey/6181549649/in/photostream
Scudder says second-brood Long Dash "continue on the wing until sometime into September." MBC last sightings are in September in 9 of the 19 years under review, as well as in 2011. The latest sighting is 9/30/2006 at Allens Pond Dartmouth, E. Nielsen.
Outlook
Given its northerly distribution and only partial second brood, this species could be adversely affected in Massachusetts by climate warming (Table 6). However, it is an uncommon-to-common species, and possibly adaptable as to host plant (research needed). Like many skippers, this species needs moist meadow habitats which are conserved and managed properly –that is, not mowed more than once a year. (See MBC Conservation page at http://www.naba.org/chapters/nabambc/butterfly-conservation.asp ) Long Dash can probably not survive frequent, close mowing of its meadow habitats, turning them into manicured lawns, and not much is known about its ability to disperse and colonize new areas. Long Dash is still ranked by NatureServe (2010) as S5, or secure, in Massachusetts, but the recent downward trend and climate change are causes for concern.
© Sharon Stichter 2011, 2012
page updated 3-10-2012
ABOUT BOM SPECIES LIST BUTTERFLY HISTORY PIONEER LEPIDOPTERISTS METHODS