ABOUT BOM SPECIES LIST BUTTERFLY HISTORY PIONEER LEPIDOPTERISTS METHODS
The Butterflies of Massachusetts
30 Juniper Hairstreak Callophrys gryneus (Hübner, 1823)
<![if !vml]>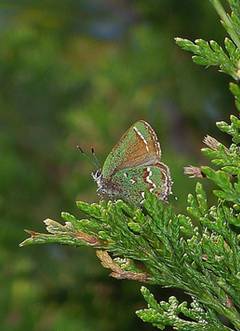 <![endif]>
Until the 1980's our eastern Juniper Hairstreak was called the Olive Hairstreak, and placed in a separate genus, Mitoura, along with Hessel's Hairstreak, our other greenish, cedar-feeding hairstreak. But Juniper/Olive Hairstreak was shown to interbreed and have intergrading wing patterns with western forms of Callophrys, and was reclassified as part of that large genus (Robbins 1994). However, recent allozyme analysis shows our Eastern form to be quite distinct from Western forms (Pratt et al. 2011), and it is now usually referred to as a sub-species, Callophrys gryneus gryneus (Pelham 2008). Scudder called it Mitura damon. Today, Juniper Hairstreak is one of those perplexing species which is much less common than its host plant here.
Thaddeus W. Harris was the first to report Juniper Hairstreak from Massachusetts (1862: 277-8). He proposed to call it the Auburn Thecla (Thecla Auburniana), "from a favorite spot near Cambridge, formerly known by the name of Sweet Auburn, where I have repeatedly taken it before the place was converted to a cemetery." He found "this pretty species" on "the mouse-ear (Ghaphalium plantagineum) in May, and on the flowers of the spearmint in August," thus implying that it had two broods . Scudder (1889: 866) tells us that the plant Harris refers to is Antennaria plantaginifolia, or pussytoes.
Photo: Great Blue Hill, Milton, Mass., F. Model, May 28, 2008
Scudder believed that Juniper Hairstreak occurred only in southern New England, and "seldom in any great abundance." Its most northern known locality in 1899 was the vicinity of Boston (Scudder 1889: 865). Today, Juniper Hairstreak is listed as possibly extirpated in New Hampshire, and S1 or "critically imperilled" in Maine (NatureServe (3/2011). The Maine Butterfly Survey has recent records from only two townships in the southern tip of the state (MBS 2011). Therefore, Juniper Hairstreak in Massachusetts is still near the northern edge of its east coast range, as Scudder thought a century ago.
In 1899 Scudder reported that around Boston Juniper Hairstreak had been found in West Roxbury, Hyde Park, Dorchester (where it was "quite abundant"), Lynn, Quincy, Wyoming (now in Melrose near Middlesex Fells), Cambridge, Milton, Blue Hill, and Walpole (1899: 865). Harris' Cambridge syntype specimen (no date, but prior to 1862), is in the Harvard Museum of Comparative Zoology types collection. Avid collector F. H. Sprague took specimens in Wollaston (now in Quincy) in 1878 on 22 May, 29 June, and 3 July (Sprague 1879). Many specimens from the 1880s and 1890s are in the Harvard MCZ, from the locations mentioned, and also from Waltham in 1897, collected by C. Bullard. Specimens from Malden, Medford, and Sherborn are at Boston University. It is instructive to realize that because of rampant suburbanization, Juniper Hairstreak cannot be found in most of these locations today.
At the turn of the century, Juniper Hairstreak had also been found in western Massachusetts at Springfield, Mt. Tom (in Easthampton), Holyoke, and in the Holyoke Range (Scudder 1889:865). Habitat for this species probably expanded between 1600 and 1850, as a result of land clearing, grazing, burning and timbering, and also after 1850, as re-growing old fields sprouted young juniper trees when agriculture began to decline (Table 1).
By 1934 Farquhar, who reviewed the status of lepidoptera in New England, is able to list more locations, further from Boston, where Juniper Hairstreak had been collected: Framingham, Marblehead, Salem, Middleton, Stoneham, Weston, and Dover. However, it most likely was not present on Martha's Vineyard or Nantucket in the early 20th century, since the definitive work by Jones and Kimball (1943) makes no mention of it. Nor do there appear to be any historical specimens of Juniper Hairstreak from Martha's Vineyard or Nantucket in the Harvard MCZ, or the Yale Peabody Museum, or at Boston University.
From 1935 through the 1960's and 1970's, there are a few reports and museum specimens, but not nearly as many as for the more common hairstreaks such as Banded Hairstreak and Striped Hairstreak. For Bristol County, a 1939 Swansea specimen can be found in the Yale entomology museum. For Cape Cod, a series of specimens from Barnstable in the 1960's, taken by C.P. Kimball and now in the MCZ, finally document the species' presence there. North of Boston, James P. Holmes found a colony in Essex in 1966, adding to the known locations in Stoneham, Middleton, Salem and Marblehead. West of Boston, Edward M. Peters found it in Carlisle in 1971. South of Boston, William D. Winter reported "an extensive colony" in Needham on eastern red cedar in an old field in the mid-1970's, observing it in both broods. (A 7/28/73 Babson Park specimen is now in the MCZ; other specimens at Yale.) In 1972, E. Peters found Juniper Hairstreak in May in Framingham on lilac, and remarked that it was a good year for all hairstreaks, as was 1973, according to many observers. But in 1974, D. Willis reported Juniper Hairstreak as "way down in both spring and summer broods" as compared to 1973 in the Holliston-Sherborn-Framingham area. In the Connecticut valley in 1973, P. Carey reported that "the colony of M. gryneus at South Hadley-- in the meadows located west of North Main Street --showed well in both broods." (Lep.Soc. Seas. Sum. and Corresp. 1959-1981). Despite all these reports, Juniper Hairstreak seems to have remained uncommon, and probably was negatively affected by the loss of old field habitat (Table 2).
Host Plants and Habitat
Eastern red cedar (Juniperus virginiana) is the sole host in our area. The Connecticut Atlas found eggs on this plant in the wild (O'Donnell et al., 2007). Females apparently will not oviposit on Atlantic white cedar (Chamaecyparis thyoides) although the larvae develop normally on it when transferred (Opler and Krizek 1984: 97).
The butterfly may be present wherever there are stands of red cedar, usually dry, open, second-growth areas, including fields, slopes, and coastal locations. Extensive stands do not seem to be required; the butterfly has been found in clusters of only a few trees. In Massachusetts today, stands of red cedar are often found on rocky hilltops or ridgetops. Where such areas are surrounded by dense suburbs, as at Horn Pond Mountain, Woburn, they act as refugia for many hairstreaks. Stands of red cedar are widespread in eastern Massachusetts, but there is much seemingly suitable habitat in which the butterfly has not been found despite searches.
Most colonies are highly localised and adults seldom move more than 100 meters from the cedar host plants. But colonization does occur, and so there must be some dispersal (NatureServe 3/2011)
Relative Abundance Today
Scudder found this species uncommon in 1900, and it remains so today. The 1986-90 MAS Atlas confirmed Juniper Hairstreak in only 37 of 723 blocs searched; that ranks it as "Uncommon." MBC sight records from 2000-2007 also rank it as Uncommon (Table 5). Many other hairstreaks and elfins---Frosted Elfin, Eastern Pine Elfin, Brown Elfin, Banded Hairstreak, Edwards' Hairstreak---were seen more frequently in this period, with the same amount of total effort. Cassie in the Atlas account termed Juniper Hairstreak "quite common in eastern Massachusetts," but that could not be said today, as this species is rather hard to find.
There is a somewhat cyclical pattern of MBC sightings per total trip reports (Chart 30). The pattern might reflect normal rises and falls in population numbers. No long-term trends should be inferred. In this species population outbreaks and declines are often quite localised. As Mello and Hanson put it, Juniper Hairstreak can be "sporadic in abundance and distribution....common at a given site one year and absent the next (2002:39).
Chart 30: MBC Sightings per Total Trip Reports, 1992-2009
<![if !vml]>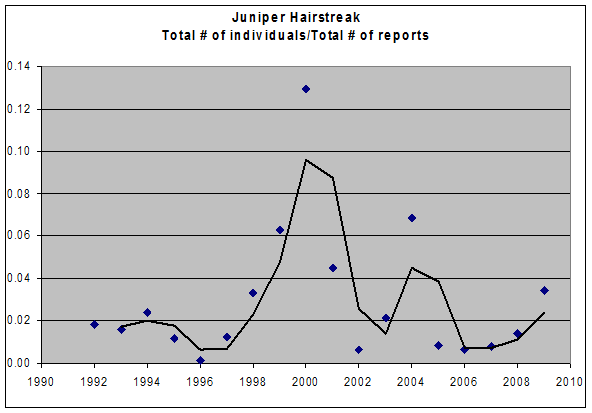 <![endif]>
In 2000, especially high numbers were reported from both Martha's Vineyard and the Amherst area. On the Vineyard, 27 were reported from Oak Bluffs on 5/6/2000 (M. Pelikan), as well as 24 on 8/6/2000 from the second flight. In Amherst, 47 were reported on 5/14/2000 (T. Gagnon) for the first flight, and 20 on 8/6/2000 (D. Minear) for the second flight. In 2004, 39 were reported on 5/17 in Amherst (D. Minear), but other than that, no reports from Amherst in prior or subsequent years exceed single digits. It seems that 2000 and 2004 were good years for Juniper Hairstreak in these two locations.
State Distribution and Locations
The 1986-90 Atlas found Juniper Hairstreak in only two areas: eastern Massachusetts and the lower Connecticut River valley. It was not found on Martha's Vineyard or Nantucket. It was found in no towns west of Worcester, the westernmost towns being Westborough and Uxbridge. In this respect the distribution of MBC sightings (Map 30) is the same, with no reports west of Uxbridge and Northborough, except for the central Connecticut River valley.
Map 30: MBC Sightings by Town 1991-2010
<![if !vml]>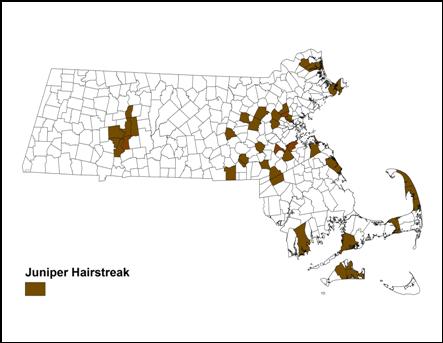 <![endif]>
Juniper Hairstreak was found in 39 towns in these years; this compares to 106 towns for Banded Hairstreak and 95 for Striped Hairstreak, and is similar to the 36 towns for Acadian Hairstreak.
The first known reports from Martha's Vineyard came in 1998; before that, there had been no 1986-90 Atlas or historical reports from either that island or Nantucket. Juniper Hairstreak was probably a new arrival to the Vineyard in the 1990's. As Matt Pelikan put it in his report in Massachusetts Butterflies, the Vineyard's agricultural economy was declining, and red cedars were among the first trees to colonize abandoned dry farmland, soon becoming abundant on the island (Pelikan 1999). Pelikan reported 1-6 individuals at several spots around Oak Bluffs that year, especially a small stand at Trade Winds with "only a handful" of cedars. Vern Laux, Allan Keith, and Alison Robb also reported the species from the Vineyard that year. The species flew from early May to August 7, 1998, the second flight and the 5/9/1999 reports being evidence of successful reproduction on the island.
Just a few years later, the Martha's Vineyard checklist (Pelikan, 2002) ranked Juniper Hairstreak as "common" on the island. It continued to be reported in good numbers through 2008, but subsequent years saw some decline, either because of reduced observer effort or possibly increased residential development reducing the "old field" habitat. MBC still has no reports from Nantucket (LoPresti 2011).
Juniper Hairstreak is most often seen in ones or twos, rather than large concentrations. The main locations from which larger numbers have been reported are Amherst var. locs. max. 47 on 5/14/2000 T. Gagnon; Canton Great Blue Hill max. 7 on 7/26/2008 E. Nielsen; Easthampton Mt. Tom State Res., max 55 on 5/15/1999 T. Gagnon; Foxborough, var locs max 25 on 5/2/1998 B. Cassie; Hingham World's End TTOR, max. 5 on 4/30/2012, R. Hopping; Holyoke Dinosaur Footprints TTOR max 41 on 5/15/2009 T. Gagnon et al; Lexington Cedar Hill and Juniper Hill max. 8 on 5/23/2004 T. Whelan; Oak Bluffs (var locs, incl. Trade Winds, Farm Pond ) max 27 on 5/6/2000, M Pelikan; Wellfleet, Wellfleet Bay WS, max 6 on 5/1/1999 A. Robb, T. Hansen and J. Sones; and Woburn Horn Pond Mountain, max. 5 on 5/19/2003 B. Bowker.
For Cape Cod, Mello and Hansen (2004) say that Juniper Hairstreak is reliably present at Wellfleet Bay Wildlife Sanctuary, is frequent around cedars in North Truro, and sometimes found at Crane WMA in Falmouth. It has been found on the Northampton NABA Count quite frequently, and is reported from Middlesex Fells Reservation in Winchester/Stoneham/Melrose, e.g. 4 on 5/2/2010 M. Arey.
NOTE TO COLLECTORS: THIS IS AN UNCOMMON AND POSSIBLY DECLINING SPECIES IN MASSACHUSETTS. PLEASE REFRAIN FROM COLLECTING SPECIMENS EXCEPT FOR THE PURPOSE OF SCIENTIFIC RESEARCH UNDER INSTITUTIONAL AUSPICES.
Broods and Flight Periods
Juniper Hairstreak has two broods in Massachusetts, an adaptive flexibility which apparently has not helped to make it more common here. According to MBC 1993-2008 records, the first flight takes place about mid-April through the end of June, and the second flight from mid-July to mid-August (http://www.naba.org/chapters/nabambc/flight-dates-chart.asp). On a statewide basis the end of the first flight is quite close to the beginning of the second flight in MBC records, and an observational data series from a single location would be desirable to better specify the dates of the two flights.
In comparison to Scudder's reports over a century ago, Juniper Hairstreak's first flight dates seem to be getting earlier. Scudder's flight time observations usually applied to the Boston area. He wrote that "This insect is double-brooded, the earliest butterflies appearing about the first of May – sometimes not until the 7th or 10th; they become abundant by the 15th or 20th and continue on the wing throughout June. .... second brood appears about the 20th of July, and continues into August, much less abundant than the first...(1889:866). He noted that some chrysalids from the first brood remain unhatched until the following spring. If this is so, the second brood is therefore only a partial second brood.
The earliest MBC dates for the first flight are markedly earlier than those reported by Scudder, or by the 1986-90 Audubon Atlas. In five of the 20 years 1991-2010, the earliest sightings of Juniper Hairstreak were in April, rather than May. These five MBC "first sightings" are 4/18/2009 Sherborn power line, B. Bowker; 4/20-21/2010 Woburn Horn Pond Mtn., M. Arey, S. Moore, H. Hoople; 4/21/2002 Oak Bluffs, M. Pelikan; 4/29/2000 Norfolk, B. Bowker; and 4/30/2001 Oak Bluffs, M. Pelikan. The Lepidopterists' Society reports 4/25/2009 Woburn Horn Pond Mtn. M. Arey as an early date (Seas.Sum. 2009), but it is not the earliest. The Audubon Atlas early date had been 5/2/1987, Middleboro, K. Anderson.
2011 was a poor year for Juniper Hairstreak in eastern Massachusetts, with no April sightings at the usual spots --Great Blue Hill, Horn Pond Mountain or the Vineyard. But the warm winter and spring of 2012 set new early records for several species, including Juniper Hairstreak: 3 were seen at Woburn Horn Pond Mountain by H. Hoople on 4/13/2012 (photos available).
In the Atlas period the 'extreme date' for the beginning of the second flight was 8/2/1986, Granby, and the second flight was said to take place only in August. But in MBC records, it appears that the second flight begins about mid-July (see flight chart), which accords with Scudder's observations. In 2012 the July flight was photographed on Great Blue Hill on 7/17/2012 by G. Dysart (http://dysart.zenfolio.com/junipers), and in 2011 was reported from Wellfleet Bay WS on 7/23/2011 by M. Faherty. Juniper Hairstreak was flying on 7/19/2008 on Martha's Vineyard (NABA Count), and also at Great Blue Hill on 7/26/2008, but in 2009 and 2010, no second flight was documented.

The MBC "last sighting" dates marking the end of the second flight are 8/19/1999 Amherst, D. Case; 8/19/2003 Dennis, T. and C. Dodd; and 8/17/2000 Oak Bluffs, M. Pelikan. These dates accord with the Atlas late date of 8/18/1989, South Hadley, T. Fowler. The mid-August ending of the flight does not appear much changed since Scudder's report in 1899.
Outlook
Juniper Hairstreak warrants concern and conservation attention in Massachusetts, despite its present conservation ranking as S4 or "apparently secure." To our north, as mentioned above, this species is possibly extirpated in New Hampshire and S1 or "critically imperiled" in Maine (Nature Serve 2/2011). Juniper Hairstreak is thus near the northern edge of its east coast range in Massachusetts, as Scudder mentioned a century ago.
The situation to our south is very worrisome. The 1990-95 Connecticut Atlas found only 28 project specimens, compared to 146 pre-project specimens, and concluded that Juniper Hairstreak was "losing ground in the state" because of habitat loss (O'Donnell et al. 2007: 293).
Habitat for Juniper Hairstreak declines as old fields mature and early successional areas grow into forests. This species is typically not found in the western, heavily forested areas of the state, where red cedar is scarce. Both the MBC and the Atlas distributional maps demonstrate that this species is not distributed throughout the state--- which is the impression given by more broad-scale published distribution maps (Opler and Krizek 1884; Cech 2005)--- but concentrated in the east and the lower Connecticut River valley.
Loss of habitat may be the most important threat to this lovely, uncommon hairstreak, but even where red cedar is common there is much seemingly suitable habitat where the butterfly has not been found despite searches (cf. Cech 2005). More research into precise habitat needs and temperature tolerances seems necessary. Since Juniper Hairstreak presently ranges south to north Florida, it is not a priori expected to be adversely affected by climate warming in the northeast.
© Sharon Stichter 2011, 2012
page updated 12-10-2012
Species of Conservation Concern
ABOUT BOM SPECIES LIST BUTTERFLY HISTORY PIONEER LEPIDOPTERISTS METHODS