ABOUT BOM SPECIES LIST BUTTERFLY HISTORY PIONEER LEPIDOPTERISTS METHODS
The Butterflies of Massachusetts
20 Banded Hairstreak Satyrium calanus (Hübner, 1809)
<![if !vml]>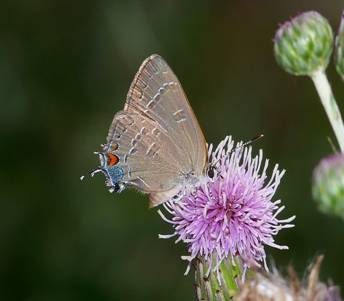 <![endif]>
"The hairstreaks are among the most exquisite and delicate of all our butterflies" wrote Clarence M. Weed of the Lowell State Normal School, a century ago in his popular book Butterflies Worth Knowing (1919: 242). With only one short flight period each July, our seven Satyrium hairstreaks are also somewhat elusive, and all live a fairly targeted life style. They can be differentiated by host plant and degree of specialization. The Banded and Oak Hairstreaks have several hosts among the oaks and hickories, and the Striped Hairstreak uses mainly cherries but has several hosts among the Rosaceae and Ericaceae. On the other hand, the Edwards', Hickory, Coral and Acadian Hairstreaks are more specialized: Edwards' selects mainly scrub oak, the Hickory Hairstreak hickories, the Coral cherries, and the Acadian willows.
Photo: Great Blue Hill, Milton, MA, F. Model 6-27-2010
First described by Hübner, the Banded was known as Thecla falacer to most nineteenth century lepidopterists, and the name 'falacer' is still attached to the subtype which flies in most of eastern United States (e.g. Pelham 2008). In Massachusetts, Harris (1862) described a 'Thecla falacer' which could be either a Banded or an Edwards'; Scudder says it's an Edwards' (1889:885).
As forests declined between 1600 and 1850, this hairstreak probably suffered population losses (Table 1), but it still seems to have been fairly common in Scudder's day. At the turn of the century, Scudder found the Banded well distributed around the state, with specimens from Andover, Woburn, Dorchester, Wollaston, Quincy, Cape Cod, Amherst, Springfield ("abundant"), Mt. Tom, [North] Leverett, Mt. Toby, and Montague (1889:889). Pre-1900 specimens from most of these areas, as well as from Deerfield (1885) are still in the Harvard MCZ today. Maynard (1886) says it was "not uncommon in Massachusetts" in July.
There does not seem to be much evidence for change in the status of Banded Hairstreak since Scudder's day. One might expect population increases as forests re-grew, but declines where forests became dense and closed-canopied. Habitat gains in some areas were probably also balanced by losses in areas of heavy development. Early twentieth-century (1900-1930) specimens in the Harvard MCZ and at Boston University show Banded Hairstreak to have been present in Harwich, Needham, Springfield, and Tyngsboro. Farquhar (1934) adds Andover, Boxford, Marblehead, Middleton, Stoneham, and Essex north of Boston, as well as Woods Hole, Brookline, Waltham, Malden, Auburndale and Amherst. By the 1940's it is reported to be "widely distributed" on Martha's Vineyard, but still is "not recorded" from Nantucket (Kimball and Jones 1943).
Through the 1960's and 1970s, Lepidopterists' Society records document Banded Hairstreak in many locations around the state. Mark Mello collected it in New Bedford in June 1961. James Holmes reported it "common" on Cape Ann in early July in 1965, 1966, and 1967. William D. Winter collected it in Westwood on July 22, 1972. 1973 was a particularly good year; Winters reported it "extremely common everywhere" in the Westwood area, and Patrick Carey of South Hadley reported it "swarming in large numbers in Holyoke." 1974, on the other hand, saw a population drop. R. Robbins reported to L. P. Grey that year that both "Satyrium calanus and S. liparops suffered a drastic (about 100-fold) decrease in population numbers from the previous year. A cold spell during the last week in June (the peak emergence time for these species) may have been a contributing factor." And Willis reported both species "down" in the Holliston-Sherborn-Framingham area, as compared to 1973 (Lep Soc. Seas. Sum. and Corresp., 1959-1976).
Host Plants and Habitat
Banded Hairstreak's larval hosts across its range include Chestnut Oak (Quercus prinus), White Oak (Q. alba), Red Oak (Q. rubra), as well as American Chestnut (Castanea dentata), walnuts (Juglans spp.), and hickories (Carya spp.) (Scott 1986). In Massachusetts, the main hosts appear to be oaks, especially Red (Q. rubra) and Scrub (Q. ilicifolia) oaks. Sam Jaffe found Banded Hairstreak caterpillars abundant in the Great Blue Hills in 2009, and scrub and red oaks were the dominant hosts. He found one caterpillar on hickory and one eating birch at Wompatuck State Park (Jaffe 2009). In 2002, D. L. Wagner and others found Banded Hairstreak larvae on Quercus ilicifolia in Foxborough, MA (comm. from J. O'Donnell to C. Hitchcock 12/3/2010). Interestingly, the Connecticut Atlas found Banded Hairstreak larvae in the wild only on hickories -- Shagbark (Carya ovata), Pignut (C. glabra), Mockernut (C. tomentosa) -- and Black Walnut (Juglans nigra) and Butternut (Juglans cinerea), but not on oaks.
Banded Hairstreak is usually found in open woodlands, and along the edges of deciduous forests. Males defend perches in sunlit areas of woods or woods edges; where abundant they can be seen whirling upward in groups defending territories. As adult nectar sources, Walton observed that meadowsweet, milkweeds and smooth sumac are highly attractive, among the 17 species of nectar sources counted during the Atlas period. It has also often been observed nectaring at New Jersey Tea. Banded Hairstreak larvae may be tended by ants (O'Donnell et al, 2007), but detailed research is needed.
Relative Abundance Today
The Banded is our most often-seen hairstreak; MBC sight records rank it as "Uncommon-to-Common" (Table 5). It is the only hairstreak to reach this category, all the others being "Uncommon."
Although the Atlas termed this hairstreak "fairly common,' it was found in only 93 of the 723 blocks searched, ranking it as "Uncommon" relative to other Atlas species (Table 5). Hairstreaks in general are not as frequently encountered as species with longer flight periods and multiple broods.
Chart 20 does not show any marked trend upward or downward in sightings 1993-2009, just a small year-to-year variation within a narrow range.
Chart 20: MBC Sightings per Total Trip Reports, 1992-2009
<![if !vml]>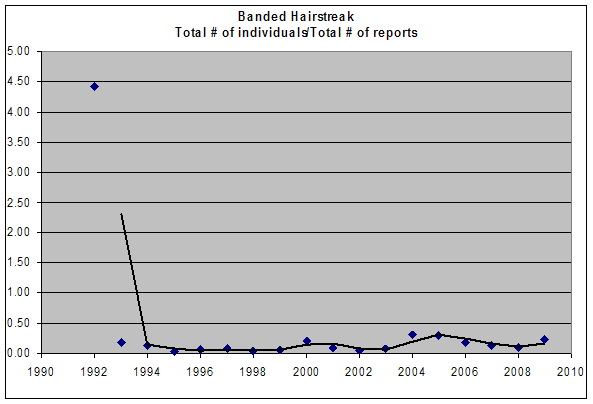 <![endif]>
Chart 20 shows a highly unusual number of Banded Hairstreaks in 1992; this 'outlier' reading is due to an incredibly high number reported from the Foxboro NABA Count that year. While Banded Hairstreaks do exhibit local population expansions and declines, a population explosion of such magnitude was not seen in any of the subsequent 17 years of MBC field trips and counts statewide. The Foxboro NABA Count of the same area the next year (1993) turned up only 17 Banded Hairstreaks, and Foxboro counts in succeeding years never topped 25. The 1992 report should therefore be discounted.
Statewide Distribution and Locations
Map 20: MBC Sightings by Town, 1991-2009
<![if !vml]>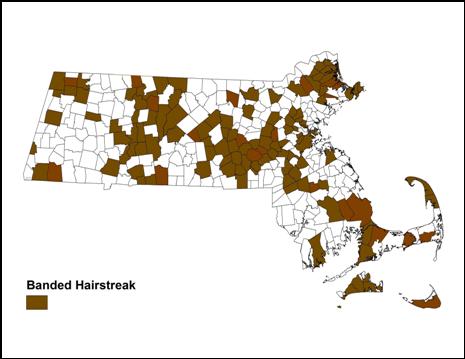 <![endif]>
Banded Hairstreak is reported from 106 out of some 300 towns 1992-2009, and is broadly distributed across the state, from the Berkshires to the islands.
Banded Hairstreak can be reliably found on Cape Cod; Mello and Hansen (2004) report several productive locations, and it is often reported on the Cape NABA Counts. It is also frequently reported from Martha's Vineyard; the Vineyard Checklist (Pelikan 2002) ranks it as "Uncommon" there. But for Nantucket, neither MBC, the MAS Atlas, BMNA, nor museum specimens show any Banded Hairstreak records, continuing the situation reported by Jones and Kimball in 1943.
Banded Hairstreak is usually found in small numbers at any one location, but some locations have yielded particularly high numbers from a single visit. Two especially reliable and productive locations are Horn Pond Mtn Woburn, and Great Blue Hill Canton, both "mountain-top islands" near Boston, surrounded by suburbs. At Horn Pond, Bandeds are found nectaring on New Jersey Tea in early July in company with other hairstreaks; maximum numbers reported are 18 on 6/23/2004 M. Rines and R. LaFontaine; and 17 on 6/27/2008 R. LaFontaine.
At Great Blue Hill south of Boston, recent maxima of 39 on 7/8/2006 M. Champagne and E. Nielsen and 32 on 7/4/2009 E Nielsen were reported. Sam Jaffe in 2009 found Banded Hairstreak caterpillars to be abundant in the Blue Hills, especially common on the western face and summit of Great Blue Hill, but also present on the slopes of Buck Hill and Chickatawbut. He also found many larvae at Wompatuck State Park in Hingham.
Other locations from which larger numbers have been reported are Broad Meadow Brook WS in Worcester (recent max 6 on 7/3/2007 B. Walker and E. Barry; higher numbers in 1990's); Mountain Meadow Preserve, Williamstown; Wellfleet Bay WS, Wellfleet; Paine Estate, Waltham; Wachusett Meadow WS, Princeton; Mt. Greylock; Milford Power Line; Draper Park, Hopedale; World's End sanctuary, Hingham; Mt. Holyoke; Crane WMA, Falmouth, and Dover Recycling Center Field.
Holyoke has apparently been a Banded Hairstreak stronghold for many years. In 1973, Banded Hairstreak "swarmed" on Cedar Knob in Holyoke at the end of June according to Carey, but was less numerous the previous year (Lep Soc Season Summary 1973). There are several MBC reports from Mt. Greylock, as well as a Harvard MCZ specimen from Mt. Greylock (New Ashford) from 8/09/1956.
Banded Hairstreak has been found on the Blackstone Valley NABA Count every year since 2001, max 23 on 7/14/2001; on the Central Franklin NABA Count every year since 1992; max of 73 on 7/3/2005; and on the Northampton NABA Count every year since 2001. It is usually reported on the Concord NABA Count, with a high of 10 on 7/10/1993, and from the Cape Cod Counts, notably Brewster and Falmouth.
Broods and Flight Period
Like all our Satyrium hairstreaks, the Banded has a single, annual brood. MBC records show a flight time stretching from the second week in June through the third week in August, with a peak the first two weeks of July (http://www.naba.org/chapters/nabambc/flight-dates-chart.asp).
Unlike Coral Hairstreak, Banded Hairstreak does not appear to have advanced its flight period significantly over the 1986-2009 period, according to a study done at Boston University using MAS Atlas and MBC records (Polgar, Primack et al. 2013).
First Sightings: Over the 20-year period 1991-2010, the earliest MBC observations are 6/11/2010 Canton Great Blue Hill S. Jaffe; 6/12/1999 Gill D. Small; 6/18/2008 Medford R. LaFontaine; 6/20/1996 Boston, B. Malcolm; 6/20/2001 Milford R. Hildreth; and 6/21 in four of the years. Thus in 9 of the 20 years, the first observation has been 6/21 or earlier; this is a somewhat earlier emergence time than was implied by Scudder when he said that this butterfly "makes its first appearance toward the end of June (1889: 890)." But in another 10 of the 20 years, the first observation was in the last week of June, in accord with Scudder's timing. Scudder also notes that the Banded "continues to emerge from the chrysalis until after the first week in July---the females probably throughout July."
Additional early (pre-6/21) sightings were added in 2011 and 2012 (BOM records). The first sighting in 2011 was 6/18 in Woburn at Horn Pond Mountain, M. Arey, and in 2012 was 6/17 in Framingham at Garden in the Woods, G. Dysart.
Last Sightings: The 'last seen' dates in MBC records are for the most part in the first week or two of August. The latest dates are 8/20/1992 Foxboro B. Cassie (also reported by the MAS Atlas), 8/19/2006 Topsfield, M. Arey, and 8/17/2000 Groveland F. Goodwin. In 2003 through 2009, all 'last seen' dates were in August, rather than July, but in 2010 - 2012, the last reports were in July.
Scudder makes the somewhat surprising statement that "It is much more abundant during July than subsequently, but occurs also during the whole of August and has even been taken in the first week of September..." (1889: 890-1). A search of MCZ and Boston University specimens shows no September Banded Hairstreaks from Massachusetts; the latest taken in this state in the 19th or early 20th centuries was 8/11/1883, North Leverett, Mass. by F. H. Sprague. As noted, the latest date in MBC/BOM records is 8/20.
Outlook
Cech (2004) describes this hairstreak as "flexible and adaptive," perhaps because of its variety of tree hosts and tolerance of nearby disturbed areas. It seems able to persist in small patches of open woodlands, and edges, so that while it does not survive in dense forests or dense urbanized areas, it has been reported from some urban parks and suburban back yards.
Banded Hairstreak's plant hosts and habitat are common across Massachusetts, and its NatureServe rank of S5, or 'secure,' for the state seems warranted. It is also S5 in Connecticut. Its present range extends south to mid-Florida, so that climate warming here would not seem to pose a problem.
© Sharon Stichter 2010, 2011, 2012
page updated 7-19-2012
ABOUT BOM SPECIES LIST BUTTERFLY HISTORY PIONEER LEPIDOPTERISTS METHODS