ABOUT BOM SPECIES LIST BUTTERFLY HISTORY PIONEER LEPIDOPTERISTS METHODS
The Butterflies of Massachusetts
105 Black Dash Euphyes conspicua (W. H. Edwards, 1863)
<![if !vml]>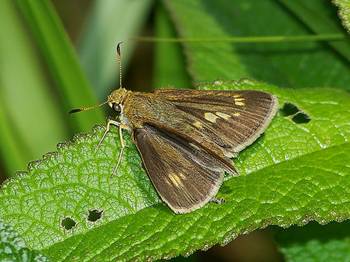 <![endif]>
Our less common Euphyes skippers, the Black Dash, the Dion, and the Two-spotted, are all wetland-habitat species, and probably arrived here during the postglacial warming period (xerithermic), when glacial lakes and kettle ponds across New England and upstate New York succeeded to marshes, swamps and bogs, allowing these species to recolonize the area from their southeastern refugia. As Arthur Shapiro has suggested, recolonizers of marshy areas probably also included the Broad-winged Skipper sub-species Poanes viator viator, and Mulberry Wing, Poanes massasoit. All these marsh species may well have reached the Great Lakes area via a route through southern New England and New York (Shapiro 1970b, incl. maps). The present disjunct between the Atlantic coastal populations and the Great Lakes population is ascribed to the subsequent drying up of these central New York marshes. There are no phenotypic differences between eastern and mid-western Black Dash, except for the darker Nebraska sub-species buchholzi.
Photo: New Salem, Mass., F. Model, July 25, 2008
Like the Mulberry Wing, with which it is often found, Black Dash occurs only in eastern North America, and has a small and rather unusual range. It occurs along the northeastern seaboard, from Massachusetts south only to Virginia. North of Massachusetts, it is found in only a few locations in New Hampshire and Vermont, but it has not been found on the ongoing Maine Butterfly Survey (VBS 2010; MBS 2010). This southern New England/mid Atlantic population is widely separated from another identical population around the Great Lakes and upper midwest.
W. H. Edwards called one of his two specimens of this species Euphyes pontiac, naming it for a powerful Native American chief in the Great Lakes area, and in old sources Black Dash is still sometimes referred to as the Pontiac Skipper. As Zirlin relates, Edwards actually described the same species twice, thinking his two specimens were of different species. But because conspicua appeared on the page preceding pontiac, the name conspicua was given priority and applied to the species as a whole (Zirlin 1995).
In Massachusetts Scudder (1889: 1732-4) reported very few specimens of Black Dash, and said that it had only been reported from the Boston area---Cambridge, Jamaica Plain, Malden and Wollaston (Quincy). Early specimens from Malden (L.W. Swett, c. 1908), Wollaston (F. H. Sprague, 1883), and Milton (H. H. Newcomb, 1899) are at Boston University. In addition, Sprague reported it from "the valley" areas of Belchertown and North Leverett in 1878 (Sprague 1879). As with our other well-known wetland skipper, Mulberry Wing, one can hardly find Black Dash in Scudder's Boston area towns today, since they have become heavily urbanized. And again like Mulberry Wing, Scudder did not seem to know this butterfly very well. It is not even on his earlier 1862 list of New England butterflies. Following Edwards, he called it Limochores pontiac, or the Pontiac Skipper, but was able to give no information about its life history, host plants or habitat.
Black Dash, like Mulberry Wing, was probably uncommon, rather than rare, in Massachusetts through the 19th century. It was certainly nowhere near as common as its more versatile wetland-based congener, Dun Skipper, and like Mulberry Wing it probably suffered greatly from the loss of wetlands in eastern areas (Table 1).
By the 1930's, Farquhar (1934) is able to add Milton, Stoneham, Newtonville and Norwood to the list of towns where Black Dash had been collected, widening it's known range around Boston. C.V. Blackburn's 1927 Stoneham specimen (female) is now in the Boston University collection. Black Dash was not known to be on Nantucket in the 1940's (or today, for that matter), but F.M. Jones did find it in a bog in West Tisbury, Martha's Vineyard, in 1942 (Jones and Kimball 1943).
By the 1970's there is a bit more information available, but still only for eastern Massachusetts: in 1971 Edward M. Peters took a conspicua male specimen in Carlisle; in 1973 William D. Winter reports conspicua "quite common" in Westwood, Dover and Medway 7-24 July; and in 1974 D. Willis reports it "common" in the Holliston/Sherborn area (Lep. Soc. Seas. Sum. and Correspondence, 1959-1981). Four William D. Winter specimens from Dover (1973 and 1966) are in the Harvard MCZ. It was not until the 1985-90 Audubon Society Atlas that Black Dash was shown to be present, though uncommon, in many areas throughout the state.
Host Plants and Habitat
The main larval host plant for Black Dash is Tussock Sedge (Carex stricta), which is native to and found in all counties in Massachusetts (Magee and Ahles 1999). The 1995-99 Connecticut Atlas participants found eggs or larvae of Black Dash on this species in the wild (O'Donnell et al. 2007). However, Black Dash may also use some of the many other available sedge species. Research is solely needed.
Like Mulberry Wing and Two-spotted Skipper, Black Dash is a localized marsh-grass feeder, and not an active colonizer. But compared to Mulberry Wing, it uses a somewhat wider range of types of wetlands, including weedy streamsides, fens, and wet meadows, and is somewhat more likely to leave these habitats in search of nectar (Cech 2005).
Black Dash will persist in shrubby or partially wooded (red maple) wetlands in which Tussock Sedge is at least co-dominant, but the species does not occur in deep shade (NatureServe 2010). Succession of wetlands to wooded swamps will reduce Black Dash populations.
Relative Abundance Today
Both MBC and Atlas records rank Black Dash as Uncommon (Table 5). In MBC records 2000-2007, Black Dash was seen slightly less frequently than Mulberry Wing (which was also Uncommon). However, it is a bit harder to identify than Mulberry Wing, and may have been overlooked. The 1985-90 Atlas found Black Dash in 49 out of 723 blocs searched, and termed it "uncommon to common," whereas Mulberry Wing, found in 54 blocs, was somewhat inconsistently termed "uncommon."
MBC yearly records of sightings per number of trip reports show a trend toward decline in this species (Chart 105). The reading for 1993 is especially high owing to a particularly large number (212) reported from one site in Easton. (In all other years the largest number from any one site or even from a NABA Count does not exceed 30.) Even if that report is left aside, there is still a downward slide in sightings over this time period.
Chart 105: MBC Sightings per Total Trip Reports, 1992-2009
<![if !vml]>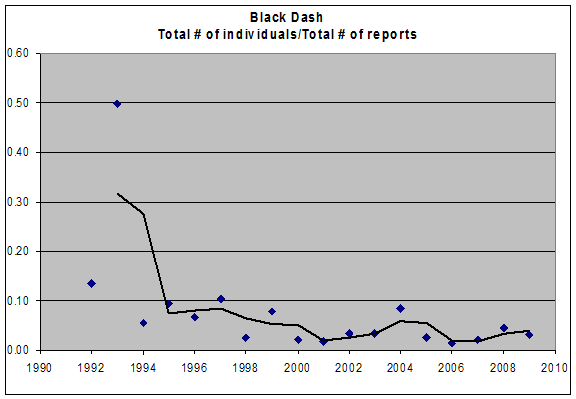 <![endif]>
State Distribution and Locations
Map 105: MBC Sightings by Town, 1992-2009
<![if !vml]>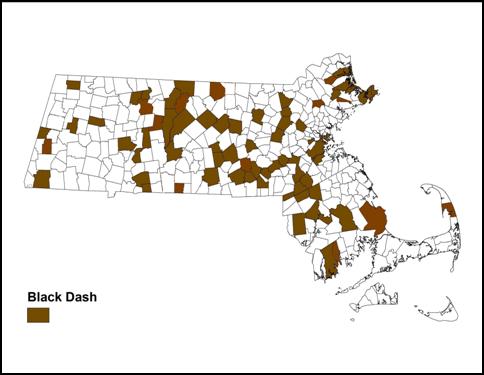 <![endif]>
Black Dash's state distribution (Map 105) is remarkably similar to that of Mulberry Wing. As of 2009 Black Dash is reported from only 60 of a possible 351 towns in Massachusetts, and Mulberry Wing from only 66 towns.
The 1986-90 Atlas did not find Black Dash on Cape Cod, nor are there apparently any historical records. MBC records show one uncertain report from Cape Cod (not mapped). Mello and Hansen report that the Dennis/Greenough Ponds Complex in Yarmouth "marks the only location on Cape Cod that hosts the Black Dash" (2004: 92). (They list no Cape locations for Mulberry Wing.)
There are no MBC records from otherwise well-reported Martha's Vineyard, suggesting that Black Dash is, like Mulberry Wing, is unlikely to be found there, despite its historical presence. The current Vineyard checklist lists Black Dash as "rare or extirpated" (Pelikan 2002). The Atlas did have one record from Martha's Vineyard (W. Tisbury, 7/29/90, C. Leahy).
In southeastern Massachusetts Black Dash has been reported nearly every year 2003-2008 in small numbers from the Bristol NABA Count ---whereas only one Mulberry Wing has ever been reported on the Bristol Count. The Atlas and BMNA also show Bristol County records.
MBC records show Black Dash in more parts of central and western Massachusetts than had been previously thought. The species has been found on all three Berkshire NABA Counts, although usually in numbers less than 10. It is reported from North Adams, Greenfield, Cummington, Hinsdale, New Salem, Orange, Royalston, Petersham Tom Swamp, Paxton, Monson (Norcross WS max 2 on 7/19/2006 E. Barry et al.), Amherst, and Princeton. It is reported nearly every year on the Central Franklin NABA Count, in numbers that vary from 1 to 30. Since 2001 it has usually been reported on the Northampton NABA Count, in numbers less than 10, and since 1996 on the Northern Worcester NABA Count with numbers varying from 1-20.
Good numbers and frequent reports continue to come from the more eastern NABA Counts. The Blackstone Valley Count has reported Black Dash nearly every year since 2001, with numbers varying from 1-18; Concord NABA has reported it nearly every year in numbers varying from 1-14; and Foxboro had it nearly every year in the 1990's, in numbers varying from 1-23.
Other notable and productive locations include Easton max 212 on 7/17/1993 B. Cassie; Ipswich Appleton Farms TTOR max 7 on 8/3/2009 S. and J. Stichter; Milford power line max 8 on 7/18/2004 E. Nielsen; New Salem Branch Bridge Road max 24 on 7/8/2010 F. Model; Rockport rail line behind Babson Museum max 30 on 7/25/2004 D. Savich and C. Tibbits; Sherborn gas line max 16 on 7/20/2009 B. Bowker; Sherborn power line max 27 on 7/11/2008 B. Bowker; and Upton Robertson's gas line max 4 on 7/4/1999 T. and C. Dodd.
Both Black Dash and Mulberry Wing are vulnerable to natural succession in wetlands. One colony of Black Dash in a small wetland adjacent to a commuter rail line in Rockport has been monitored every year since 1993 by D. Savich and C. Tibbits. Numbers at this location (the only known site for this species and Mulberry Wing on Cape Ann) have varied greatly, but with an overall downward trend as the wetland has succeeded to shrubs. The highest numbers of Black Dash at this site were 26, 18, and 30 in 2002, 2003, and 2004, but 8 in 2005 and 0 to 2 since then.
NOTE TO COLLECTORS: BLACK DASH IS A REGIONALLY UNCOMMON, SPECIALIZED, AND POSSIBLY DECLINING SPECIES IN MASSACHUSETTS. IT SHOULD NOT BE COLLECTED EXCEPT FOR SCIENTIFIC RESEARCH UNDER THE AUSPICES OF AN EDUCATIONAL OR SCIENTIFIC INSTITUTION.
Broods and Flight Time
Like the Mulberry Wing, Black Dash is univoltine throughout its small range, and has a relatively concentrated flight time in Massachusetts, from mid-June to mid-August, with peak numbers in the middle two weeks of July. Good numbers are actually seen in many locations during the first week in July (http://www.naba.org/chapters/nabambc/flight-dates-chart.asp).
MBC reports suggest that this species could be flying earlier now than it has in the past. Scudder (1889: 1732-4) cites July 10 as his first specimen date. The 1985-90 Atlas had reported a flight beginning "the second week of July."
However, in 11 of the 19 years 1991-2009, the first MBC sightings of Black Dash are from the first week in July, not the second. And in four other years, the first reports came in June: 6/17/2003 Royalston C. Kamp/MBC; 6/18/1995 Amherst M. Fairbrother and D. Case; 6/19/2005 Petersham Tom Swamp B. Benner and T. Gagnon; and 6/25/2000 Hubbardston Barre Falls Dam M. Lynch and S. Carroll. The earliest date from the Atlas years had also been in the first week of July: 6 July 1989 Needham, C. Arbogast.
Black Dash's flight has extended into August in at least 13 of the 19 years under review. The five latest sightings 1991-2009 are 8/10/1994 Rockport D. Savich and C. Tibbits; 8/9/2004 Chelmsford T. Whelan; 8/8/1992 Easton T. Dodd; 8/6/2006 Rockport D. Savich and C. Tibbits; and 8/6/1993 Easton T. Dodd. The Atlas late date was 8/10/1986 Sharon B. Cassie. These are all later than Scudder's late date of July 27, though that date was probably simply the result of his limited number of specimens.
Outlook
Black Dash should be a Species of Conservation Concern in Massachusetts, due to habitat specialization, limited continental range and susceptibility to climate warming.
Like the Mulberry Wing, but unlike the Two-spotted, Dion and Broad-winged Skippers, the Black Dash's range is limited in the east to the southern New England/mid-Atlantic part of the east coast, rather than extending southward along the coastal plain. Thus Black Dash and Mulberry Wing may experience range contractions at the southern edge of their range, as well as possible expansions northward, if climate warms. How this would affect Massachusetts populations is not clear (Species affected by climate warming are listed on Table 6).
Habitat loss is the more salient threat. Black Dash is "only slightly less specialized than Mulberry Wing" (Cech 2005), and the preservation of open wet meadow habitat in Massachusetts is critical to the survival of this univoltine sedge-feeding species. Much wetland and sedge meadow habitat has already been lost in this state as a result of urban and suburban development. Current wetland protection laws may be protecting remaining populations of Black Dash, but documentation at many likely locations is lacking.
Black Dash's eastern range coincides with some of the most heavily urbanized areas of North America. Still, it has managed to survive. NatureServe (2010) optimistically ranks it S4 or "apparently secure" in its strongholds of Connecticut, Massachusetts and New Jersey, but S3 or "vulnerable" in New York and Pennsylvania. In Vermont Black Dash was first documented in a few (now 8) southern survey blocs in 2003, and is a species of special conservation concern (VBS 2010). This species has not been found in Maine, and eastern populations are disjunct from Great Lakes populations.
© Sharon Stichter 2011, 2012
page updated 1-11-2012
ABOUT BOM SPECIES LIST BUTTERFLY HISTORY PIONEER LEPIDOPTERISTS METHODS