ABOUT BOM SPECIES LIST BUTTERFLY HISTORY PIONEER LEPIDOPTERISTS METHODS
The Butterflies of Massachusetts
100 Mulberry Wing Poanes massasoit (Scudder, 1864)
<![if !vml]>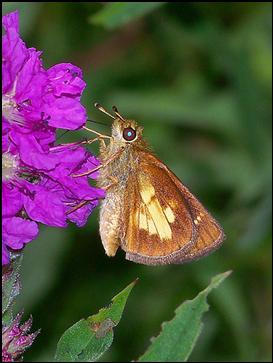 <![endif]>
Mulberry Wing is our most seductive wetland skipper. Its rich blackish-red "mulberry" upperside and bright yellow cross pattern below regularly tempt observers to plunge into the marsh in search of it. Fortunately, it is still findable in Massachusetts in the right habitat.
Samuel Scudder was the first to describe and name this species, from a specimen from Carver, Massachusetts, which is its "type locality." Scudder named it for Massasoit, the Wampanoag chief who was so helpful to the Pilgrims, signing a treaty of alliance with the King of England, and helping the new settlers celebrate their first Thanksgiving. Massasoit---like the skipper named after him---ultimately ceded much of his tribe's land to the English.
Scudder reported that "the eastern portion of Massachusetts has furnished more localities than any other" for this butterfly. He knew of specimens from Belmont, Wollaston, Malden, Cambridge, Milton, Walpole, Wrentham, and Carver – too many towns for the butterfly to have been as "rare" as Scudder says.
Photo: Sherborn, Mass. F. Model, July 16, 2008
Beyond the facts above, Scudder did not seem very familiar with the distribution or the life history of Mulberry Wing. He called it double-brooded and appearing in the first half of June, when in fact it is single-brooded and does not appear until July. Maynard (1886), an active naturalist around Boston at the time, also described Mulberry Wing as "quite rare with us." Perhaps the early naturalists were happier on dry land than wading through wetlands in search of the sedge feeders.
Conceivably, the species was already declining in the Boston area around 1900; certainly in the first four towns Scudder lists, the Mulberry Wing could probably not be found today, for this part of the species' historic range is now one of the most heavily built-up regions of the state (Table 1). Fortunately, there are Mulberry Wings further west in Massachusetts. Scudder himself had also seen specimens from New Salem, Amherst, and Belchertown in the middle of the state (1889: 1599), and Farquhar (1934) adds the towns of Middleton, Norwood, and Weston to Scudder's list. Unlike the Black Dash skipper, with which it is usually found, Mulberry Wing was not present on Martha's Vineyard or Nantucket historically (Jones and Kimball 1943), and there are apparently no historical records for Cape Cod.
Mulberry Wing was well-documented around the Acton area 1962-1965 by C. G. Oliver. William D. Winter found it in West Medway and Dover in the 1970's (Harvard MCZ). It was documented for the Berkshires by O. R. Taylor 1962 in Richmond, then by D. S. Dodge in 1982 in Sheffield. W. P. Rogers found it in Fall River in 1945. In 1936 C. L. and P. S. Remington took 12 specimens from the Blue Hills in Milton. Specimens from all these locations are in the Yale Peabody Museum.
Occurring only in temperate eastern North America, the Mulberry Wing has a small and rather unusual range. It occurs along the northeastern seaboard, from a few locations in southern New Hampshire and Maine south only to Maryland. This southern New England/mid Atlantic population is disjunct from another identical population around the Great Lakes and upper midwest (Opler and Krizek, 1984).
Lepidopterist Art Shapiro has argued that many butterflies, including the univoltine sedge-feeding skippers like Mulberry Wing, Black Dash, and Two-spotted Skipper, and also Broad-winged Skipper and Dion Skipper, probably recolonized southern New England after the glaciers using the most obvious route: north along the Atlantic coastal plain. They then migrated across New York via postglacial wetlands to re-enter the Great Lakes area from the east. He argues that the present-day distribution of the Two-spotted Skipper illustrates this postglacial pathway, and that the disjunct distributions (gap between the Great Lakes and New England populations) of the Broad-Winged Skipper, the Black Dash, the Dion Skipper, and the Mulberry Wing are explained by the subsequent drying up of these marshes in central New York (Shapiro 1970b, incl. maps). The inclusion of Mulberry Wing in this interesting theory has been called into question by Shuey (1985), who showed that Mulberry Wing is not present in northeastern Ohio and could just as easily have entered Ohio from the west (Iftner et al. 1992: 18, 54).
Host Plants and Habitat
Mulberry Wing's sole habitat is sedge wetlands; it seldom strays far from these special locations. The sedge habitats can be small, e.g. 50 meters wide (Layberry et al., 1998), or "a few hectares" (NatureServe 2010), so that Mulberry Wing can often be found in roadside, railroad bed, or power line sedge patches.
As long as the host sedge is present, the type of wetland can vary from quite open to partially wooded. Mulberry Wing is not found in deep shade, but it is often under trees. Populations can appear quite small, for example 20 or less seen in a day (NatureServe 2010).
The host plant is our native Tussock Sedge (Carex stricta), and possibly other narrow-leaved sedges. The flight is low and weak, often weaving in and out among the sedges, and resting on leaves. Mulberry Wing often occurs in association with Black Dash, a Euphyes species with similar host plants, habitat, and limited range.
Relative Abundance Today
Both the Atlas and MBC records rank Mulberry Wing as "Uncommon." In MBC 2000-2007 records, Mulberry Wing was found somewhat more often than Black Dash, but both fall into the Uncommon range (Table 5). The 1986-90 MAS Atlas found Mulberry Wing in 54 out of 723 blocks searched. Mulberry Wing was probably not rare statewide in the 1800's. But urban and suburban development since then has probably reduced its numbers in the eastern part of the state and around other urban areas (Table 2). Still, collectors during the 1970's reported it "common" in certain areas, for example Carlisle (E. M. Peters, 1971; Medway (W. D. Winter, 1973); and Holliston-Sherborn (D. Willis, 1973) (Lep. Soc. Seas. Sum. and Corresp. 1959-1981).
Chart 100: MBC Sightings per Total Trip Reports, 1992-2009
<![if !vml]>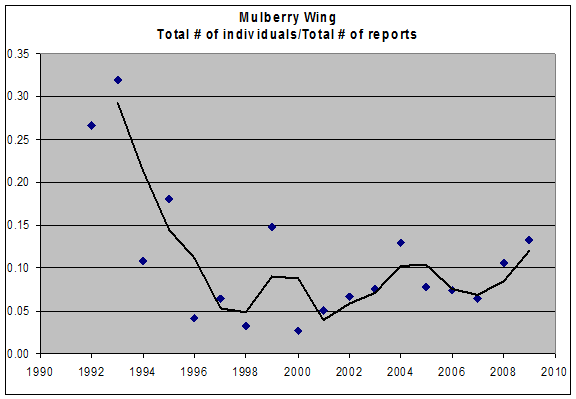 <![endif]>
Mulberry Wing shows a declining trend in MBC sightings per total trips between 1992 and 2009 (Chart 100). Even if we allow that 1992 and 1993 had rather smaller numbers of observers and trips, the greater effort (2-3 times the number of trips) put forth by butterfly enthusiasts since then did not produce commensurately greater numbers of Mulberry Wings. Still, there has been some upward trend from the low in 2000 to 2009.
The unadjusted totals of Mulberry Wings reported per year in the state each year are not very large; they vary from a high of 263 in 1999 to a low of 27 in 2000.
There is a great deal of yearly fluctuation in the adjusted and unadjusted numbers, a phenomenon also observed on some of the long-running NABA Counts with regular Mulberry Wing reports, such as Concord, Foxboro and Blackstone Valley. On the Concord NABA Count, which has reported Mulberry Wing every year but one 1991-2010, the highest totals were in 1995 (35), 1999 (60), and 2006 (46); whereas the lowest were in 1996 and 2009 (1), and 2005 and 2010 (2). There is no particular correlation with the statewide annual pattern, nor with the patterns on the Foxboro or Blackstone Valley counts. Mulberry Wings seem to be responding to particular local conditions in each area.
Both Mulberry Wing and Black Dash are vulnerable to natural succession in wetlands. One colony of Mulberry Wings in a small wetland adjacent to a commuter rail line in Rockport has been monitored every year since 1993 by D. Savich and C. Tibbits. Numbers at this location (the only known site for this species and Black Dash on Cape Ann) have varied greatly, but with an overall downward trend as the wetland has succeeded to shrubs. High counts were 9-20 in 1993-1996; then after about five down years were 21-25 in 2002-2004. From 2005 through 2009, only 1 or 2 Mulberry Wings have been seen each year. A similar pattern was seen for Black Dash at this site.
State Distribution and Locations
Map 100: MBC Sightings by Town, 1992-2009
<![if !vml]>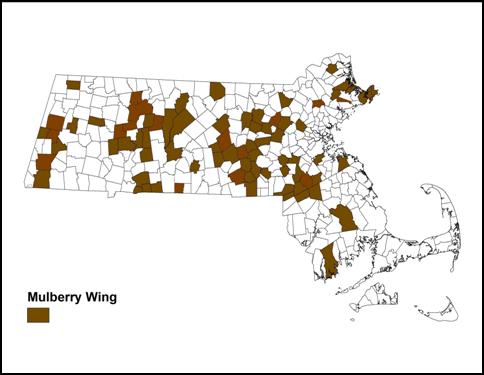 <![endif]>
The 1986-90 MAS Atlas found Mulberry Wings mostly in a ring of blocs outside Rt. 128 around Boston, and in the Connecticut River valley. MBC sightings (Map 100) confirm that these are important parts of the species' range, but add many more reports from the Berkshires and from the central part of the state around the Quabbin Reservoir. There are still very few reports from the foothills of the Berkshires or from just east of the Quabbin. Overall, between 1992 and 2009, the species was found in only 66 out of a possible 351 towns in Massachusetts.
Mulberry Wing is apparently not found on Cape Cod, Martha's Vineyard or Nantucket. Neither MBC nor the Atlas have any records. Mello and Hansen (2004) do not list it for Cape Cod, and Pelikan (2002) does not list it for the Vineyard. It is not reported on the NABA Counts for these areas. Middleboro is currently the furthest south the species has been consistently reported, although there is a report of one on the Bristol NABA count in 2000. In general the Atlas found Mulberry Wing "apparently absent from much of southeastern Massachusetts," and MBC records confirm this assessment.
Although there are now records from more locations in central Massachusetts and west of the Connecticut River, the largest unadjusted numbers of Mulberry Wings still come from eastern Massachusetts and the Connecticut River valley. The species' flight coincides with the NABA Counts. It has been reported most consistently and in the largest numbers from the Blackstone Valley, Concord, Foxboro, and Northampton NABA Counts. It has been reported regularly, but in usually smaller numbers, from the Central and Southern Berkshire Counts. For example, the Blackstone Valley count found Mulberry Wings every year since 2001, and in double digits (15-39) 2005-2008; and the long-running Concord count has found Mulberry Wings every year but one (2007) since 1991, with a maximum of 60 on 7/10/1999.
Despite its widespread distribution, Mulberry Wing can be difficult to find in some areas. Reports are often in numbers less than five. Aside from the NABA Counts, the most productive reported locations have been Concord (NABA Count) (recent max 46 on 7/15/2006 D. Walton et al.); Easton max 32 on 8/6/1992 B. Cassie; Harvard Oxbow NWR max 4 on 7/18/2004 T. Murray; Ipswich Appleton Farms TTOR max 8 on 7/9/2006 J. Berry; Marlborough/Northborough Crane Swamp Trail max 13 on 7/20/2008 S. Moore and B. Volkle; Milford power line recent max 15 on 7/25/2009 E. Nielsen; Milton Fowl Meadows max 6 on 7/17/2009 S. Jaffe; New Salem Branch Bridge Rd. max 20 on 7/8/2010 F. Model; Rockport rail line behind Babson Museum max 25 on 7/25/2004 D. Savich and C. Tibbits; Sherborn gas line max 50, and power line max 15 on 7/12/2009 B. Bowker; Ware Muddy Brook max 4 on 7/12/2009 B. Klassanos; Westborough WMA max 7 on 7/9/2008 W. Miller et al.
NOTE TO COLLECTORS: MULBERRY WING IS A REGIONALLY UNCOMMON, SPECIALIZED, AND POSSIBLY DECLINING SPECIES IN MASSACHUSETTS. IT SHOULD NOT BE COLLECTED EXCEPT FOR SCIENTIFIC RESEARCH UNDER THE AUSPICES OF AN EDUCATIONAL OR SCIENTIFIC INSTITUTION.
Broods and Flight Time
Mulberry Wing is an obligate univoltine; it needs the cold winter to complete its life cycle. It has a relatively concentrated flight time in Massachusetts, from the last week in June through the end of August, with peak time during the last three weeks of July (http://www.naba.org/chapters/nabambc/flight-dates-chart.asp).
In 12 of the 19 years 1991-2009, the first sightings occurred in the first week of July. The five earliest MBC reports are 6/10/2001 Middleboro K. Holmes; 6/10/1994 Chicopee Westover AFB M. Mello; 6/29/2006 East Longmeadow K. Parker; 7/1/2000 Foxboro NABA Count; and 7/2/1999 Milford R. Hildreth.
The five latest sightings in these years are 8/25/2002 Milford power line, B. Cassie; 8/22/2003 Worcester Broad Meadow Brook WS D. Price and B. Walker; and 8/20/1992 Easton, D. Lang et al., 8/16/2009 Ware Muddy Brook B. Klassanos; and 8/15/1995 Gloucester, D. Savich.
Outlook
Mulberry Wing is a special butterfly, endemic to temperate eastern North America. Its fortunes rise or fall with the increase or decrease of sedge wetlands. The spread of the invasive reed Phragmites in our wetlands is a serious threat to Mulberry Wing habitat.
The preservation of a network of healthy sedge meadows in Massachusetts is critical to the survival of this specialized species. Much wetland and sedge meadow habitat has already been lost in this state as a result of urban and suburban development. Current wetland protection laws may protect remaining populations of this species, but documentation is lacking from many likely wetland areas. Despite Mulberry Wing's somewhat sedentary nature, small habitats not too far apart probably will be eventually colonized (NatureServe 2010).
Given its small and northerly range, this species may be vulnerable to range contraction at the southern limit of its range due to climate warming, but how this might affect Massachusetts populations is unclear, and more research is needed (For species affected by climate warming, see Table 6). Along the eastern Atlantic coast, Mulberry Wing's current range extends south only to Maryland and central New Jersey, and north only to the southern tip of Maine.
Mulberry Wing should be considered a Species of Conservation Concern in Massachusetts. The strong fluctuations, downward trend, and climate change vulnerability mentioned above are worrisome. Habitat loss is probably the chief threat. Greater effort to find and monitor Mulberry Wing colonies is needed.
In neighboring states to the north, Mulberry Wing's status is even more fragile. In Maine, it was not known prior to 2005 (Webster and deMaynadier 2005), but was found in three townships in southern Maine during the 2006-2009 Butterfly Survey (MBC 2010). Could the species be extending its range northward? In New Hampshire the species is ranked S2 or imperilled (NatureServe 2010), and is found in only a few southern counties (BMNA 2010). In Vermont, its state-ranked status is S2 or imperilled, it is of conservation concern, and is found in only a few Atlas blocs in the southwest of the state (VBS 2010). Regional considerations strengthen the case for conservation in Massachusetts.
© Sharon Stichter 2011, 2012
page updated 1-11-2012
ABOUT BOM SPECIES LIST BUTTERFLY HISTORY PIONEER LEPIDOPTERISTS METHODS