ABOUT BOM SPECIES LIST BUTTERFLY HISTORY PIONEER LEPIDOPTERISTS METHODS
The Butterflies of Massachusetts
17 Coral Hairstreak Satyrium titus (Fabricius, 1793)
<![if !vml]>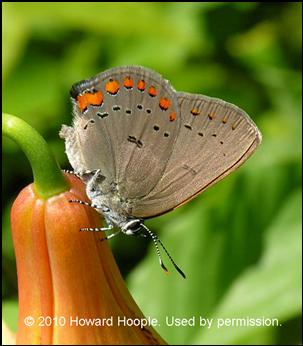 <![endif]>
The beautiful Coral Hairstreak is one of the gems of our butterfly fauna. It is a bit unusual among the hairstreaks in not inhabiting woodlands, like the Banded or Hickory, but rather shrubby, second-growth areas where its main host, Black Cherry (Prunus serotina), a pioneer species, flourishes. Like many butterflies, Coral Hairstreak needs both open areas for nectar (milkweeds are favorites), and re-growing woods for its larval host.
History Host Plants Abundance Distribution Flight Time Outlook
Thaddeus W. Harris had one specimen of "this fine butterfly," taken on the Cape at Sandwich, Massachusetts in 1833, by a Mr. John Bethune (Index; 1862: 278). This is the earliest Massachusetts specimen; Scudder (1889: 813) lists several more reports and specimens, from Williamstown, Springfield, Mt. Tom, Holyoke Range, Amherst, Belchertown, and Leverett in western Massachusetts, from "several localities in the vicinity of Boston " (where it was 'very rare'), and from Cape Cod at Hyannis, Sandwich, Eastham, and Provincetown. We may infer that Coral Hairstreak was fairly common on Cape Cod in the late 1800's, and in the Connecticut River valley, but was already "rare" around Boston due to industrial and residential development.
Photo: Weir Hill Reservation, North Andover, Mass. 7-15-2009
In the Harvard Museum of Comparative Zoology today, there are early specimens of Coral Hairstreak from Belchertown and North Leverett, collected by Frank Headley Sprague in 1878. Additional specimens before 1900 come from Lexington, Milton, Weymouth, and especially Wollaston, now part of highly developed Quincy. Except for Milton, these are towns where this hairstreak would be very difficult to find today. By the 1920s collectors had to look in such less-developed towns as Tyngsboro and Hanover. But Coral Hairstreak seems to have remained fairly common on Cape Cod and possibly the Islands through the 1920's; there are 1920's and 1930's specimens from Chatham, Harwich and Yarmouth in the MCZ, and from Wellfleet (1919) and Nantucket (1918) at Boston University.
By the mid-twentieth century Coral Hairstreak was known from central Massachusetts as well, with specimens from Auburndale and Framingham (Farquhar 1934). On the islands, F. M. Jones reported Coral Hairstreak as "widely distributed, fairly frequent, usually on flowers of Asclepias" on Martha's Vineyard, while Charles Kimball found it "rare" on Nantucket, but also usually on the flowers of swamp milkweed (Jones and Kimball 1943).
Coral Hairstreak undoubtedly benefited from the increase in woodlots and pastures in the early agricultural era, then may have declined at the peak of deforestation in southern New England after 1850 (Table 1). Like Striped Hairstreak, it no doubt benefited again from the re-growth of young forests in abandoned fields as agriculture declined in the late 19th and early 20th centuries. But urban and dense suburban development after 1950 may be reducing numbers once again.
The main host plant in Massachusetts is the black cherry tree (Prunus serotina). Elsewhere in its wide range Coral Hairstreak is reported to use also wild plum (P. americana, P. angustifolia), chokecherry (P. virginiana), domesticated plum (P. domestica), and even chokeberry (Aronia melanocarpa) (Scott 1986; Opler and Krizek 1984), but these have not been demonstrated for Massachusetts. Mello and Hansen (2004:36) suggest beach plum (P. maritima) and possibly shadbush (Amelanchier) for Cape Cod, referring to localized colonies inhabiting beach plum thickets on the outer Cape. All these plant species except P. domestica are native to and found in Massachusetts (Sorrie and Somers 1999).
Scudder found a Coral Hairstreak egg on Black Cherry over 100 years ago: "the only egg I have seen was found tucked into the angle made at the extreme tip of a wild cherry twig by ...two little shoots…" (1889:813). The 1995-99 Connecticut Atlas also found eggs on P. serotina in the wild. More recent evidence for Massachusetts exists: on June 4, 2010, at night, photographer Sam Jaffe found a large, colorful Coral Hairstreak caterpillar actively feeding at the upper tip of a trail-side black cherry sapling on Great Blue Hill in Canton. Ten to fifteen ants were swarming all over it! Apparently these caterpillars spend the day in the leaf litter and only emerge at night to feed, attended by ants. (Jaffe, masslep 6/5/2010; photo showing ant at http://www.pbase.com/spjaffe/image/125237720). The Coral Hairstreak egg is laid at the base of the tree (or twig, as in Scudder's report), either on bark or sometimes in adjacent leaf litter.
The egg overwinters, and hatches in spring, just as the new leaves emerge. The larvae feed on the new leaves and flowers of the cherry. As with most hairstreaks, the larvae are tended by ants, which feed on the honeydew excreted by the larvae (Allen 1997:82; Connecticut Atlas 2007).
As mentioned, Coral Hairstreaks need habitat which includes nearby open area nectar sources, as well as the presence of the proper species of ants. Scudder (1889) says Coral Hairstreak "…frequents blossoms, especially those of goldenrod, Jersey tea, milkweed, and thistle."
Both MBC 2000-2007 reports and the 1986-90 Atlas rank Coral Hairstreak as an "Uncommon" butterfly (Table 5). In MBC reports it was less common than Banded Hairstreak or Edwards' Hairstreak, but about on a par with Striped Hairstreak.
MBC records suggest that this species' population may be declining somewhat, but the data are not conclusive. List-length analysis of these records 1992-2010 similarly found a statistically significant decline of 65% in Coral Hairstreak detection (Breed et al. 2012). Chart 17 below shows this overall decline, but the result is greatly dependent on particularly large and probably atypical numbers reported in 1992 and 1993.
Chart 17: MBC Sightings per Total Trip Reports 1992-2009
<![if !vml]>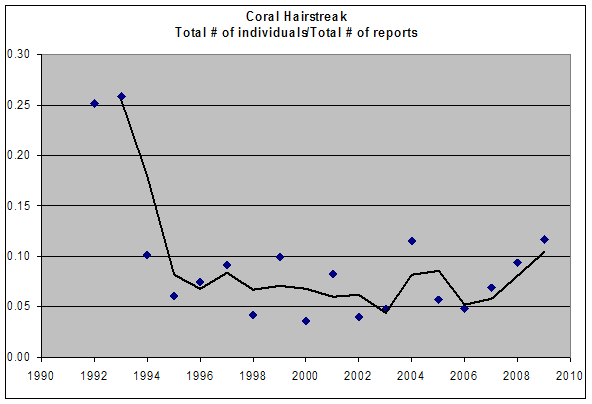 <![endif]>
After 1993, between 1994 and 2009, Coral Hairstreak reports per total trips showed a rather consistent pattern of yearly ups and downs, and in fact an upward trend in the years 2006 through 2009.
A modest increase in Coral Hairstreaks in 2007, 2008, and 2009 is also indicated by a different measure. In 2007 the average number of Coral Hairstreaks per report of that species increased 65%, in 2008 110%, and in 2009 106%, compared to the average for preceding years back to 1994. The maximum number reported in any one report also increased in 2007, 2008, and 2009 relative to prior years, although the actual number of reports of this species fluctuated (Nielsen, Season Summary, MB 2008-2010, Nos. 30, 32, 34).
State Distribution and Locations
Coral Hairstreak is found statewide, but is less common in the rich mesic forested areas of western Massachusetts. It is most numerous on the coastal plain, especially on Cape Cod and Martha's Vineyard.
Map 17: MBC Sightings by Town 1992-2009
<![if !vml]>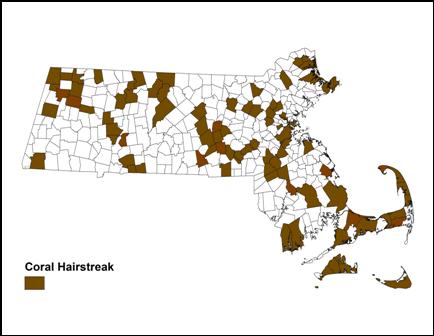 <![endif]>
The Atlas found that Coral Hairstreak was apparently relatively scarce in the Berkshires and along the northern border. The only museum specimens we have found for the Berkshires are two in the Berkshire Museum from Williamstown, taken 8/7/1970 by H. LaBeau. Map 17 of MBC sightings shows all towns from which there is even one report. It shows that Coral Hairstreak has been found throughout the Berkshires (usually on the NABA Counts) and in many northern border towns. But NABA count data suggest, as the Atlas did, that this species is much more abundant in southeastern Massachusetts, the Cape and the Vineyard.
Coral Hairstreak is reported from 77 out of some 300 towns in MBC records. On the NABA Counts, the largest numbers are usually reported from the Foxboro, Blackstone Valley, Martha's Vineyard, Falmouth, and Truro (Outer Cape) counts--- but also from the Central Franklin count. Lower numbers are consistently reported from the Northern and Southern Berkshire Counts.
Mello and Hansen (2004: 36) say that Coral Hairstreak is "widespread across Cape Cod," although "not seen in large numbers." They suggest Crane WMA in Falmouth and Wellfleet Bay WS as two good viewing locations. Pelikan (Vineyard checklist 2002) ranks it as Uncommon, along with Banded and Striped Hairstreaks, on Martha's Vineyard, in comparison to Edwards' Hairstreak, which is Common there. For Nantucket, MBC records, the Atlas, and older museum specimens confirm Coral Hairstreak's presence, but the numbers appear to be low. The only recent report is a single individual photographed by E. LoPresti on 8/21/2011. With recent increases in the growth of black cherry on the island, the numbers seen there may increase ( LoPresti 2011).
At single locations, such as a field or a wildlife sanctuary, Coral Hairstreaks are usually seen only in small numbers, but there are occasional concentrations. The largest reports from single locations are from Wellfleet Bay WS, with 27 reported on 7/19/2008 M Faherty, and Great Blue Hill Canton, with a maximum of 17 reported on 7/24/2005 E. Nielsen. The largest reports from towns are 16 from Easton 7/17/1993 B. Cassie; 22 in Walpole 7/11/1993 T. Dodd; and 22 in Mansfield 7/10/1994 R. Hildreth.
Coral Hairstreak has one brood each year. MBC 1993-2008 records indicate a flight period from the beginning of July through mid-August, with the greatest numbers seen the first three weeks of July ( http://www.naba.org/chapters/nabambc/flight-dates-chart.asp ).
Flight Advancement: A century ago, Samuel Scudder wrote that Coral Hairstreak first emerged as an adult "shortly before the middle of July" (1899: 814). Scudder's dates usually referred to the latitude of Boston, and if that is true in this case, today's flight dates would appear to have advanced significantly over the last one hundred years.
Evidence demonstrating this flight advancement comes from a 2012 study at Boston University, which combined museum, Atlas, and MBC data to find that Coral Hairstreak is flying 0.1 days per year earlier (p<0.001) over the 114-year period 1895 to 2009. It has also significantly advanced its flight date during more recent years (Graph 17; p=0.0119), and it is the only hairstreak which is clearly flying earlier over both the long term and the short term (Polgar, Primack et al. 2013; graph courtesy of Caroline Polgar). Calculations using median flight date showed that Coral Hairstreak advanced its median flight date by 4.9 days between 1986 and 2009 (E. Williams, unpub. data).
Graph 17: Change in the first 20% of all Coral Hairstreak sightings, 1986-2009
<![if !vml]>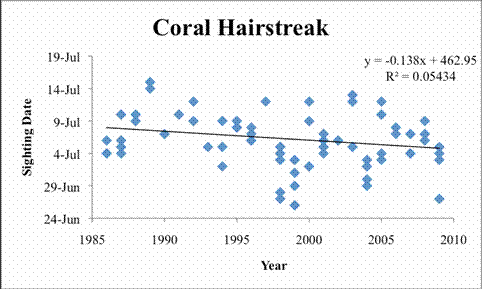 <![endif]>
In this study, Coral Hairstreak, and to a lesser extent Edwards' Hairstreak, were the only hairstreaks to show significant advancement in flight time, and the degree of flight advancement was not as great as that shown by two widespread elfins, Brown Elfin and Eastern Pine Elfin. However, nearly all elfins and hairstreaks studied showed significant response to temperature variations in the preceding two months before emergence, varying their flight time according to average temperature. This responsiveness to temperature is an adaptive trait.
First Sightings: Recent first sighting dates also indicate flight advancement since Scudder's time and since the Atlas. In the 20-year period 1991-2010, the five earliest "first sighting" dates are 6/21/2010 Woburn Horn Pond Mountain R. and S. Cloutier; 6/26/1999 Mansfield T. Dodd; 6/27/2009 Woburn Horn Pond Mountain E Nielsen et al; 7/1/2000 Easton/Sharon T. Dodd; 7/2/1994 Worcester T. Dodd. The 7/2/1994 observation had been reported as the Atlas early date, so MBC data push forward the known early flight date.
The 6/21/2010 sighting remains the earliest date thus far, but 2011 and 2012 first sighting dates were also early: 6/23/2012 Woburn Horn Pond Mountain S. Moore et al., and 6/26/2011 Canton Great Blue Hill, M. Arey (BOM records). First sightings in June rather than July now seem the norm, having occurred in all years since 2009.
Flight Peak: Peak numbers are now seen during the first three weeks of July, according to the MBC flight chart, after which numbers begin to taper off. This peak is earlier than that reported at the turn of the century by Scudder (1889: 814), who says that "the period of its earliest abundance is the last of July and the first of August." The peak in MBC sightings is also earlier than the 'mid-July-early August' peak reported in the Atlas period. However, MBC data may be somewhat distorted by the concentration of the NABA Counts in July.
Last Sightings: Scudder also said that Coral Hairstreak "continues upon the wing until nearly the last of August" (1899: 814), and that is certainly still the case today, although perhaps not in every year. In the 20 years 1991-2010, the four latest dates in MBC records are 8/23/1997 West Tisbury, M. Pelikan; 8/19/1995 Holden, T. Dodd; 8/18/2003 Wellfleet M. Faherty; and 8/13/1994 Truro, T. Hansen. The Atlas late date had been similar, 8/22/1990 Edgartown, B. Cassie. In 2011, a late Coral Hairstreak was seen on Nantucket 8/21/2011 by E. LoPresti (photo available). It is evident from these records that the earliest Coral Hairstreak dates occur more often inland, while the latest dates occur more often on the Cape and the Islands.
As Chris Leahy pointed out in the MAS Atlas, Coral Hairstreak does not benefit from the maturing of dense forests which is occurring today in some areas. It needs early successional habitat, formed, for example, when land which was cleared during the 18th and 19th centuries was then allowed to revert to forest (cf. Gochfeld and Burger 1997:148). Today, two forces decrease our open field and early successional habitat: dense urban and suburban development on the one hand, and the maturing of dense forests on the other.
Coral Hairstreak has a wide range which extends into higher-elevation areas of southeastern United States, and west through the eastern Great Plains. It should prove adaptable to earlier spring temperatures, and may avoid being negatively affected by climate warming in Massachusetts. (For species which may be negatively affected by climate warming here, see Table 6, as well as Breed et al. 2012.) If Coral Hairstreak is declining in this state, habitat loss is a more likely cause than climate change.
It is not known whether Coral Hairstreaks disperse long distances; other hairstreaks usually form quite localized colonies around larval host plants and do not wander far. Thus, 'element occurrences' need to include nearby nectar sites as well as breeding areas. Presence of particular ant species may be important. But Coral Hairsreak's host plant(s) and habitat are still fairly common in Massachusetts, and NatureServe (2010) ranks Coral Hairstreak as S4 or "apparently secure" in this state.
© Sharon Stichter 2010, 2011, 2012, 2013
page updated 5-10-2013
ABOUT BOM SPECIES LIST BUTTERFLY HISTORY PIONEER LEPIDOPTERISTS METHODS