ABOUT BOM SPECIES LIST BUTTERFLY HISTORY PIONEER LEPIDOPTERISTS METHODS
The Butterflies of Massachusetts
29 Eastern Pine Elfin Callophrys niphon (Hübner), 1823
<![if !vml]>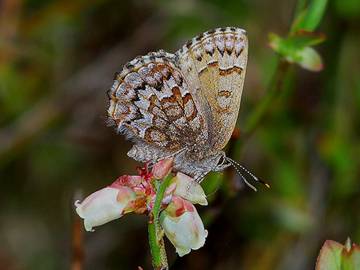 <![endif]>
The beautiful Eastern Pine Elfin falls into the pine-feeding group of elfins, which some authors formerly put in a separate genus Incisalia. Our Eastern Pine Elfin has traditionally been considered quite distinct from the Western Pine Elfin (Callophrys eryphon), but there are northern bogs from Maine to Michigan and through Canada where the two species co-occur and may possibly interbreed (Robbins 1994). The Bog Elfin is our other pine-feeding elfin. All Massachusetts elfins remain in the genus Callophrys in the 2008 Pelham catalog, with Incisalia a sub-genus not restricted to pine-feeders (see Hoary Elfin species account).
History Host Plants Abundance Distribution Flight Time Outlook
Photo: Sherborn power line, F. Model, May 5, 2008
Eastern Pine Elfin was a familiar butterfly in the 19th century. German lepidopterist Jacob Hübner named it Thecla niphon, and John Abbot in Georgia studied its life history. As in so many cases, Thaddeus W. Harris was the first to mention it for Massachusetts, writing that he had taken "the Niphon butterfly (Thecla niphon of Hübner)" at Sweet Auburn " (now Mount Auburn Cemetery in Cambridge), early in May (Harris, 1862: 278).
Scudder decided to put it in a new genus, calling it Incisalia niphon, and wrote that it could be found on or near red cedar, sometimes in pines 30 feet from the ground, or at other times in fields bordering the pine groves, where "a great deal of the herbage was made up of Antennaria plantaginifolia in flower" (1889: 833). He had specimens from several locations around Massachusetts (Andover, Boston, Walpole, Middleboro and Cape Cod, as well as Springfield and Amherst), and viewed the species as common. Maynard (1886) notes that it was "...one of the first of this genus to appear," frequenting sheltered woodlands in early May. He had found it feeding on the sweet scented flowers of the locust, and observed the see-sawing of the hindwings.
Museum specimens indicate that Eastern Pine Elfin was found in most of the usual collecting locations around the turn of the century, and, as Scudder says, it was probably fairly easy to find. At Boston University there is an early specimen from Sherborn (1890, E. J. Smith), and at the Harvard MCZ there are specimens from Wellesley (1891 and 1895), Sherborn (1892), Malden (1895), Wollaston (1883; 1897); and Waltham (1897). At other museums there are specimens from Winchendon (1901), Stoneham (1903), Milford (1903), and Framingham (1904). The re-growth of white pine and red cedar in woodlots and old agricultural fields may have helped this species (Table 1).
Eastern Pine Elfin seems to have remained fairly common through the twentieth century. Between 1900 and 1950 there are museum specimens from at least 12 towns in addition to Scudder's list. Farquhar (1934) lists 15 locations in addition to Scudder's list. Between 1950 and 1990, there are specimens from at least 22 more towns.
Historically, Eastern Pine Elfin was well-documented on Nantucket, but not Martha's Vineyard. The earliest, and only, specimen from Martha's Vineyard is one from 1919 at Yale, no collector listed. For Nantucket, C. P. Kimball documented the species with specimens from 1937, 1939 and 1941, which are now in the Maria Mitchell Museum on Nantucket. Some of the earliest specimens from Cape Cod are one from Eastham (1922, Boston University), and a series in the 1930's from Waquoit Bay, Falmouth (Yale, University of New Hampshire).
In 1973 F. Fee found niphon "common" on Montague Plains in Franklin County (specimens at McGuire Center, U. of Florida), and P. Carey reported "a good flight" at South Hadley on May 11, 1974 and found it again in 1975 (Lep. Soc. Seas. Sum. 1973-1975). There are specimens from the 1960s, 1970's and 1980s from Amherst and Sunderland, and one from Sheffield (5/5/1982, D.S. Dodge, Yale) in southern Berkshire County. Some of the earliest central Berkshire specimens are from the 1960's, when Rene Wendell, Sr. collected Eastern Pine Elfin around Pittsfield (5/12/1965, 5/24/1966, R. Wendell, pers. coll'n).
This elfin's hosts are various pines, including Pinus strobus (White Pine), P. rigida (Pitch Pine), P. banksiana (Jack Pine), P. resinosa Red Pine), and P. sylvestris (Scotch Pine), as well as Juniperus virginiana (Eastern Red Cedar) (Scott 1986). Red Pine, Pitch Pine, and White Pine are native to Massachusetts, as is Red Cedar, while Jack Pine and Scotch Pine are introduced and now widespread (Sorrie and Somers 1999).
White pine, pitch pine, and red cedar are the most frequently reported hosts in Massachusetts. Scudder reported Eastern Pine Elfin in association with white pine in Andover, and with red cedar in the Boston area, and among "scrub-pines" in the plains around Springfield, Massachusetts (1889: 833). In 1973 Frank Fee found eggs on both white pine and pitch pine at Montague Plains, and reared them to pupae on both species of pine. He also reared some on red cedar. On Cape Cod, Mello and Hansen (2004) report that it is most commonly found on or flushed from pitch pine.
The eggs are laid on fresh needle growth, and caterpillars feed on the needles. The chrysalis is formed in late spring and early summer, and then overwinters. The elfin can be found in many kinds of pine and pine-oak habitats, including sandy barrens.
MBC sighting records 2000-2007 rank Eastern Pine Elfin as "Uncommon to Common" today (Table 5). It is about on a par with Brown Elfin. It is not as frequently seen as, say, the Mourning Cloak or the Silver-spotted Skipper. The 1986-90 Audubon Atlas, however, found Eastern Pine Elfin in 104 of the 723 blocs, and ranked it as "fairly common to common."
Eastern Pine Elfin may well be increasing in Massachusetts. A 2012 list-length analysis of MBC sighting data found a 273% increase in sightings of this species between 1922 and 2010 (G. Breed et al. 2012). Chart 29 below also shows an increase over this time period, as well as shorter-term undulating patterns which could reflect normal population fluctuations. Data for 2011 show a movement downward in numbers seen per total trip reports, but for 2012 the index is back up, and the overall trend 1992-2012 is upward.
Chart 29: MBC Sightings per Total Trip Reports, 1992-2009
<![if !vml]>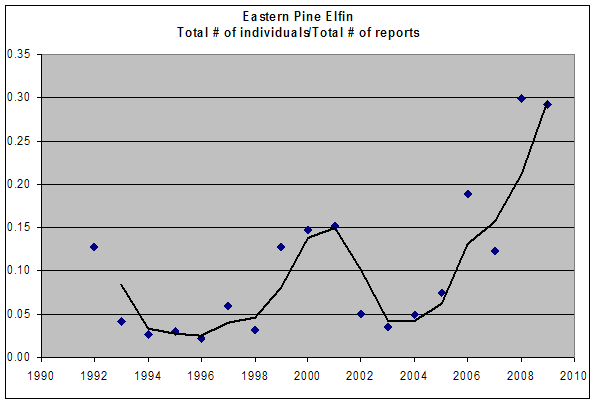 <![endif]>
Eastern Pine Elfin has been found in 130 out of 351 towns, and is well-distributed across the state, including Martha's Vineyard and Nantucket. It is not recorded from NABA counts owing to its spring flight period.
Eastern Pine Elfin may be somewhat less common in the Berkshires than other regions, as MBC has reports only in small numbers from a few Berkshire towns. However, the 1986-90 Atlas recorded it from a greater number of Berkshire towns. Sanctuary director R. Laubach lists Eastern Pine Elfin as Uncommon at both Pleasant Valley and Canoe Meadows Audubon sanctuaries in the central Berkshires (Stichter 2005). Specimens exist from the 1960's and 1980's from Pittsfield, Lanesboro, and Hancock (see above). It has been reported from Mt. Greylock (E. Dunbar 6/10/1988).
Map 29: MBC Sightings by Town, 1992-2009
<![if !vml]>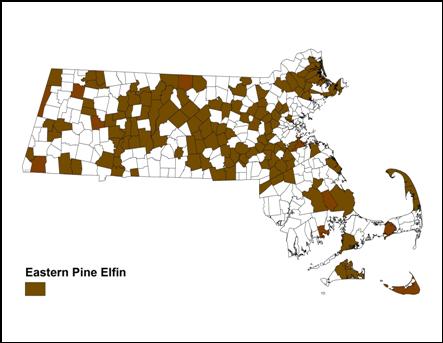 <![endif]>
On Martha's Vineyard, Matt Pelikan's reports beginning in 1999 may be the first from that island since that single mysterious specimen from 1919 (see above). The 1986-90 Atlas did not find Eastern Pine Elfin there. In 1999 Pelikan and Allan Keith found Eastern Pines in Edgartown, Oak Bluffs, Tisbury and West Tisbury; whether it had newly arrived, or was simply missed earlier is an open question. Eastern Pine Elfin has been reported from the island in fluctuating numbers every year since (state forest high count 42 on 5/10/2001). The Martha's Vineyard checklist (Pelikan 2002) lists Eastern Pine Elfin as "common," and usually found near pitch pine or nectaring on blueberry.
On Nantucket, Eastern Pine Elfin was found in May 2009 and May 2010 by Vern Laux, and Nantucket should therefore be shaded on Map 29. The Audubon Atlas had not found it on Nantucket, but there are good historical records (see above).
The outer sections of Cape Cod, and Falmouth area, usually report good numbers of Eastern Pine Elfins, but MBC has no reports from mid-Cape towns, although the Atlas did. Mello and Hansen (2004) mention the railroad grade in Provincetown, the bike trail in Brewster and Harwich, and the power line cut in Eastham as productive locations for Eastern Pine Elfins on the Cape. Wellfleet Bay WS is another well-reported location.
Among the larger reports from any one area in MBC records are the following:
Acton/Concord Fort Pond Brook max 10 on 5/13/2008 T. Whelan; Amherst/Belchertown Norwottock rail trail max 9 on 4/28/2006 F. Model; Dover Noanet Woodlands TTOR max 7 on 5/11/2003 E. Nielsen; Edgartown SF max 17 on 5/10/1999 M. Pelikan; Harvard Oxbow NWR max 25 on 4/30/2006 T. Murray; Martha's Vineyard SF max 42 on 5/10/2000 M. Pelikan; Montague Turner's Falls airport max 16 on 5/9/1999 T. Gagnon; Newburyport Litte River Nature Trail max 5 on 5/19/2009 S. Stichter; Plymouth Myles Standish SF max 24 on 5/14/2007 F. Model; Royalston Tully Lake max 15 on 5/17/2004 C. Kamp; Sherborn power line max 19 on 4/29/2009 B. Bowker; Stow Assabet River NWR max 15 on 5/27/2006 B. Volkle; Uxbridge West Hill Dam max 14 on 5/15/1999 T. and C. Dodd; Wellfleet max 11 on 5/1/1999 A. Robb et al.; Westfield pine barrens max 13 on 5/3/2007 T. Gagnon.
Eastern Pine Elfin is single-brooded, with one long flight, lasting from the beginning of April through about the end of June. It is "common" from the last week in April through May, and tapers off through June (http://www.naba.org/chapters/nabambc/flight-dates-chart.asp). As the Audubon Atlas pointed out, adults emerge over a somewhat extended period in spring.
Scudder, whose flight times were usually applicable mainly to the Boston area, wrote that this butterfly "does not, however, appear until the very last of April, sometimes not until May; it becomes abundant at the end of the first week of May and continues to fly throughout the month, but is seldom seen at all in June (1889: 833)." If Scudder is correct, then it would seem that the typical flight period of Eastern Pine Elfin has advanced since the turn of the century.
Evidence that this butterfly has indeed advanced its flight time, at least during the years 1986-2009, comes from a 2012 study done at Boston University using MBC and Atlas data (Polgar, Primack, et al. 2013; graph courtesy of Caroline Polgar).
Graph 29: Change in the first 20% of all Eastern Pine Elfin sightings, 1986-2009
<![if !vml]>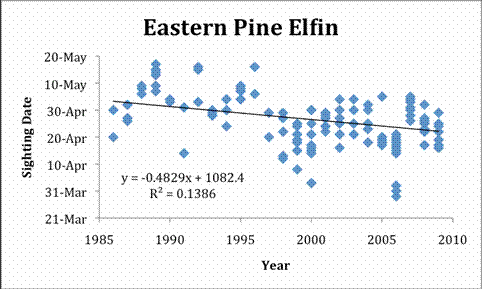 <![endif]>
As the negative slope in Graph 29 shows, Eastern Pine Elfin is flying significantly earlier now than it did in the 1980's (p = < 0.0001; significant at the .01 level; analysis using all Eastern Pine Elfin sightings for these years, rather than just the first 20%, gave similar results). According to this analysis, Eastern Pine Elfin were emerging about 9-11 days earlier in 2009 than they were in 1986 (E. Williams, unpub. data). Eastern Pine Elfin is also responding strongly to temperature variations in the two months prior to emergence (March, April), varying its flight time according to average temperature. This responsiveness to temperature is an adaptive trait.
In this same study, Brown Elfin also showed significant advancement in early spring flight time 1986-2009, whereas Frosted Elfin, Henry's Elfin, and Hoary Elfin did not show significant advances in flight times over this period. However, four of the five elfins studied did show strong overall flight time/temperature response. The exception was Hoary Elfin, for which the low number of observations may have affected the results.
First Sightings: First sighting dates in recent years are well before Scudder's date of "the last of April." The five earliest "first sightings" are 3/29/2006 Burlington M. Rines and R. LaFontaine and 3/29/2006 New Salem, R. and S. Cloutier; 4/2/2000 Topsfield IRWS, F. Goodwin; 4/5/2010 Sherborn power line, B. Bowker; 4/8/1999 Foxboro, B. Cassie; and 4/12/1998 Westfield T. Gagnon. The Atlas early date had been 4/13/1997 Medford, R. Robbins. In the 20 years between 1991 and 2010, the majority (13) of first sightings were in the third week of April (4/14-22) or earlier, well before Scudder's date. In eight of the 20 years, the 'first sighting' was in the third week of April, and in five of the years the first sighting was earlier than that.
In 2011 there were no early April reports, but 2012 had an exceptionally warm winter and spring, and Eastern Pine Elfin was first seen on 4/4/2012, at Montague Sand Plains power line, R. and S. Cloutier (BOM records).
Last Sightings: Between 1991 and 2010, the latest sightings, all of single individuals, are 7/2/1995, Orange, D. Small; 6/28/2000 Northampton Florence T. Gagnon; and 6/19/2006 Ipswich Hamlin Res. TTOR M. Arey. The Atlas late date had been similar: 6/28/1987 Sheffield E. Dunbar. In contrast to Scudder's observation, June sightings of Eastern Pine Elfin are actually now the norm. The "last sightings" in 2011 and 2012 were also in June (6/4/2011 and 6/10/2012), though they did not set any late records.
The outlook is good in Massachusetts for this lovely elfin. Its pine-dominated woodlands are common. The species' range extends south along the Atlantic coastal plain to Florida (Opler and Krizek 1984; Cech 2005), and it will probably be less negatively affected by climate warming than some other species. (For species likely to be negatively affected by climate warming, see Table 6.)
NatureServe 2010 ranks Eastern Pine Elfin S5 or "secure" in Massachusetts, and in many other northern tier states and provinces. However, this species may be declining on the southeast coastal plain, for example, it is ranked S3 or vulnerable in South Carolina and Florida.
© Sharon Stichter 2010, 2011, 2012, 2013
page updated 4-12-2013
ABOUT BOM SPECIES LIST BUTTERFLY HISTORY PIONEER LEPIDOPTERISTS METHODS