ABOUT BOM SPECIES LIST BUTTERFLY HISTORY PIONEER LEPIDOPTERISTS METHODS
The Butterflies of Massachusetts
81 Wild Indigo Duskywing Erynnis baptisiae (Forbes, 1936)
<![if !vml]>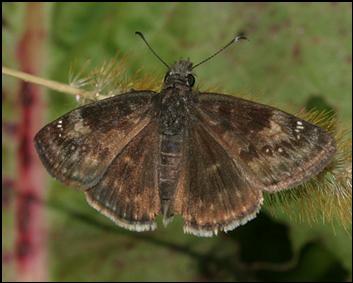 <![endif]>
Not until 1936 was Wild Indigo Duskywing described as a species separate from Persius Duskywing (Forbes 1936). But Thaddeus W. Harris may have been referring to this duskywing in his 1862 report, when, at the end of a section on Juvenal's Duskywing, he writes: "There is a local variety of this skipper, that is much more common in Massachusetts than the preceding, of inferior size, seldom expanding more than 1.4 inch, in which the white spots are smaller, and the seventh is wanting near the middle of the fore wing. This skipper is found in meadows in May and again in August. The caterpillar lives on various pea-blossomed plants... It is green, with pale stripes, and a heart-shaped brown head" (1862: 309).
The smaller size compared to Juvenal's, the second flight in August, and the use of legumes as hosts are a cluster of characteristics suggesting Wild Indigo Duskywing. To Scudder they suggested Persius Duskywing, but we now know that Persius does not have a second brood. Horace's Duskywing does have two broods, but is a scrub oak feeder, and is not smaller than Juvenals; Dreamy and Sleepy Duskywings have no subapical white spots.
Photo: Wayland, Sedge Meadow Cons. Area, E. Nielsen, Sept. 20, 2008
Until the Wild Indigo Duskywing was formally described by William T. Forbes in 1936, lepidopterists included it, Persius Duskywing, and sometimes even Columbine Duskywing (Erynnis lucilius), under the heading "persius." These three duskywings are difficult to distinguish even today and are sometimes referred to as the "persius complex". Thus all of Samuel Scudder's and other early records of "Persius Duskywing" in New England tell us hardly anything, because they do not distinguish between the Wild Indigo and the true Persius. However, it seems clear that Wild Indigo Duskywing was present in eastern Massachusetts in the late 19th century.
Because of the presumed drastic decline in Persius Duskywing in Massachusetts, and the probable extirpation of Columbine Duskywing, the vast majority of small duskywings with white subapical forewing spots seen in the field today are Wild Indigo Duskywings.
Persius and Columbine cannot be reliably distiguished from Wild Indigo except through expert dissection of a specimen. But important field marks are summarized in Cech and Tudor 2005 and other sources.
Host Plants and Habitat
This duskywing is named for its host plant, the native Wild Indigo (Baptisia tinctoria), which was probably quite common in the 19th century in eastern Massachusetts. Mrs. William Starr Dana of Boston and New York wrote in 1893 that "This rather bushy-looking, bright-flowered plant is constantly encountered in our rambles throughout the somewhat dry and sandy parts of the country in midsummer (1898 printing, p. 170). There are 25 references to this plant in Thoreau's Concord journals (Angelo 1984: 104). Thoreau describes how the stems and seeds, turned black in the fall, are blown about in the wind like tumbleweeds, and thus very well dispersed.
The Wild Indigo Duskywing also utilizes Wild Lupine (Lupinus perennis) and Crown Vetch (Coronilla varia) in our area. The 1995-99 Connecticut Atlas found larvae on all three of these host plants O'Donnel et al. 2007). However, wild lupine is not found today (and probably was not historically) in the wild in eastern Massachusetts, and there are very few locations for it in western Massachusetts. Not surprisingly, Wild Indigo Duskywing's use of that plant here has not been reported.
Wild Indigo Duskywing has become the poster-butterfly for the benefits of "switching" to a new, more widespread host plant, in this case Crown Vetch, a non-native hybrid variety introduced for erosion control along roadsides. Wild Indigo is thus among the surprisingly large number of butterfly species which have successfully adapted to a non-native larval host plant (Table 3 "Switchers).
Shapiro (1979) was the first to demonstrate that this species could utilize Crown Vetch. Many writers (e.g. Gochfeld and Burger 1997:226 for New Jersey; Shapiro 1979 for southeastern Pennsylvania; Iftner et al.1992 for Ohio) report a substantial increase in the numbers of Wild Indigo Duskywings coincident with the planting of crown vetch along highways and dams, to prevent erosion, beginning in the 1960's. For Ohio, Iftner et al. reported in 1992 that "Although this skipper probably still uses Baptisia in certain prairie areas, it now appears to be using crown vetch as the primary foodplant throughout most of Ohio. It is becoming one of our most common skippers" (1992: 38). In Connecticut the Wild Indigo Duskywing is common and widespread today, but was less so previously, at least in part due to the roadside planting of crown vetch. At the time of the 1995-99 Atlas, the number of project-period records, 171, compared to pre-project records of only 37 (O'Donnell et al. 2007). The same increase probably took place in Massachusetts (Table 2).
In Massachusetts, observers have reported Wild Indigo Duskywing from many areas with Baptisia present, but no known crown vetch, for example Martin Burns WMA in Newbury, but also from areas with large drifts of crown vetch and no known Baptisia, such as Delaney WMA in Stow. Mello and Hansen (2004) report both host plants for Cape Cod. Wild Indigo Duskywing has also been reported to make use of native Columbine (Aquileqia canadensis) in garden situations (Pavulaan, cited by Schweitzer in MAS Atlas account), and has been found around non-native Baptisia australis in gardens.
Wild Indigo Duskywing is no longer confined to dry, sandy barrens, but is adapting to many open-space habitats owing to the use of new larval hosts (Cech 2005).
Relative Abundance Today
MBC records 2000-2007 rank Wild Indigo Duskywing as Uncommon-to-Common compared to all butterfly species occurring in the state (Table 5). The most common duskywing, Juvenal's Duskywing, is about three times more likely to be seen than Wild Indigo, but Wild Indigo is the second most common duskywing, and Dreamy Duskywing is the third most common. . Horace's and Sleepy Duskywings are in the Uncommon range.
Interestingly, the 1986-90 MAS Atlas found Wild Indigo Duskywing in only 45 out of 723 blocs searched; it was actually found less frequently than Dreamy Duskywing (92/723 blocs). MBC records suggest that Dreamy Duskywing has been decreasing in numbers in recent years, while Wild Indigo Duskywing has been increasing. A 2012 list-length analysis of MBC records found a significant 53.1% decrease in Dreamy Duskywing 1992-2010, and a small, non-significant increase of 21% in Wild Indigo Duskywing (G. Breed, S. Stichter, and E. Crone, 2012).
Chart 81 shows an overall pattern of increase in this species from the early 1990's until 2009. The unadjusted totals of numbers seen also show strong upward movement over this time period, and linear regression of the Chart 81 data also shows a small upward slope.
Chart 81: MBC Sightings per Total Trip Reports, 1992-2009
<![if !vml]>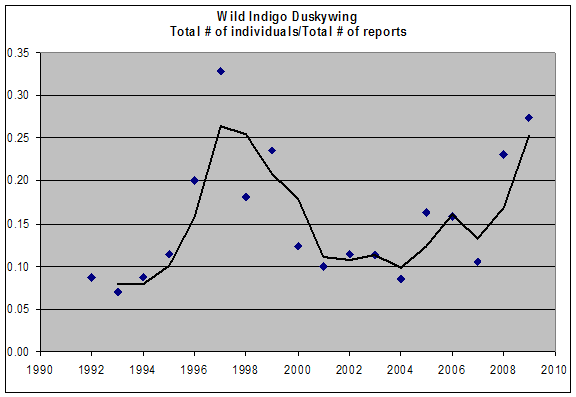 <![endif]>
The moving average in Chart 81 also shows a fluctuating pattern, of low sightings per trip 1992 through 1995, higher numbers 1996 through 1999, a drop in 2000 through 2004, and rising sightings per trip again from 2005 through 2009. These 3 to 4 year fluctuations are somewhat similar to the pattern for Juvenal's Duskywing.
State Distribution and Locations
According to 1991-2010 MBC records, Wild Indigo Duskywing has been found in 111 out of a possible 315 towns in Massachusetts, slightly more than the 94 towns in which Dreamy Duskywing has been found, but fewer than the 152 towns in which Juvenal's Duskywing has been found. No map is available for this species.
The 1986-90 MAS Atlas did not record any Wild Indigo Duskywings west of Worcester County, despite searches, nor had D. F. Schweitzer found it in western Massachusetts (Montague Plains) in the 1970's. The Atlas did find Wild Indigo "rather frequent to locally common in all of the eastern counties."
MBC records now confirm that the species' distribution is statewide, but that it is quite uncommon in Berkshire and Franklin Counties. The distribution now extends westward across southern and central Massachusetts and throughout the lower Connecticut River valley.
Wild Indigo Duskywing is not normally found on the Berkshire County NABA Counts; it has been reported once in 20 years on the South Berkshire and Central Berkshire counts, and never on the North Berkshire Count. The few additional Berkshire reports are Adams 6/13/1994 (5), Sandisfield 5/23/2007 (1), and October Mountain State Forest 9/6/2004 (3).
Wild Indigo Duskywing is also infrequent on the Central Franklin County NABA Count, found only 4 times in 20 years, in small numbers. There are a few reports of singles from Montague (e.g. 1, 9/4/2010, M. Fairbrother), and Gill. It is usually, but not always reported from the Northern Worcester County NABA Count, and not in large numbers. It is found more frequently and in larger numbers on the Blackstone Valley (southern Worcester County) NABA count, the largest report being 25 on 7/13/2008.
This species is normally found on the Northampton NABA Count; the highest number being 16 on 7/23/2006, and on the Lower Pioneer Valley (Springfield) NABA Counts. Many Wild Indigo Duskywing reports now come from Hampden and Hampshire counties in the lower Connecticut River valley. There are reports in small numbers from Hampden, Monson (Norcross WS), Ware, Westfield, Holyoke, Belchertown, Northampton (many large counts from the community garden), Amherst, Sunderland, and Deerfield (max 15 on 6/4/1996, D. Potter).
Wild Indigo Duskywing is common on Martha's Vineyard (Pelikan 2002), and MBC has many records. It is usually reported on the Vineyard NABA Counts. Historically, F. M. Jones had reported that adults were often common about Wild Indigo plants, especially in the Plains area, and that larvae were found on this plant in August. He had many captures, from which he deduced two broods on the island. Nine of Jones' specimens are in the Yale Peabody Museum; one is dated 15 August 1939, illustrating the second flight.
On Nantucket, there were also two broods, with Charles Kimball reporting that Wild Indigo Duskywing was occasionally seen in mid-May, but was very common in July and August in the vicinity of its host plant (Jones and Kimball 1943). B. Cassie re-confirmed it on Nantucket during the Atlas period, finding it on 8/11 and 8/12/1988. There are no recent MBC reports, but local observers believe that it is still a breeding resident (LoPresti 2011).
Museum specimens add many locations to those in the MAS Atlas in MBC records, but do not change the broad distribution picture. Wild Indigo Duskywing was found in 1939, 1941 and 1942 in Fall River (Bliffin's Beach), Somerset, and Wesport by W. P. Rogers; in 1966 in Concord at Walden Pond Reserve by C. G. Oliver; in the 1970's at Falmouth Wood's Hole, Plymouth Halfway Pond Road, and Dover by L. F. Gall; and in 1985 and 1986 in Wellesley Babson College and Medford Middlesex Fells by D. F. Schweitzer (Yale Peabody Museum); as well as in Dover in 1967 and West Medway in 1973 by W. D. Winter (Harvard MCZ).
Current locations (all but two in eastern Massachusetts) which have provided the highest numbers of Wild Indigo Duskywings in MBC records are
Barnstable Marstons Mills Airport max. 12 on 7/31/2010 A. Robb et al.; Boston W. Roxbury Millennium Park max. 25 on 8/4/2009 B. Bowker; Boxford/Georgetown power line max 36 on 7/29/2008 S. and J. Stichter; Canton Great Blue Hill, max. 25 on 7/31/2003, T. Murray; Chelmsford power line, Concord Road section, max. 25 on 7/30/2011, B. Bowker; Falmouth Crane WMA max. 27 on 8/4/2000, A. Robb; Foxborough Lamson Road, max. 15 on 6/6/2011, M. Champagne; Framingham Callahan SP, max 28 on 7/15/2008 B. Bowker; Holliston Brentwood CA, max 24 on 5/31/2009, B. Bowker; New Bedford Plainville Road, max. 10 on 7/23/2011, M. Mello; Newbury Martin Burns WMA, max. 32 on 7/22/2008, S. and J. Stichter; North Andover Weir Hill TTOR, max. 12 on 7/15/2010; Northborough Carney Reservation, max. 20 on 7/17/2010 S. Moore and B. Volkle; Northampton community gardens, max. 18 on 8/11/2007, E. Nielsen; Plymouth Myles Standish SF, max. 5 on 5/26/2007, Murray/Nielsen/MBC; Sherborn power line, max. 16 on 5/31/2011, B. Bowker; Springfield, max. 6, Lower Pioneer NABA 7/17/2008 R. Pease; Stow Delaney WMA, max. 28 on 7/23/2009, M. Champagne; Waltham Prospect Hill max 15 on 7/29/2008 J. Forbes; and Worcester Broad Meadow Brook WS, max. 20 on 7/29/2001 G. Howe.
Broods and Flight Period
The MBC flight chart (http://www.naba.org/chapters/nabambc/flight-dates-chart.asp) for Wild Indigo Duskywing shows it on the wing from late April through mid-October. Two broods are quite apparent, and the fairly large number of sightings through September and into October strongly suggests a partial third brood (see September photo above).
Early dates: In the 20 years of records under review (1991-2010), the first sighting of a Wild Indigo Duskywing occurred in the last week of April in five, or one-quarter, of the years. The five earliest sightings in MBC records are 4/16/2000 Westfield Barnes Airport, T. Gagnon; 4/20/2010 Woburn Horn Pond Mountain, M. Arey; 4/26/1995 Foxborough, B. Cassie (previously cited in the MAS Atlas as the early date); 4/28/2006 Worcester Broad Meadow Brook WS, T. Murray; and 4/29/1998 Worcester Broad Meadow Brook WS, C. Phillips. In two other years, the first sighting was in the first week of May; the remaining first sightings were later. 2011 did not produce any sightings until May, but 2012 added a fairly early date for a first sighting, 4/21/2012, Middlesex Fells, M. Arey.
If we take Scudder's statement about "Persius Duskywing" as quite likely to apply to Wild Indigo Duskywing, we find that the first appearance date of this species is perhaps a little, but not very much changed since a century ago. Scudder says "Persius" appears "early in May, usually in the first week. Mr. Hambly once took it on April 30th at Middleborough, Mass. (1899:1474)." Persius today is thought to appear in "early May."
Late dates: In the same 20-year span of MBC records, Wild Indigo Duskywings were seen flying until the second week of October, or later, in six of the years. These six MBC latest sight dates are 10/17/2008 Belmont, F. Bouchard; 10/16/1998 Northampton community gardens, T. Gagnon; 10/15/2002 Northampton community gardens, T. Gagnon; 10/13/1997 Holyoke, R. Pease; 10/10/2010 Beverly community gardens, K. Haley; and 10/9/2007 Northampton community gardens, B. Spencer. The 1986-90 Atlas late date had been 9/29/1994 in Wellesley, R. Forster. All these September and October fliers are likely third-brood individuals. 2011 did not produce any third-brood sightings,the flight seeming to end at the end of August, but 2012 saw many September individuals, the latest sighting being one on 10/6/2012, in Waltham, photographed by J. Forbes and identified by F. Model.
MBC records show a peak in sightings in the last week of May and first week of June, and a second peak in late July and early August. Schweitzer reported fresh second brood adults flying as early as the last week of June at Middlesex Fells in the 1980's (MAS Atlas). Numerous MBC sightings stretch through September into October, suggesting at least a partial third brood. In Connecticut, the 1995-99 Atlas reported three broods, the third flying late August-late September (O'Donnell et al. 2007).
One hundred years ago, Scudder's latest date for the well-studied "Persius" (his sample most probably consisting mostly of Wild Indigos) was a very worn individual from Waltham, Massachusetts from August 26 (1899: 1474). So there seems to have been some lengthening of the flight period in the last 100 years, either by longer-flying "second brood" individuals or more probably by the addition of a third brood..
Scudder had only "scant records" of even a second brood, but in fact they are rather persuasive records. "Sprague reports several fresh specimens captured in the vicinity of Boston between July 18 and 27; I have myself seen (but not taken) what I judge to be the same, in a fresh condition at Waltham on August 3rd, and in the same place a very rubbed specimen probably to be referred to this species on August 26;..." (1899: 1474). If these had been what we now call Persius Duskywings, the flight would have been finished by mid-June.
Outlook
Wild Indigo Duskywing is an adaptable species which is found throughout most of eastern North America, from southwest Ontario and southern Minnesota in the north to central Texas and northern Florida in the south.
In New England it reaches its northern limit just north of Massachusetts. It was only recently found in southern Maine during the 2005-2011 Atlas (http://mbs.umf.maine.edu/ ). In Vermont there were likewise no historical records, but today Wild Indigo Duskywing is present but uncommon; it was found sporadically in southern Vermont during the 2002-2007 Vermont Butterfly Survey (McFarland and Zahendra 2010)
Wild Indigo Duskywing appears able to re-colonize new plantings of crown vetch with some ease, so that local extinctions may be balanced with new occurrences. The species occurs in uncommon 'barrens' habitats, but also adapts to previously disturbed areas. Climate warming should not drastically affect the status of this species in Massachusetts, but may allow it to move further north in northern New England.
© Sharon Stichter, 2012, 2013
page updated 2-27-2013
ABOUT BOM SPECIES LIST BUTTERFLY HISTORY PIONEER LEPIDOPTERISTS METHODS