ABOUT BOM SPECIES LIST BUTTERFLY HISTORY PIONEER LEPIDOPTERISTS METHODS
The Butterflies of Massachusetts
109 Pepper and Salt Skipper Amblyscirtes hegon (Scudder, 1864)
<![if !vml]>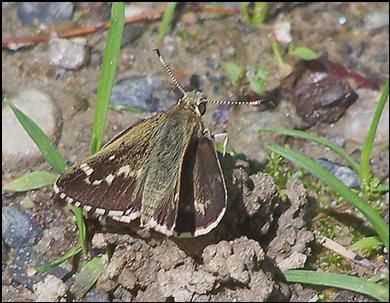 <![endif]>
The little Pepper and Salt Skipper is aptly named for its distinctive white on mottled gray ventral hind wing pattern. The greenish-yellow cast of the basal front wing, seen in this dorsal photo, is also a useful field mark. This and the Common Roadside Skipper are our two representatives of the large and widespread Amblyscirtes or Roadside-Skipper genus, and neither is very common here. Pepper-and-Salt is the more habitat-restricted of the two. Although fairly adaptable and widespread, its preferred habitat is damp to medium-dry northern woodlands, at medium to high elevations, while the Common Roadside also frequents dry barrens habitats.
Pepper and Salt is not a coastal plain species anywhere along the eastern North American coast (Shapiro 1974). It is common in the forests of northern New England, Ontario and Quebec, and through the southeastern states only in the mountains (Opler and Krizek 2004; Cech 2005; Layberry 1998). The central and northeastern Massachusetts highlands and northern Connecticut constitute the eastern edge of its range in southern New England (Map 109 below). In Connecticut the species is rare and of Special Concern status (O'Donnell, Gall and Wagner 2007).
Photo: Oxbow National Wildlife Refuge, Harvard, Mass., F Model, 5-18-2006
Samuel Scudder at Harvard was the first to describe and name this species, although it was figured but not named by Abbot in Georgia about 1800, in what is probably the very earliest report of this skipper. In the tradition of giving Native American names to skippers, Scudder called this one Amblyscirtes samoset in his 1889 work. Samoset was chief of a northern group allied with the Wampanoags. He introduced Chief Massasoit to the Pilgrims and became, like Massasoit, an important Pilgrim ally. A few years earlier, Scudder (1862) had called this skipper both hegon and samoset, thinking that he had two different species. The name 'hegon' is probably a contraction of Mohegan; the Mohegans lived in Connecticut and, led by Chief Uncas, supported the English during King Philip's War (Zirlin 1995). Because Scudder had used the name hegon first, it was given precedence.
In the 1880's, in addition to such expected northern and elevated localities as Norway, Maine, and the White Mountains, Scudder also had Pepper and Salt specimens from some rather surprising low-elevation locations in Massachusetts-- Amherst, Springfield, Belmont and Milford (1889:1590-2). These were areas where collectors were active. Still, Scudder considered Pepper and Salt "rare," and it continued to be "very rare" through the 1930's, according to Farquhar (1934). Farquhar is able to add the locations of Wollaston (F. S. Sprague), and Mt. Holyoke (Forbes), to Scudder's list, but they do not extend the known range much. Neither Pepper and Salt nor Common Roadside Skipper were found on Martha's Vineyard or Nantucket (Jones and Kimball 1943), and there are no mid-twentieth specimens at Boston University.
There is not enough information to judge whether this skipper increased or decreased in Massachusetts up to the time of Scudder, though one might suspect decline because of the decrease in forests. As Scudder noted, "The rarity of this butterfly tempts one to enquire into its cause; especially as the insect belongs to a group which usually abounds in individuals (1889: 1592)."
By the 1960's there is a sense that this skipper may be increasing in numbers in eastern Massachusetts, as documented in Lepidopterists' Society reports and correspondence. In 1965 Charles G. Oliver, reporting for the Acton area, said Amblyscirtes samoset and Arctic Skipper were both abundant in late May in the dry brushy pine woods in his area. He did not list these as "new occurrences" for this locality, though several other species were so listed. In 1966 William D. Winter collected Pepper and Salt in Dover, and in 1973 he found it in Fowl Meadow Canton, and in Dunstable (specimens in the MCZ). In 1974 and 1975, Darryl Willis reported the discovery of a colony of A. samoset in Sherborn, in the area today known as the Sherborn power line. The butterflies were present from late May or early June, and specimens were taken on June 21, and June 24, 1974 (Lep. Soc. Seas. Sum. and Correspondence, 1959-1981). This and Milford represented the furthest southeast known locations at that time.
Host Plants and Habitat
Pepper and Salt's known host grasses are several: mainly River Oats (Chasmanthium [Uniola] latifolia), Indian Grass (Sorghastrum nutans), and Kentucky Bluegrass (Poa pratensis) (Scott 1986; Opler and Krizek 1984). We do not have any information about what host plant this species actually uses in the wild in Massachusetts. The 1990-95 Connecticut Atlas reared it on Kentucky Bluegrass and other Poa spp. in the lab, but the extent of use of those grasses in the wild is not known. Fowl Mannagrass (Glyceria striata) is reported for West Virginia (Allen 1997). River Oats is not native to or much found in Massachusetts, but Indian Grass and Fowl Mannagrass are native and widespread, and Kentury Bluegrass, of course, is introduced, widespread, and common (Sorrie and Somers 1999; Magee and Ahles 1999). The limiting factors for Pepper and Salt in Massachusetts may not be so much the presence or absence of host plants, but rather habitat, elevation, and climate.
Pepper and Salt's preferred habitat is openings in moist, rich deciduous to coniferous forests at moderate elevations. It may be found in woodland glades, edges, roads and trails, and is often near wet meadows or low-lying boggy stream banks (Scudder 1889:1592; Shapiro 1974; Opler and Krizek 1984; Allen 1997; Cech 2005).
Relative Abundance Today
Pepper and Salt is not rare in Massachusetts today, and there has probably been some increase in its numbers since Scudder's time (Table 2). The 1985-90 Atlas confirmed Pepper and Salt in 42 of 723 blocs, ranking it "Uncommon." Analysis of MBC field records 2000-2007 also ranks it as Uncommon, albeit on the lower end of the scale, along with Zabulon Skipper and Henry's Elfin. Common Roadside Skipper, on the other hand, ranks as Rare (Table 5).
The actual number of Pepper and Salt Skippers seen in Massachusetts each year is quite small: in the years 1992-2009, the total number of individuals reported per year in MBC records was between 9 and 36.
Chart 109, MBC annual sightings adjusted by total butterfly trips 1992-2009, shows an undulating pattern with some slide downward from highs in 1997 and 2004. The year 1992 should be discounted as less comparable. The unadjusted total of individuals seen has been increasing over these years, owing probably to more observer effort put in to find this interesting early spring skipper.
Chart 109: MBC Sightings per total Trip Reports, 1992-2009
<![if !vml]>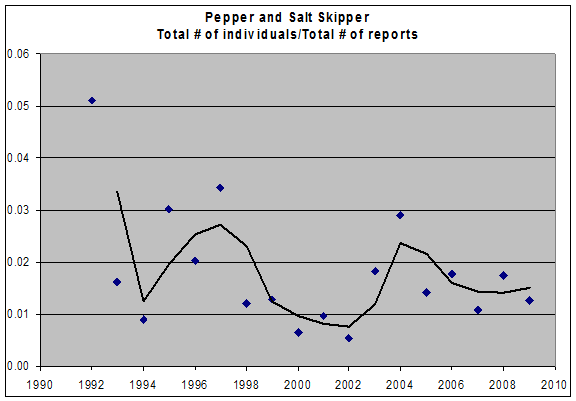 <![endif]>
As suggested in the chart, the average number of Pepper and Salt Skippers per visit to a location decreased 9.9% in 2007, increased 11 % in 2008, and decreased 20% in 2009 in comparison to the average for all preceding years back to 1994 (Nielsen, Season Summary, MB 2008, 2009, 2010). This does not show a strong pattern of increase as in the cases of Dusted Skipper or Arctic Skipper, nor does it show a strong decrease as in the case of Leonard's Skipper.
State Distribution and Locations
Map 109: MBC Sightings by Town, 1992-2009
<![if !vml]>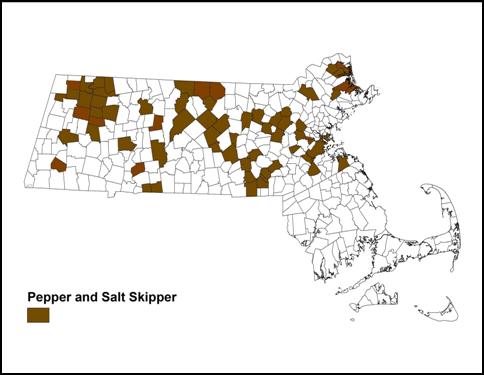 <![endif]>
MBC records (Map 109) show Pepper and Salt Skipper distributed throughout most of the state except that it does not occur in the southeast, or on Cape Cod or the islands. The Atlas distribution was somewhat similar, although the Atlas had one record from North Dartmouth (6/7/1988, M. Mello), and none from the main parts of Essex County, beyond a single report from Lynnfield (5/20/91 S. Goldstein).
For Essex County, MBC sightings have been important in documenting the species' presence in recent years. Reports come from Topsfield IRWS (6/4/2001, F. Goodwin), Newbury Martin Burns WMA (6/15/2003 T. Whelan, 5/28/2006 S. Stichter et al.), West Newbury (5/30/2004, E. Barry, W. Miller, D. Price), Andover Ward Reservation TTOR (5/30/2009, H. Hoople), and Ipswich Appleton Farms 6/11/2010, H. Hoople et al.
The absence of this species from the southeast of the state, found by the Atlas, is also obvious in MBC records. MBC has no records south of Hingham and Canton; nor did the Atlas, except for North Dartmouth. Mello and Hansen (2004) do not report Pepper and Salt for Cape Cod, nor does MBC have any Cape Cod reports.
Pepper and Salt Skipper has not been reported from Sherborn power line since R. Forster's report for the Atlas (6/6/1987). But elsewhere in central and western Massachusetts Pepper and Salt ranges further south (e.g. Uxbridge and E. Longmeadow). There are no MBC, Atlas or earlier records from Martha's Vineyard or Nantucket. The Vineyard checklist does not list it (Pelikan 2002). There is one MBC report from highly urbanized Boston (Suffolk County): 1 on 6/27/1996, B. Malcolm.
Within its range, many new locales for the species have been found since the Atlas period. MBC records show reports from 58 towns through 2011. Fifty-three are shown on Map 109; Ipswich, Windsor, Ashburnham, Cummington and Chicopee Westover ARB should now be added. The majority of reports are of only one or two individuals. The locations with the highest numbers reported are East Longmeadow max 9 on 6/7/2008 K. Parker; Harvard Oxbow NWR max 10 on 5/18/2004 T. Murray; New Ashford Mount Greylock max 21 on 6/4/2011 T Gagnon et al.; Northbridge Larkin Recreation Area max 3 on 5/30/2005 D. Price and W. Miller; Petersham Tom Swamp max 2 on 5/28/2007 E. Nielsen; Royalston max 3 on 6/16/2003 C. Kamp et al.; Sudbury max 5 on 6/8/1996 R. Forster; Uxbridge West Hill Dam max 4 on 6/8/1997 C. and T. Dodd; Westborough WMA max 5 on 6/13/2008 W. Miller and E. Barry; Worcester Broad Meadow Brook WS max 7 on 5/21/2001 G. Howe.
NOTE TO AMATEUR COLLECTORS: THIS IS A QUITE UNCOMMON SPECIES IN MASSACHUSETTS, AND MAY BE ADVERSELY AFFECTED BY CLIMATE WARMING. IT SHOULD NOT BE COLLECTED EXCEPT AS PART OF NECESSARY SCIENTIFIC RESEARCH UNDER INSTITUTIONAL AUSPICES.
Broods and Flight Time
MBC records show a single flight, stretching from mid- May through mid-July, peaking in last week in May-first two weeks of June (http://www.naba.org/chapters/nabambc/flight-dates-chart.asp).
There are two August records from the Atlas years (August 8, 1988, Sheffield, and August 28, 1988, Williamstown, E. Dunbar) which suggest that there may be a partial second brood in the Berkshires. The Connecticut Atlas also had a mid-August record which was interpreted to suggest a partial second brood (O'Donnell, Gall, and Wagner 2007). Shapiro (1974) reported a partial second brood in the Finger Lakes region of New York, and Cech (2005) reports that second broods are found from Virginia south. [But Harris (1974) reports only one brood in Georgia, and Allen (1997:241) reports only one in West Virginia, saying that "this skipper is univoltine throughout its range." ] It is interesting that the Massachusetts evidence for a second brood occurs at higher-elevation, more northerly locations.
In MBC records 1991-2009, the three earliest first sightings of Pepper and Salt Skipper are 5/15/2004 Harvard Oxbow NWR T. Murray, 5/16/1993 Worcester Broad Meadow Brook WS T. Dodd, and 5/16/2009 Stow Delaney WMA T. Murray et al. These are a bit earlier than the Atlas extreme date of 5/19/1988.
In 11 of the 19 years of MBC records, the first sightings of Pepper and Salt were in the third week of May, May 15-21. In another 7 of the 19 years, the first sightings were in the last week of May, May 22-31.
These dates are much earlier than those quoted by Scudder for the Boston area (1889: 1591). He says that "The single brood of the northern states appears in the imago state early in June and continues through July. About Boston it first appears at the very beginning of June, but at the White Mountains it rarely appears much before the seventh...."
The latest sighting dates in MBC records all come from higher-elevations, and if there were more data from these locations we might be able to confirm if they represent a second brood or simply later average flight dates than in lower, warmer areas. The late dates are 7/12/1997 Northern Berkshire NABA Count; 7/10/1996 Northern Berkshire NABA Count; 7/9/1994 Central Franklin NABA Count; and 7/9/2006 Mt. Greylock T. Gagnon et al. All the other last sightings were in June, but several were also from higher elevations, such as 6/30/2000 Mt. Greylock T. Gagnon, and 6/29/2003 Gardner High Ridge WMA M. Lynch and S. Carroll.
Outlook
Given this species' higher-elevation distribution and habitat, and mostly univoltine brood status, it is probably vulnerable to climate warming trends, and could retreat to higher, moister elevations if climate warms (Table 6). However, the presence of partial second broods is an adaptive factor.
NatureServe (2010) presently ranks Pepper and Salt Skipper as S4 or probably secure in the core states in its range: MA, ME, VT, NH, NY, PA, ON, QC, MI, MN. In Connecticut, though, it is S3 or vulnerable, and in New Jersey on the mid-Atlantic coastal plain, where it has always been highly local and marginal, it is now S1 or "critically imperilled." In our view, Pepper and Salt Skipper should be a Species of Conservation Concern in Massachusetts.
In several states, for example Maryland and Vermont, this species has suffered population declines due to spraying for Gypsy Moths. Aerial spraying of insecticides against mosquitos might have the same effect.
© Sharon Stichter 2011
page updated 12-31-2011
ABOUT BOM SPECIES LIST BUTTERFLY HISTORY PIONEER LEPIDOPTERISTS METHODS