ABOUT BOM SPECIES LIST BUTTERFLY HISTORY PIONEER LEPIDOPTERISTS METHODS
The Butterflies of Massachusetts
110 Common Roadside-Skipper Amblyscirtes vialis (W. H. Edwards, 1862)
<![if !vml]>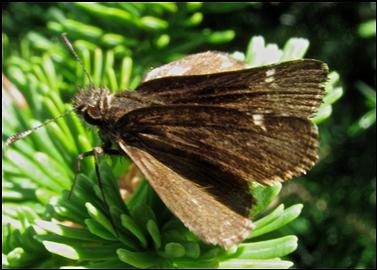 <![endif]>
Described and named by W. H. Edwards, this species was also quite familiar to Scudder, who was able to cite a surprising number of specimens. He writes "It has been found throughout almost the whole of New England, though far more abundant in the southern than in the northern half, but in the north it occurs at Hallowell, Me. (Miss Wadsworth), and in the White Mountains (Morrison, Scudder). It has also been found in other hilly parts of New Hampshire and Massachusetts...." He cites Massachusetts specimens from Amherst (where it was "common" according to Parker and Morrison), Mount Toby (taken by F. H. Sprague), Springfield (two collectors), and "about Boston" (two collectors); he also says it "is common enough in Connecticut," and cites four collectors (1889:1585-6).
Judging from this evidence, it would appear that although the species may have increased during the period of land clearing after 1600 (Table 1), it has declined in Massachusetts and Connecticut since Scudder's day (Table 2).
Photo: Mount Greylock summit, Adams, Mass., June 4, 2010, Tom Fiore
By the 1930's Farquhar (1934) noted that Common Roadside-Skipper was "curiously rare in some localities;" he could not add any new Massachusetts locations or specimens to Scudder's list. However, there is a 1914 or 1917 specimen from Rutland, Massachusetts, at Boston University, collected by C. W. Johnson. This species was not known on Martha's Vineyard or Nantucket in the 1930's or 1940's (Jones and Kimball 1943). But in the late 1960's, William D. Winter found Common Roadside-Skipper in Millis and in Westwood; on 6/3/1973 he found one in Dover, Massachusetts (specimens in MCZ).
Common Roadside-Skipper often takes minerals and moisture from bare soil areas, such as roadsides; hence its long-standing common name. In the same large genus as Pepper and Salt Skipper, it has a similar but much wider range, extending all the way to the west coast and well into Canada, and through the southeastern United States south to north Georgia, although at higher elevations and inland, not on the lowland coastal plain (BMNA 2010; Layberry 1998). It is scarce or at least not abundant anywhere in its east coast range.
It appears to be more common in northern New England than southern. It is found throughout Maine except in the far north (MBS 2010), in eastern Vermont, where it is "common to uncommon" (VBS), and throughout New Hampshire except for a few counties (BMNA 2010). Like the Pepper and Salt Skipper, Common Roadside is at the southern limit of its New England range in Massachusetts and Connecticut, and hence vulnerable.
Host Plants and Habitat
Common Roadside-Skipper's host grasses are similar to those of Pepper and Salt Skipper: river oats (Chasmanthium [Uniola] latifolia), Kentucky bluegrass (Poa pratensis), wild oats (Avena spp.), bentgrass (Agrostis spp.), and Bermuda grass (Cynodon dactylon) (Scott 1986; Opler and Krizek 1984). The larvae eat many grasses in the lab; the Connecticut Atlas raised it on Kentucky Bluegrass. The exact host plants in Massachusetts are undetermined.
This skipper seems to be a habitat generalist. Cech (2005) reports that it is most reliably found in dry barrens locations, but also regularly found in clearing and edges of moist, deciduous woodlands. It is not particularly drawn to wetland areas. Cech reports sloped terrain. In Massachusetts, several sightings have been on mountains, such as Mt. Greylock, Mt. Tom, and Mt. Holyoke.
Relative Abundance Today
The 1985-90 Atlas ranked it as rare in our state, confirmed in only 10 out of 723 blocs. MBC records underline that it is still Rare, about on a par with Dion Skipper and Two-spotted Skipper (Table 5). It is less common than its congener the Pepper and Salt Skipper, which is ranked Uncommon. Judging from Scudder's comments, Common Roadside has apparently declined since the nineteenth century in Massachusetts.
The species is also Rare in Connecticut, and was recently given State Threatened status. The Connecticut Atlas noted that Common Roadside-Skipper was "at southern limit of range, formerly widespread, declining regionally" (O'Donnell, Gall, Wagner 2007: 292, Table 6.2).
Common Roadside-Skipper has been seen in small numbers in 12 of the 19 years 1991-2009 (Chart 110). The highest numbers reported in any one year are between 7 and 8 in 1998, 1999 and 2000. However, the totals in 1998 and 1999 should probably be reduced by 2 to account for possible duplicate counts of the same individual.
There have been very few sightings since the peak years of 1998-2001. The single 2009 report was seen 6/2/2009 at Brentwood CA in Holliston, by B. Bowker. On June 4, 2010, visiting butterfly enthusiasts Tom Fiore and Kristine Wallstrom saw a Common Roadside-Skipper on the summit of Mount Greylock (see photo above); that was the sole report that year. In 2011 there were no reports.
Chart 110: MBC Sightings, 1992-2009
<![if !vml]>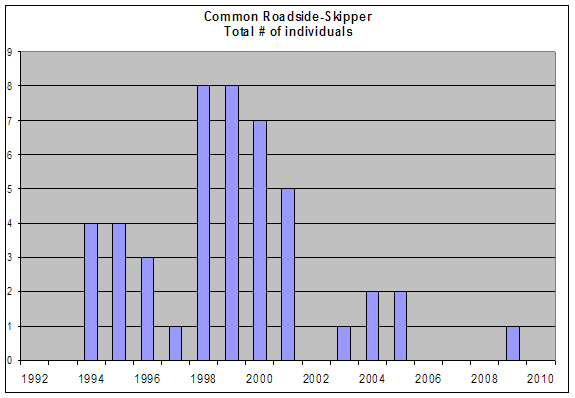 <![endif]>
State Distribution and Locations
Map 110: MBC Sightings by Town 1992-2009
<![if !vml]>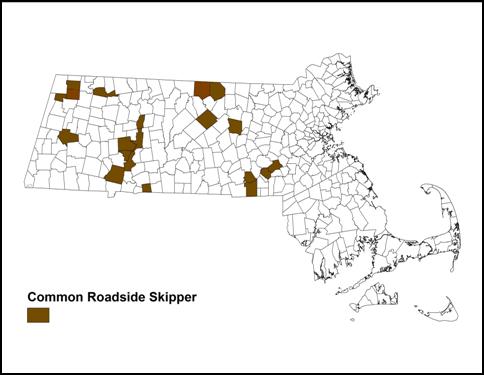 <![endif]>
Eighteen towns are represented in Map 110. Pepper and Salt Skipper, by contrast, has been found in 56 towns through 2009. Common Roadside-Skipper is similar to Pepper and Salt Skipper in its absence from the southeast coastal plain. The 1986-90 MAS Atlas found it absent from southeastern areas, the Cape, and islands, and MBC records confirm this. Mello and Hanson 2004 do not report it for the Cape; Pelikan (2002) does not list it for Martha's Vineyard. BMNA does not show any records for these areas.
Common Roadside Skipper also appears to be absent from Essex County and most of eastern Massachusetts, according to both Atlas and MBC records. The eastern-most town shown in the map is Milford; as of 2009 the easternmost MBC report comes from next-door Holliston. However the Atlas had records further east, from Chelmsford, Concord, and Sherborn.
MBC records have added more sighting locations in the Connecticut River valley and in western Massachusetts. A colony in a quarry in Sunderland, from which 1 to 2 were reported each year 1998-2001 by D. Case and T. Gagnon, was apparently extirpated when the quarry was expanded (Benner 2010).
Whereas the Atlas had one Berkshire report, in Washington (5/24/1989 E. Neumuth), MBC records have added another Washington sighting (6/18/1996 R. Forster), as well as several Mt. Greylock reports (6/12/2004 M. Lynch and S. Carroll; 6/4/2010 T. Fiore; Northern Berkshire Count 7/12/1995); and a report from Charlemont (6/16/1995 (D. Potter).
Other locations include Northbridge 6/5/1994 R. Hildreth; Northampton Florence 5/31/2004 T. Gagnon; Ashburnham 6/9/1995 R. Walton; Easthampton Mt. Tom State Reservation 4/30/1999 T. Dodd and C. Asselin; Westfield 5/31/1999 T. Gagnon; Mt. Holyoke 6/24/2000 T. Gagnon, D. Case; Uxbridge 2003 R. Holden; Hubbardston Barre Falls Dam 6/16/2001 M. Lynch and S. Carroll; Holliston Brentwood CA 6/2/2009 B. Bowker; East Longmeadow 6/13/2005 K. Parker. The largest number reported from any one area is 4 in Northbridge in 1994; all other reports are of 1 or 2 in a location.
NOTE TO COLLECTORS: THIS IS A RARE AND POSSIBLY DECLINING SPECIES IN MASSACHUSETTS. IT SHOULD NOT BE COLLECTED EXCEPT AS PART OF NECESSARY SCIENTIFIC RESEARCH UNDER INSTITUTIONAL AUSPICES.
Broods and Flight Time
Common Roadside-Skipper has only one brood in our area, so far as we know, but two in southern states. It is apparently univoltine in central New York as well (Shapiro 1974), and in New Jersey (Gochfeld and Burger 1997). It is double-brooded in Georgia (Harris 1972) and in West Virginia (Allen 1997), where its second flight is July-August.
MBC records show sightings between early May and mid-July. Sightings are most frequent in the last week in May, tapering off through June (Nielsen 2008). The earliest three sightings coincide with the "high-abundance" years: 5/2/2000 Sunderland, D. Case; 5/11/1999 Sunderland, D. Case; and 5/16/1998 Sunderland, D. Case. These dates are a bit earlier than those of Scudder, who mentions the "latter part of May" as the usual appearance time, though sometimes delayed until the first of June (1889:1587), and earlier than Farquhar, who notes "last of May through July" (1934: 285).
The last sightings are two mid-July reports and one August report. Given the difficulty of identifying this rarely-seen skipper, more late reports are needed before determining the end of the flight period.
Outlook
Many authorities believe this skipper is declining in the mid-Atlantic and southern New England, although it appears more secure further west and north. NatureServe (2010) says vialis "has become quite rare in the mid-Atlantic region." As of 2009, the skipper is ranked S1 or "critically imperiled in Massachusetts, Rhode Island, and Connecticut, and S2 in New Jersey. Rhode Island has two recent and several historical records (Benner 2010). Connecticut has recently given it state Threatened status. There was only one record found during the 1990-95 Connecticut Atlas, compared to 17 pre-project records. The reasons for the decline are unknown, but may have to do with climate warming.
Given this species' higher-elevation distribution, and univoltine brood status at our latitude, it is probably vulnerable to climate warming trends. It could retreat to higher and more northern locations if climate warms (Table 6).
As mentioned above, judging from Scudder's comments, it would appear that Common Roadside Skipper has declined in Massachusetts since the nineteenth century, and it may warrant state-listing today. The disappearance of the skipper from the Sunderland quarry might have been prevented through state listing. We list it here as a Species of Conservation Concern.
© Sharon Stichter 2011
page updated 12-31-2011
ABOUT BOM SPECIES LIST BUTTERFLY HISTORY PIONEER LEPIDOPTERISTS METHODS