ABOUT BOM SPECIES LIST BUTTERFLY HISTORY PIONEER LEPIDOPTERISTS METHODS
The Butterflies of Massachusetts
Significant photographs documenting host plant use and immature stages in Massachusetts
<![if !vml]>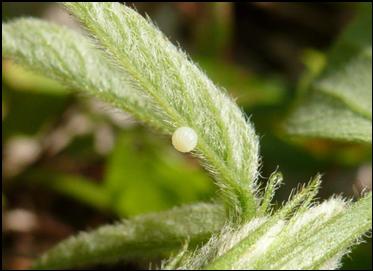 <![endif]>
1. Hoary Edge ( Achalarus lyciades ) egg, photographed by Elise Barry on 6-23-2013 at Broad Meadow Brook WS, Worcester. Elise identified the plant as Desmodium canadense, or showy tick-trefoil. She watched the egg being laid after the seeing the butterfly search several plants before selecting this one.
<![if !vml]>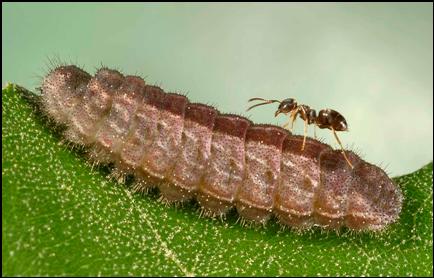 <![endif]>
2. Edwards' Hairstreak (Satyrium edwardsii ) larva photographed June 4, 2013 on Great Blue Hill, Canton, MA, as part of a study by Prof. Dave Wagner, U Conn. The caterpillar is being tended by an ant, tentatively identified as Lasius spp. Most Edwards' caterpillars were found on scrub oak, being tended by 3-4 ants.
<![if !vml]>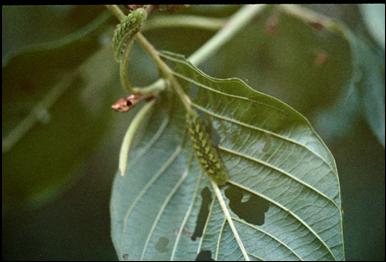 <![endif]>
3. Henry's Elfin (Callophrys henrici) caterpillars feeding on the exotic buckthorn Rhamnus frangula in Wellesley, MA, July 1985. Photo by William D. Winter. This and other henrici larval photos by Winter are in the MBC slide collection. First observed by lepidopterists D. Schweitzer and W. Winter. See account by S. Stichter in Massachusetts Butterflies 37, Fall, 2011.
<![if !vml]>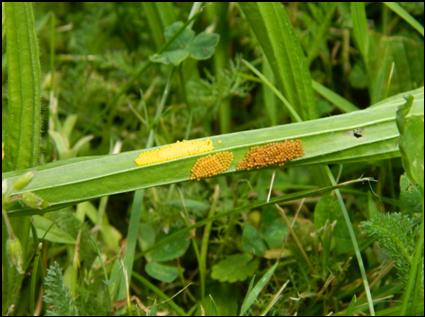 <![endif]>
4. Baltimore Checkerspot (Euphydryas phaeton) eggs on lance-leaved plantain (Plantago lanceolata), June 24, 2012, at Adams residence, West Bridgewater, MA. Photo by Don Adams.
<![if !vml]>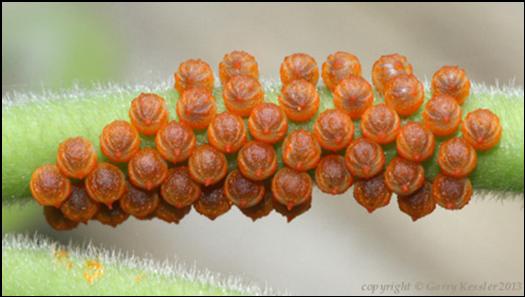 <![endif]>
5. Pipevine Swallowtail (Battus philenor) eggs.
Photo taken July 16, 2013, just after the eggs were laid on the stem of Dutchman's Pipe, in the yard of Elise Barry, Paxton, MA. Photo by Garry Kessler.
page updated 7-17-2013
ABOUT BOM SPECIES LIST BUTTERFLY HISTORY PIONEER LEPIDOPTERISTS METHODS