ABOUT BOM SPECIES LIST BUTTERFLY HISTORY PIONEER LEPIDOPTERISTS METHODS
The Butterflies of Massachusetts
73 Southern Cloudywing Thorybes bathyllus (J.E. Smith, 1797)
<![if !vml]>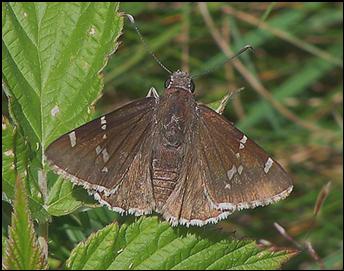 <![endif]>
Of the two closely related species, Southern and Northern Cloudywing, the Southern was the first to be described. Its life stages were drawn by naturalist John Abbot in Georgia, sometime between 1783 and 1792, and on this basis it was named by J. E. Smith in The Rarer Lepidopterous Insects of Georgia, published in 1797. Today, the continental range of the Southern Cloudywing is more restricted, more southerly and easterly than that of the Northern. Whereas the Southern does not extend very far into Canada (Layberry 1998 terms it "generally rare"), and west only to the plains states, the Northern co-occurs in all of the Southern's range, as well as extending into northern Canada and west to the Pacific coast and the southwest states.
In New England, Scudder followed Smith's species name, but in 1870 distinguished the Northern as a separate species, Thorybes pylades. He reported that Thorybes bathyllus had "only been taken in the Connecticut valley," with specimens from Springfield, Sunderland, South Hadley, Mt. Tom, and Granby (1889:1435). Ace collector F. H. Sprague found only Northern Cloudywing in his Boston area in 1878, not Southern (Sprague 1879). It appears that in the late 1800s the Southern Cloudywing was much less common in Massachusetts than the Northern-- which Scudder called "abundant"-- and known only from the lower Connecticut River valley.
Photo: Great Blue Hill, Milton, Mass., F. Model, July 2, 2002
Scudder did not know of any eastern Massachusetts specimens, and Farquhar's comprehensive 1934 review of collectors and specimens adds only another Amherst specimen to Scudder's known list. However, at Boston University there is a 6/25/1930 F. M. Jones specimen from Martha's Vineyard, "Plains Area," (and at least one other early specimen known for the Vineyard), and this species was also found on Nantucket 6/30/1940 (Jones and Kimball 1943).
It seems probable that the Southern Cloudywing first arrived in eastern Massachusetts from the south and west sometime between the 1930's and the 1960's, when it is first mentioned for the mainland (Table 2). It may have expanded its range eastward from western Massachusetts, as S. Goldstein suggests in the MAS Atlas. The earliest known eastern Massachusetts mainland occurrence is W. D. Winter's 7/13/1966 male specimen from Westwood (Harvard MCZ, determined by J. M. Burns). Winter also found Southern Cloudywing in Medfield, Chelmsford and Sherborn in the mid-1970's.
Host Plants and Habitat
Southern Cloudywings use a variety of dry upland habitats, including disturbed areas if native vegetation predominates. Northern Cloudywings use similar habitats, but are not as limited to dry sites. Although these two species share many of the same host plants in the Fabaceae family, there appears to be some plant specialization, which may help account for the differing distributions in Massachusetts. In our area, both no doubt use primarily the Desmodiums and Lespedezas, which are widespread and common. But a possible native host for the Southern Cloudywing in our area is Trailing Wild Bean (Strophostyles helvola), sometimes called Beach Bean, which is native to our coastal counties (Sorrie and Somers 1999; Magee and Ahles 1999: 686). The distribution of this plant coincides roughly with the 1986-90 Atlas distribution of Southern Cloudywing. Northern Cloudywing, on the other hand, is known in many areas to make use of a different plant, Hog Peanut (Amphicarpaea bracteata) which is native to and found in nearly all Massachusetts counties.
Both Southern and Northern Cloudywings apparently quickly adopted introduced legumes (Table 3, Switchers). The Northern was especially adaptable: in our area it has been found on clovers since Scudder's time, and is reported from many other introduced species. The Southern, on the other hand, appears to have adopted only one non-native species in our area: red clover Trifolium pratense, although it uses soybeans in southern states. The Connecticut Atlas found eggs or larvae of Southern Cloudywing in the wild on red clover, in addition to Lespedeza and Desmodium.
Relative Abundance Today
MBC records 2000-2007 rank both the Southern and Northern Cloudywings as "Uncommon", however, the Northern is seen somewhat more frequently (Table 5). The 1986-90 Atlas termed Southern Cloudywing "uncommon to locally common"; however, it was found in only 20 of the 723 blocs searched, which would put it on the very low end of the "uncommon" scale. Northern Cloudywing was found in 82 of the 723 blocks, making it seem almost common by comparison.
MBC sighting records for the two species show different patterns. For Southern Cloudywing Chart 73 shows increasing sightings per total trip reports from the beginning of record-keeping in 1992 until 2004, but a decline since then. For Northern Cloudywing, Chart 74 shows a similar but shorter upswing from 1993 to 1997, but then sightings of that species decline after 1997. Southern Cloudywing sightings have been declining only since 2004.
In addition, the number of reports of this species also peaked in 2003 and 2004. And the raw number of individual Southern Cloudywing butterflies reported each year, unadjusted for effort, also shows the same pattern as Chart 73, peaking in 2003 and 2004, but declining thereafter.
Chart 73: MBC Sightings per Total Trip Reports, 1992-2009
<![if !vml]>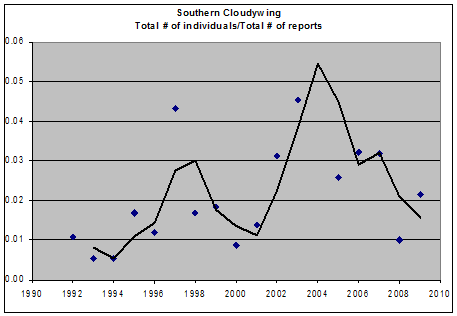 <![endif]>
State Distribution and Locations
Map 73. MBC Sightings by town 1992-2009
<![if !vml]>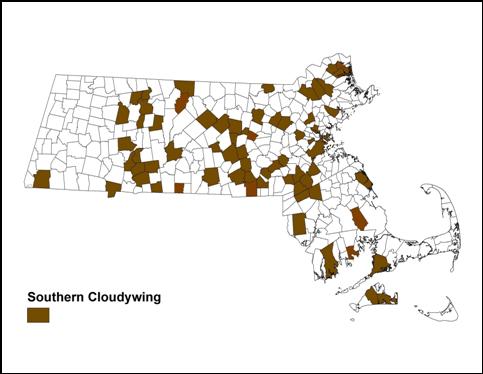 <![endif]>
The 1986-90 Atlas map had shown Southern Cloudywing only in the eastern part of the state. In contrast, MBC records (Map 73) show it fully distributed throughout the state except for Berkshire County. It is likely that the Atlas simply missed this uncommon species in the Connecticut River valley, where it has historically occurred since Scudder's time.
Whereas the Atlas had only two records west of Sudbury (Rutland and Tolland), Southern Cloudywing is now seen to occur throughout the Connecticut River valley. And in 2008 it was reported on the Southern Berkshire NABA Count---the first report from the Berkshires of this species. The distribution of Northern Cloudywing (Map 74) is similar, except that Northern Cloudywing has been found more extensively in the Berkshires and in the hill towns west of the Connecticut River valley.
MBC records 1992 through 2011 show Southern Cloudywing in 63 towns across the state, as compared to 113 for Northern Cloudywing.
Southern Cloudywing has been seen on the Central Franklin NABA Count nearly every year 1993 through 2011 (maximum 12 on 7/5/2003), testifying to the species' ongoing presence in the area around Montague, especially at Turners Falls Airport. Southern Cloudywing has also been reported nearly every year from the Northern Worcester Count, based in Princeton. Good numbers have come also from the Concord NABA Count in several years (max. 10 on 6/30/2007).
Both Southern and Northern Cloudywings may be less common on Cape Cod than elsewhere in the state. The only MBC records for Southern Cloudywing come from Falmouth, primarily Crane WMA, where Mello and Hansen (2004) also suggest it can be found. On Martha's Vineyard Southern Cloudywing may be more easily found, since there are a number of records. The Vineyard checklist ranks it as "Uncommon" (Pelikan 2002). For Nantucket, there are historical specimens in the Maria Mitchell Museum (see above), and local observers believe that this species is therefore likely to be found on the island (LoPresti 2011), although MBC as yet has no records.
In Bristol County, Map 73 should also show Plymouth/Carver, since Southern Cloudywing has been reported from Myles Standish State Forest. In Essex County, it is surprising that Southern Cloudywing has not been reported from Cape Ann, since it has been found in Newbury, Newburyport, and West Newbury, but among the many, many Northern Cloudywings reported from Gloucester and Rockport were quite probably some overlooked Southerns.
Locations from which larger numbers have been reported are West Tisbury Old County Rd (max. 14 on 6/12/1999 M. Pelikan); Falmouth Crane WMA (max 10 on 6/30/2004, T. Hansen); Woburn Horn Pond Mountain (max. 7 on 7/4/2007 E. Nielsen et al.); Sharon Moose Hill Farm (max. 3 on 7/5/2009, S. Jaffe); Newbury Martin Burns WMA (max. 7 on 6/27/2004, S. Stichter et al.); Charlton Rt. 169 power line (max. 4 on 7/2/2001, R. Hildreth); Chicopee Westover AFB (max. 2 on 6/21/1997 T. Gagnon); Carver/Plymouth Myles Standish SF (max. 5+, 6/27/2010, M. Arey); and Canton Great Blue Hill (max. 9 on 7/8/2006, M. Champagne and E. Nielsen). Other reliable locations have been Acton Fort Pond Brook, Athol pump house, and Newburyport water tower (max 2 on 6/26/2010, B. Zaremba).
Broods and Flight Period
There is one brood at our latitude. According to 1993-2008 MBC records, the flight period in Massachusetts extends from mid-May to the end of July at the extremes, but the most numbers are seen from the second week in June to mid-July ( http://www.naba.org/chapters/nabambc/flight-dates-chart.asp). For example, William D. Winter found at least three males in Medfield on 6/15/1974 (MCZ specimens, determined by J. M. Burns). In MBC records, the Northern Cloudywing has been seen flying slightly earlier and also slightly later than the Southern.
In MBC records 1991-2009, four of the 19 years show the first sighting in May rather than June. The earliest sighting dates are 20 May 2004, Sunderland, D. Case; 24 May 1998, Holyoke, K. Parker and R. Pease; 26 May 1997 Falmouth Woods Hole, A. Robb; and 31 May 2003 Sunderland, T. Gagnon. The Atlas early date had been 27 May (no year).
The latest flight date from MBC records is 31 July 2003, Canton Great Blue Hill, T. Murray. There are three other late flight dates---7/22/1992, 7/21/2002 and 7/21/2006---but most last sightings are in the second week of July. The Atlas late date had been 14 July 1990, Sudbury, R. Walton. Scudder gives no flight dates for northern states, so no comparisons are possible.
This species should be watched for a possible partial second brood: Layberry (1998) reports an occasional second generation in southern Ontario in August, and Mello and Hansen (2004:56) say regarding "cloudywings" on Cape Cod that "Occasional stragglers in July suggest that there may be a second brood in some years."
Outlook
Despite this species' trend downward in the last few years, climate variables such as low winter temperatures and a short growing season may be the broad limiting factors in this species' range. If so, a warming trend in New England could portend more breeding success for this formerly very southern species (Table 6).
The Maine Butterfly Atlas reports recent records from at least one southern township, and suggests that the species may possibly be a "breeding resident", rather than the "rare stray" it had been formerly (MBS, 2010). Thus far there are only two known records from Vermont, in 2004 and 2006, whereas Northern Cloudywing is common in that state (McFarland and Zahendra 2010).
The species may also be increasing in Connecticut: in the 1995-99 Atlas, project records for Southern Cloudywing were somewhat more widespread and numerous than the pre-project records (O'Donnell et al. 2005).
The NatureServe (2010) rank for Southern Cloudywing in Massachusetts is S4, or "apparently secure."
© Sharon Stichter 2010, 2011, 2012
page updated 2-15-2012
ABOUT BOM SPECIES LIST BUTTERFLY HISTORY PIONEER LEPIDOPTERISTS METHODS