ABOUT BOM SPECIES LIST BUTTERFLY HISTORY PIONEER LEPIDOPTERISTS METHODS
The Butterflies of Massachusetts
71 Long-tailed Skipper Urbanus proteus (Linnaeus, 1758)
<![if !vml]>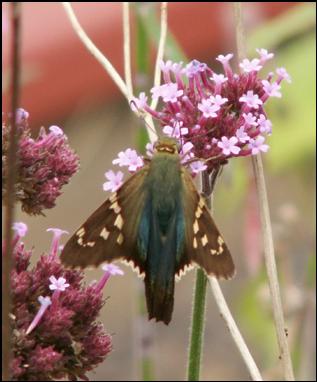 <![endif]>
This beautiful southern skipper is unusually wide-ranging, moving strongly north every year from its Florida base. It is one of several migratory skippers, like the Ocola, Sachem and Fiery, which typically arrive in small numbers in our state toward the end of the summer season. It does not over-winter here.
Long-tailed Skipper was first figured in the 1780's by artist-naturalist John Abbot, working in Georgia, whose drawings and notes were published as The Natural History of the Rarer Lepidopterous Insects of Georgia, by James E. Smith and John Abbott, in 1797. Abbot found it ovipositing on wild pea vine, and later on cultivated beans (Calhoun, 2006; L. Harris 1972:106). It apparently adapted quickly to bean cultivation in the southern United States, becoming something of an agricultural pest. Its caterpillar is known as the Bean Leaf Roller (Farquhar 1934; Wagner 2005).
Scudder and Maynard found this skipper to be "extremely rare in New England" in the late 1800's (Maynard 1886); Scudder refers only to a few specimens taken around New Haven (1889: 1391). The recent (1995-1999) Connecticut Butterfly Atlas reported NO pre-project vouchers, but three specimens during the project period. Southern New England records since Scudder's day appear to be few or non-existent. There is one specimen from Tewksbury, Massachusetts, dated July 2, 1974, in the William D. Winter Collection (Harvard Museum of Comparative Zoology). Other than that, Massachusetts records begin in the 1990's.
Photo: Nahant, Mass., Janet LeBlanc 9-29-2008
Host Plants and Habitat
As host plants, Long-tailed Skipper uses several species of peas and beans, as well as introduced soybeans and wisteria. It is another example of a native butterfly species adopting and thriving on introduced host plants. Cech (2005) suggests that increased cultivation of soybeans in southern states in the early 1990s accounts for this skipper's resurgence in its dispersal range since then.
Further south it is found in a very wide range of mostly disturbed habitats, where a host plant is present. But in Massachusetts it is usually seen nectaring in gardens, or wherever nectar sources can be found.
Relative Abundance Today
MBC sightings 2000-2007 rank Long-tailed Skipper as "Rare" (Table 5). Chart 71 summarizes all known reports 1992-2010.
In 1990 two Long-tailed Skippers were discovered, one in South Hadley by T. Fowler on 2 September, the other in Marshfield by D. Clapp sometime in September. At the time, these were the northernmost reports from a significant fall flight of the species in 1990 (Fowler, Atlas account).
Another significant flight in 1994 produced single Long-tailed Skippers at Foxboro and South Hadley. (1994 was also a significant sighting year in New Jersey.) In 1996 singles were seen at Rockport and South Dartmouth; 1997 at Topsfield; 1998 at Ipswich and Chatham; 1999 at Agawam; 2002 in Dartmouth and Saugus (not on chart); 2003 at Northampton community gardens and Orange; 2004 in Marblehead; and 2005 in Gloucester and Newbury. In 2008 an especially large number (at least 9 different individuals) were seen: in Falmouth (2), Westport (3), Dartmouth (Allen's Pond), Newbury, Nahant, and Harwich, making that a banner year. In 2010, a worn individual was reported from Fannie Stebbins Wildlife Sanctuary in Longmeadow.
Chart 71: MBC Sightings 1992-2010
<![if !vml]>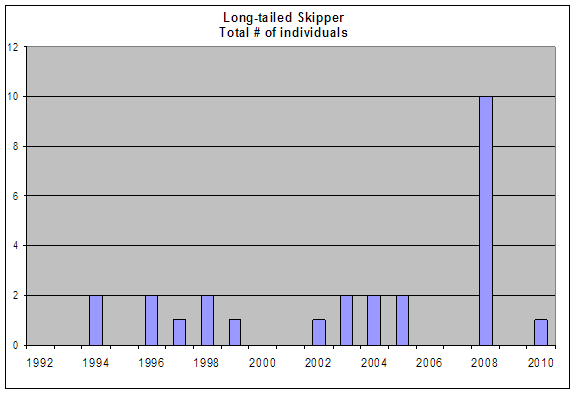 <![endif]>
Long-tailed Skipper has been seen in 12 of the 21 years between 1990 and 2010. (The 1990 sightings are not shown on Chart 71.) In these years it became a fairly regular occurrence.
A similar sightings increase has occurred in the cases of Ocola Skipper, which has been seen in 10 of the the 19 years 1991-2009, Fiery Skipper, seen in 17 of these 19 years, and Sachem, seen in 11 of the 19 years. For all four of these skippers, there are essentially no historical records, and the sightings increases have come just within the last 20 years.
State Distribution
The northbound migrants have arrived mainly along the northeast and southeast coasts, and in the Connecticut River valley. From 1990 through 2010, the skipper has been seen in 20 towns.
The northeast (Essex County) and Connecticut River valley reports shown in Map 71 extend the range of this skipper beyond that shown in Opler and Krizek (1984) or Cech (2005). The skipper has not been reported from Maine (MBS 2010).
Map 71: MBC Sightings by Town, 1992-2009
<![if !vml]>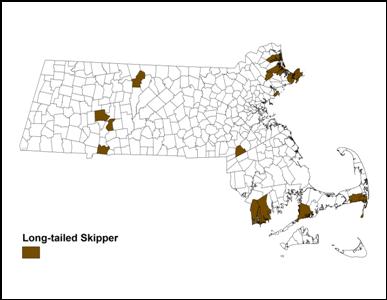 <![endif]>
Broods and Flight Time
All sightings have been in August, September, or October. The earliest reports are August 7, 2010 at Fannie Stebbins in Longmeadow, and August 10, 1999 in a garden in Agawam. These two relatively early reports are from the same lower Connecticut River valley area. All other reports have been late August or later, the majority being in September and the latest being 10/12/2008 in Westport.
With a few exceptions, then, Long-tailed Skipper arrives only at the end of the season, with little time left to reproduce, and over-wintering is precluded by its lack of cold tolerance.
Outlook
Sightings of Long-tailed Skipper have clearly increased in Massachusetts since Scudder's time. This state will probably see more of this southern visitor if climate warming continues to move its dispersal range northward, and if southern populations remain stable (Table 6). Already the Massachusetts sightings are north of previously published range maps. Whether earlier arrivals or a successful brood here could be expected is uncertain. So far it remains an interesting rarity.
© Sharon Stichter 2010, 2011
page updated 11-16-2011
ABOUT BOM SPECIES LIST BUTTERFLY HISTORY PIONEER LEPIDOPTERISTS METHODS